Subscribe
Pinterest for Your Business: Three Tips for Getting Started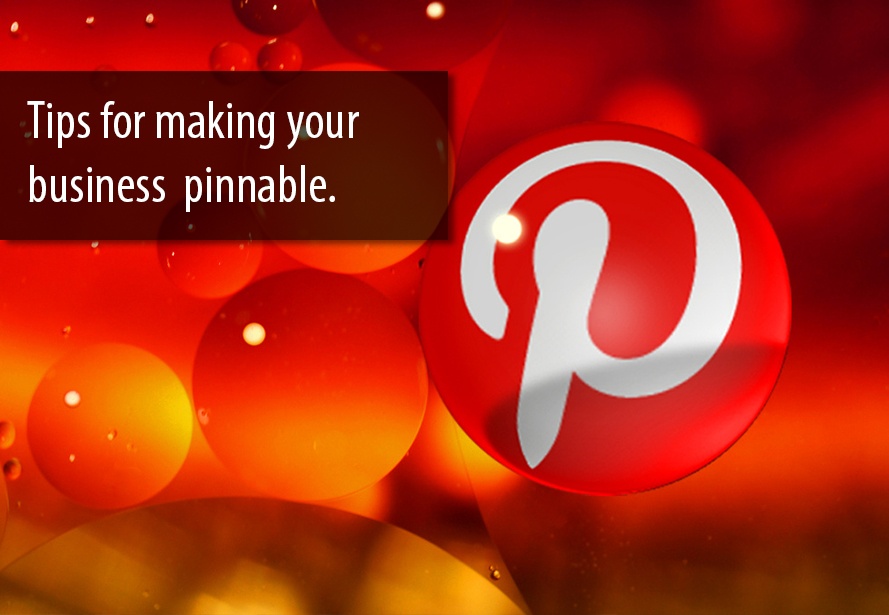 By now, you and your business colleagues have likely heard the buzz around Pinterest. You may have seen web headlines like, Pinterest drives sales! Or, use Pinterest and get your business found! And, there are plenty of Pinterest statistics to support these assertions.
But how do you get started? The first step is to assess whether Pinterest is a right fit for your business and your target audience(s). Then, you'll want to think about which types of boards and pins will best reflect your brand, products, and the needs and interests of your audience.
ASSESS: Is Pinterest right for your business?
Before diving head first into another social media platform, it's important to determine if Pinterest is right for your business. Here are a few guiding factors to help you answer this question:
Your business offers visually compelling products or services. People want to pin visually interesting images. If, for example, your business is all about cake decorating, you'll have plenty of stunning images. On the other hand, if you run a plumbing business, visually compelling images may be in short supply.
A large percentage of women make up your core customer base. Pinterest is dominated by a women. In fact, women make up 80% of users on Pinterest! So, if women are your target audience, Pinterest might be a good fit.
Your business has the time and capacity to build a community on Pinterest. Whether your business decides to manage social media in-house, or chooses to outsource social media, it's important to plan for the long-term. It takes time to build a community on social, and your business should allocate resources with this long-term approach in mind.
If your business meets these criteria, Pinterest could be a good fit! Now, here are tips for building your business presence on Pinterest.
TIP #1: Use Boards to Highlight Your Products and Your Company
Get creative when you're setting up boards. Place your customers and potential customers first – consider the types of pins they'd be most interested in sharing. Here are a few ideas to explore:
Product Catalogue. Set up several product catalogue boards and tailor them to your customers' needs or interests. For example, if your business is a local clothing store, set up boards by season. Or, set up a few boards for occasion – work, leisure, etc. Make sure to do the following:

Link your pinned image to the product page on your website.
Include the price of your product.
Add relevant hashtags.
Locations Board. Does your business have more than one location? Create a pin for each location and include contact info on the pin description. Be sure to link the pin to the location page on your website or to a map. Have fun with the location pin and choose an image that highlights the uniqueness of each location – special neighborhood flavor, staff, etc.
Business History. Does your business have a long, rich history? Tell a visual story about your business origins and transformations over time.
Company Culture. Create boards that reflect your brand, values and your company culture. For example, pin images that celebrate local nonprofit organizations, or company volunteer days. Or, if your business has a fun, spirited brand, devote a board to humor that's related to your business.
TIP #2: Create Boards that Align with Your Customers and Your Local Community
Be sure to avoid using Pinterest solely as a means for self promotion. Of course, you want to showcase products and share interesting information about your business. But you'll also want to look beyond your own products and services when engaging with the Pinterest community. Here are a few ways to broaden your Pinterest reach:
Pin your favorite local spots – parks, lakes, restaurants, museums, etc.
Inspire customers and prospective customers. Create how-to boards that align well with your brand. For example, if you own a nursery and garden store, consider building boards about gardening ideas – raised beds, container gardening, terrariums, or your favorite community gardens.
TIP #3: Engage with the Pinterest Community
Have fun and interact with customers and other users who share your interests. Follow other interesting boards. And engage with people who have pinned your products – thank them, or offer to answer any questions they might have about your services/products.
Conclusion
Has your business found creative ways to showcase your products or brand? Do you have a unique approach for showcasing your love for the local community? We'd love to hear what works for you! Share your approach in the comments below.
Image by mkhmarketing via Flickr, licensed under CC BY