Meet Amy Weaver, our Marketing Automation Manager.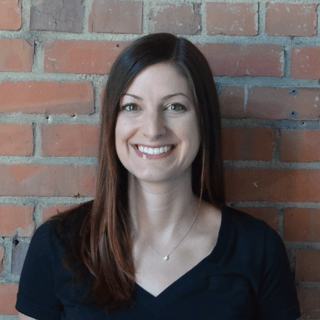 Originally from Athens, Georgia, Amy is one of those marketers who "geeks out on HubSpot and tech." She focuses on optimizing lead generation for websites, landing pages, and email workflows.
With a background in the software as a service (SaaS) industry, Amy understands the challenges and opportunities of early-stage businesses.
That, and she can whistle.
Get to know a bit more about Amy and Denamico in the video below.

Video Transcription
1. How would you describe your role to someone who isn't in the industry?
Most everyone is familiar with searching for any answer to a question or a solution to a problem online, and then browsing a website to see if they can find what they're looking for. What they may not realize is that a lot of marketing automation is going on in the background to make that experience enjoyable, helpful, and effortless.
So I'd say, when you find a website and that website is easy to navigate, has content that's super helpful and seems like it was tailored specifically to you, and you willingly give over your contact information or make a purchase because you feel that you've ended up in the right place and your questions have been answered, someone like me made that happen.
2. What aspects of your role do you enjoy the most?
I love using HubSpot and training others on how to use it. The software is constantly changing and improving, makes me more efficient at my job, and gives me insight (in the form of data) about the effectiveness of my efforts and I think those are really cool and powerful things for a software product to do.
3. What are three career lessons you've learned thus far?
Cold calling is the absolute worst.

Working at a place that's a good fit culturally is essential to my (and I would think anyone's) sanity and well-being.

Perfection isn't *always* necessary.
4. Tell us two things most people don't know about you…
I've been in a television commercial and I'm really good at whistling.
5. What's your favorite thing about living in Minneapolis? And your least favorite?
I can't narrow it down to just one of each, so I'll share a few. Favorites: the summer weather, the restaurants, and the number destinations with direct flights out of MSP. Least favorites: the winter (the length and the coldness), how far away it is from friends and family, and how far away it is from the ocean.
6. If you could interview one person (dead or alive) who would it be and why?
Barack Obama - I think the world would be a better place if more people were like him - intelligent, charismatic, thoughtful, patient, passionate, honest.
The second person would be Fred McGriff - my sports idol growing up because he played first base for the Atlanta Braves and I kept up with them really closely during the early to mid 90s when I was in little league softball.
7. What has been the most important innovation you have witnessed in your lifetime?
The interwebzzz!!!
8. What TV show or movie are you ashamed to admit you love?
Southern Charm on BravoTV is my guilty pleasure.
9. Honestly, what do you think about the Oxford comma?
It's a must! This isn't even a question. I know you planted this specifically to get me worked up. There's no argument against it. There's not. It should be a rule, and that's it. The end. End of discussion. Period. No ifs, ands or buts.* Oxford comma for life.
* editor's note: take that, Amy!
---