Meet Ashley Perron, one of our recent hires from the Minneapolis marketing scene.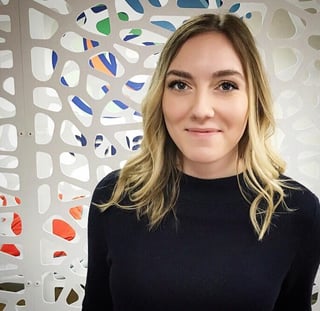 She's stepping into the role of Marketing Automation Specialist here at Denamico, and given her marketing and HubSpot experience, she's already hit the ground running.
Ashley is a passionate traveler, with a wide range of stamps in her passport. Upcoming travel plans include ripping around Portugal this spring.
Learning from her bumpy adventures in Germany, Austria, and Switzerland, she'll avoid riding on top of her luggage in the passenger section of trains that bend with curves in the track.
Get to know a bit more about Ashley and Denamico in the Q & A below.
Ashley Perron
Marketing Automation Specialist
1. How would you describe your role to someone not in the industry?
I typically tell people who aren't in the industry that I work on the "techy" side of marketing.
2. What aspect of your role do you enjoy the most?
I love staying up-to-date on the latest tools and being able to dive into all of the cool things that can be done with marketing automation.
3. What is a day like at Denamico?
Fast paced – everyone on the team is constantly plugging away on something.
4. What advice do you have for prospective Denamico candidates or new hires?
Be curious and ask a lot of questions.
5. What are threewords thatdescribe Denamico?
6. Before working at Denamico, what was the most unusual or interesting job you've ever had?
One of my previous jobs was in event planning, and you never really realize all that goes into a large event until you plan one. It was interesting being involved in all of the moving parts and nitty-gritty details.
7. How do you define success?
I'm a very goal-oriented person, so to me, success is defined by setting and achieving my goals.
8. If you were stuck on an island, what three things would you bring?
Good footwear, a yoga mat, and enough coffee to (hopefully) last me.
9. Motto or personal mantra?
Whatever you do, give it your best.
10. Where is the best place you've traveled to and why?
I would have to say the best place I've traveled to was the Amalfi Coast in Italy – it is so picturesque and the food is amazing.
11. If you were to write a self-help book, what would the topic be?
I've always been an avid traveler, so naturally it would be on traveling and experiencing the world.
---