As the resident Video Content Specialist here at Denamico, Mark Rolseth is probably sick of hearing us ask, "Oh, are we rolling?" But true to his patient demeanor, he takes our questions in stride and crafts impressive videos for Denamico and our clients.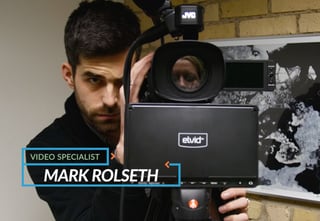 As you chat with Mark about a project, you may notice a few pauses. He's thinking. He's visioning. He's developing a strategy in his head.
Those pauses are Mark's time to organize everything that's being said into a concept that gets results. And he's not afraid to reel us in or even question, "why video?"
That doesn't mean he's all business all the time. Laughter often drifts from the video studio as he directs and cheers us on. And he's not too shabby in front of the camera either – you never know when he's going to pull a fast one on ya.
Get to know a bit more about Mark and Denamico in the video below.
1. How would you describe your role?
I'm part creative visionary, part cheerleader. When I'm not exercising my creativity behind the camera, I'm coaching the people in front of it. They're usually nervous and self-critical, and they just need someone to tell them they're doing a great job.
2. What aspects of your role do you enjoy the most?
How excited people get about video. It has the potential to invoke such a range of positive emotion, so when it does, and I get to see it, it's a really gratifying thing. And a huge privilege.
3. How did you first learn about Denamico?
I was preceded in my role at Denamico by another videographer who's somewhat of a legend around here. He goes by the name of Rhinestone Cowboy, and he introduced me to Brendon and Kristin here before flying off to Australia. I owe you one, Rhinestone. Cheers, mate.
4. What drew you to Denamico originally? And how has Denamico changed since?
I got excited about the idea of working with a team of people who are all experts in their own right. It seemed like a great place to collaborate and soak up some knowledge in different areas. And the team keeps growing all the time.
5. Are you messy or organized?
Nothing makes sense to me until I have it organized. It's just how my brain works. When I see someone's desktop that has a hundred free-floating files littered all over the screen, my chest gets tight. Everything on my computer is in a folder, appropriately labeled, and has a neatly groomed plot where it lives a happy, cataloged life, forever.
6. What celebrity do people think you look like?
The better question is, what celebrities do people think I don't look like? Because apparently every other guy with dark hair and a beard is my doppelganger, and I hear all the time from friends and complete strangers how much I resemble their cousin, brother, favorite actor, least favorite actor, mailman, coworker. Yeah. Never gets old.
7. What would you do for a career if you weren't doing this?
I'd be a barber. As an introvert, I would probably be socially exhausted at the end of the day, but the craft is really interesting and you know, chillin' with the old dudes in my neighborhood sounds like a good time to me.
8. Tell us a little bit about your family.
I'm one of six kids. We are the Brady Bunch. My wife and I just moved to St. Paul from western Wisconsin, and we're expecting our first daughter any day now. [on phone] "Hello? Right now? Ok. I'll be right there."
I'm sorry, I gotta go. The Jimmy John's guy has my sub downstairs.
---