Subscribe
SEO in Plain English: Getting more web traffic for your small business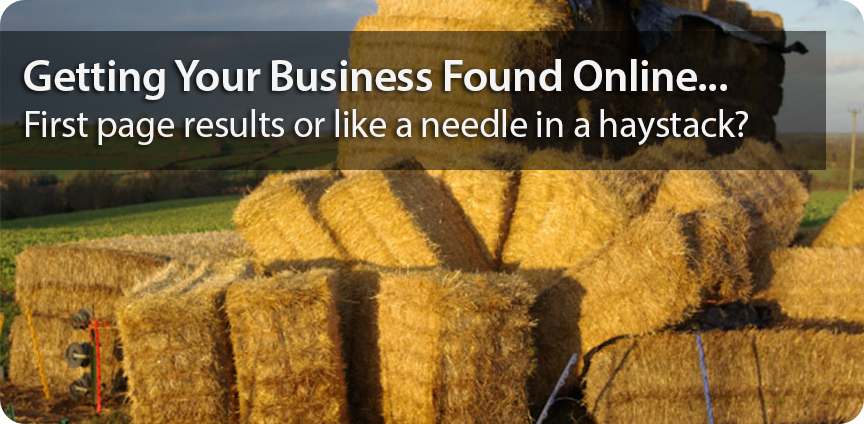 As a small business owner or senior manager, you want people to easily find your business and to know about the amazing services and products you offer. In the digital space, your website is the go-to place to grow leads, nurture relationships and close sales.
But first, you need people to find your business online. This is where SEO comes in.
Now, we're pretty sure you have way too much on your plate to learn about SEO in Google's 3 hour Webmaster course or to read through Google's SEO Starter Guide. So here's a non-technical overview of SEO.
What is SEO?
Put simply, SEO pretty much boils down to this… "When someone is looking for services that I provide, I want them to find my business!"
In general, there are two types of SEO: On-Site and Off-Site SEO. To optimize your chances of getting found online, your business will want to pay attention to both.
Here's how On-Site and Off-Site SEO differ:
On-Site SEO

On-Site SEO includes things you can do to your website to improve the chances of being found. Your business has the greatest amount of control over these factors. On-site SEO includes things such as:
Good Site Architecture. In non-technical speak, this basically boils down to… When someone is visiting your site, you want them to quickly, easily find what they're looking for. Try asking yourself, can customers get to important content in 2 clicks or less?
Fresh, Relevant Content. Search engines love new, fresh content. One of the easiest ways to do this is to add a blog to your website. Update your blog regularly with posts and articles that are related to your business. Also, be sure to include social sharing buttons on your blog! (Social media will help with your off-site SEO too. More on that below.)
Your Business Name, Address and Phone Number (NAP). Your business NAP is especially important for local search. Make sure your business name, address and phone number are listed correctly on your website.
Title Tags. Title tags define the title of your web page. They're meant to serve as a quick summary of a page's content. Each page on your website should have a unique, descriptive title that contains a keyword for your business.These tags show up in a few different ways…
Title tags will appear on your browser tab.

And, when people share your web page on social media, many social media sites will use your title tag as its link anchor text.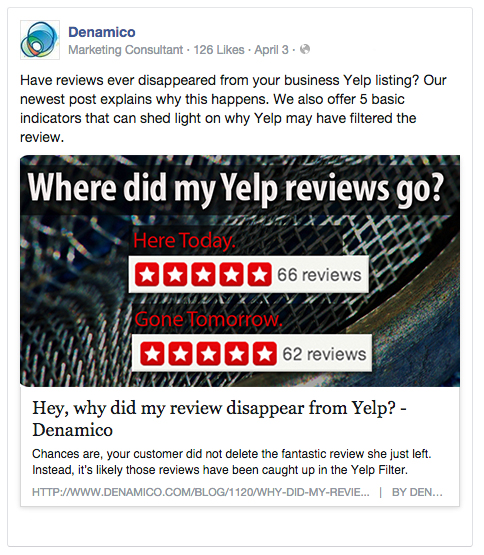 Your title tag will also appear in search engine results. And, when you use keywords in the title tag, search engines will highlight those keywords.

Off-Site SEO

Off-Site SEO includes all the elements of SEO that happen outside of your website. These things can include…
Local Business Directories. These directories include sites such as Google, Bing, Yahoo!, Yelp, Google Maps, Google+, Facebook, CitySearch and more. Each directory that your business has a presence on is another chance to get found online. Try to establish your business presence on as many relevant local business directories as possible. And, after you've claimed those listings, assure your NAP is listed correctly! To get you started, here's a useful list of 50 local business directories.
Online Reviews. Online reviews help boost your business' visibility in local search. It's a good idea to encourage your customers to provide feedback on review sites. Provide customers with a variety of sites to choose from like Google+, Yelp and Facebook, or another industry-specific review site. Providing choice allows your customers to choose the platform they're most comfortable with, and it allows your business to build a presence across multiple review sites. Additionally, it's important to engage your customers on review sites. If the review is positive, thank the customer. If the review is negative, respond and offer to follow up with the customer by phone or email to further address the issue.
Social Media. Search engines are paying attention to social media. And these days, social shares are the new link building (aka Google juice to help your site get found). A great way to encourage social sharing of your content is to start a blog and include social sharing buttons. Note how important blogging is to on-site and off-site SEO! You'll also want to develop a social media strategy to help your business build a strong, engaging presence on social media sites. In terms of SEO, a vibrant and engaged community can assist you in generating social shares among your community members (link building). A vibrant social presence can also help establish your business as an authority and thought leader in your sector.
Conclusion
If your business can get a start on these on-site and off-site SEO tactics, then you'll come a long way in improving your overall SEO. Of course, this list is by no means exhaustive, but it does cover some of the basics.
Just remember, unlike the field of dreams, websites don't work under the "if you build it they will come" approach. But there are several actionable steps you can take to improve your small business SEO – and get more prospective customers to your site!
Photo: Stephen McKay via Geograph.org; licensed under Creative Commons