Subscribe
Who Missed MINBOUND 2015? Here's my one key takeaway.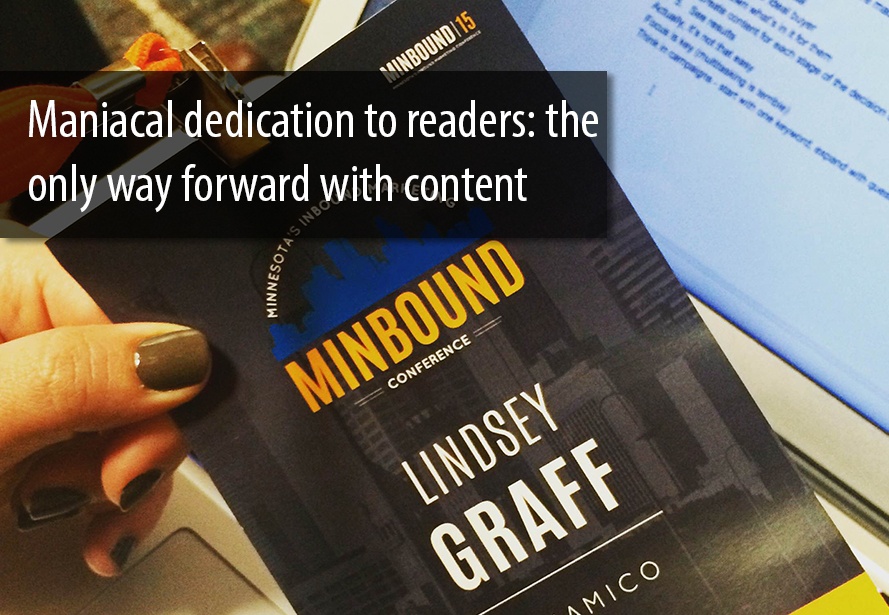 Yesterday, we attended the inaugural MINBOUND conference for Minnesota's inbound marketing community. The event was put together by the team at Synecore Tech and by all accounts, it was a great success. It was a blast for us to get together with our friends across the inbound marketing space to learn from each other, share ideas and inspiration, and simply to catch up!
Beyond how fun the conference was, it was also a fantastic day of expanding our inbound marketing knowledge. From new tips & tricks to industry insights and validation of our latest suspicions on marketing trends & data, I came away with many helpful takeaways.
The most helpful takeaway, however, was this:
Maniacal dedication to the end user is everything on the increasingly crowded web.
To recap why this was my conclusion and how the MINBOUND speakers would (I think) advocate we go about creating content with this kind of "customer centricity," stay with me as I explain a little ...
The best part about blogging for business, unlike paid advertising or cold calling, is that the value of your work compounds over time. Each blog post generates immediate traffic and continues to accrue visits after it's published.
(More on that here.)
Because of the way search engines work, the more content and inbound links you have, the more traffic you'll have. It follows then that the more companies blog, the more traffic and more leads they'll have.
HubSpot did some
research
on this recently and found "
Companies that published 16+ blog posts per month got almost 3.5X more traffic than companies that published between 0 - 4 monthly posts."
The same HubSpot study showed, "

Companies that published 401+ total blog posts got over 3X more leads than companies that published between 0 - 100 total blog posts."
In other words, companies must have over 401 posts to optimize their content marketing lead generation.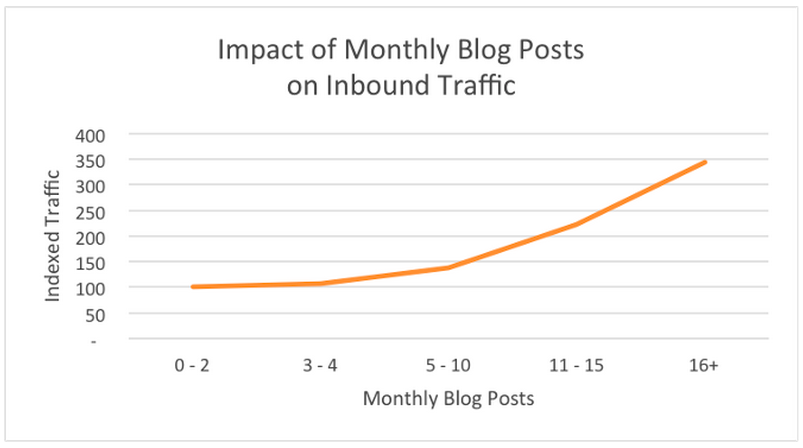 In 2010, that number was 20.
(I know...it makes me sad too.)
With established bloggers writing more and more each day, how can newbies get ahead?
Will content marketing continue to be an effective strategy as competition for keywords and the sheer volume of online content continues to explode?
Can the Davids of the world stand out with so many Goliaths?
Will customers catch on to the idea that blog posts are created as a selling tool and become desensitized the way we have to banner ads, telemarketer calls, and direct mail? (But did those things actually ever work well? I'm not sure...)
These are some of the questions I've been asking myself as I blog for Denamico and many of our clients. Are we wasting our time? Will these efforts truly pay off? Is inbound marketing an overrated strategy?
---
Enter MINBOUND 2015...
The speakers I heard at MINBOUND validated and confirmed my answer to these questions: more than ever before, content marketing is only effective when content creators are maniacally dedicated to the questions, concerns, problems, challenges, and needs of their prospects and customers.
I know, I know, this is not new information, the entire premise of content marketing relies on marketers ability to generate leads by understanding them and gaining their trust before sales enters the picture.
That said, I think there's a difference between customer-centric content and MANIACALLY customer-centric content.
I know a lot of marketers who set out to create content because they know they have to and their approach is really only vaguely customer-focused. They think about what keywords they want to rank for, then they come up with some content ideas, write blog posts, promote them on social media, and hope the masses come. In the old days, this might have been enough. Not anymore.
So how do you develop a content marketing strategy that will attract traffic and generate leads even if you haven't reached critical mass?
4 MINBOUND Tips on Creating Content That's "Maniacally" Focused on the Reader
1. Answer the "Big 5" Questions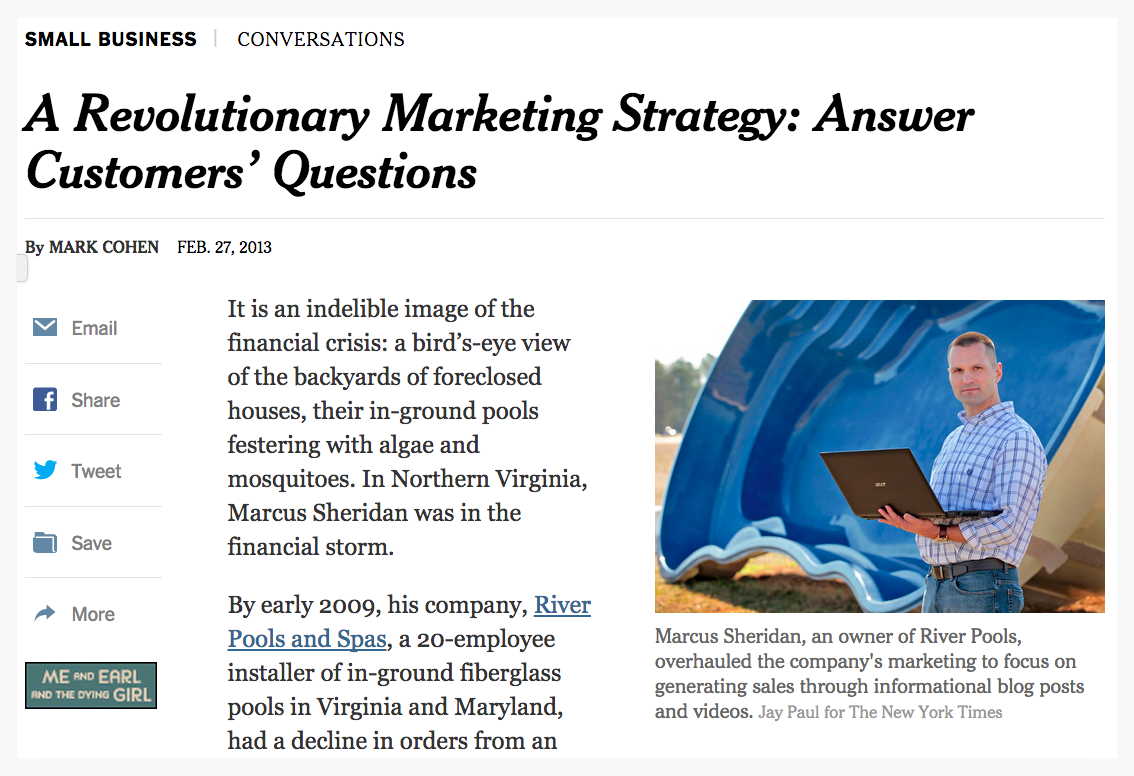 At MINBOUND, Inbound Super Hero, George B. Thomas, shared
The Sales Lion
's "
Big 5
" questions your blog/website should answer. I've heard these before, but they're resonating now more than ever as I look for ways to be more "maniacal." As stated in Marcus Sheridan's famous New York Times Feature...use "A Revolutionary Marketing Strategy: Answer Customers' Questions."
Prospects are asking the following questions, so start here when looking for content topics:
What's your pricing?

What are the problems with this product/service?

What is the difference between your product/service and X product/service?

Who is the best and the worst in the industry?

If we don't use you, who would you recommend?
Google is learning to serve up content semantically rather than via keywords. If your content truly answers questions people are typing in, you'll come out on top. Plus, people will love you for being transparent and real. Prospects who trust you will buy from you, which leads me to my next point...
2. Be more real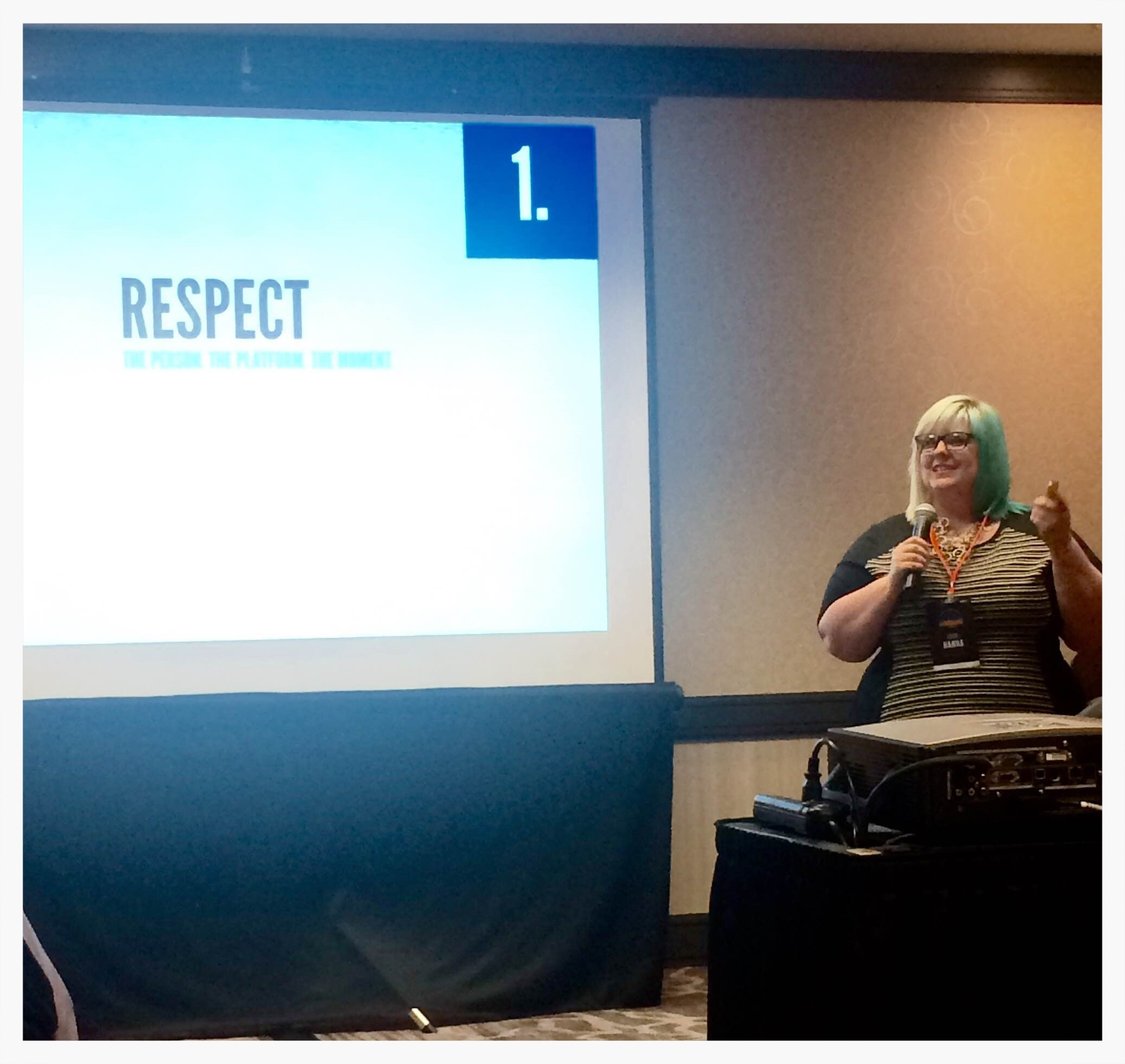 Inbound marketing is all about building trust with your prospects and helping them make the best buying decision possible (which, if they fit your buying criteria means the best decision is buying from you.) As Erica Hanna, one of my favorite MINBOUND speakers, put it:
Inbound marketing = Giving a crap about people"
Her talk focused on how traditional marketing (and a lot of content marketing) features self-serving product information rather than providing true value to the customer. During her talk, I learned that maniacal dedication to the end user means respecting the person, the platform, and the moment. Let me break that down:
Respect the person - When developing content, remember that it's about the reader not about you. As writers and as business people, we make the mistake of thinking that people are on the edge of their seats waiting to hear about our latest product update or press release. They're not. It's sad but true. When we focus on positioning our messages so that they resonate with our end users, more people consume our content and more people like us for it.
Respect the platform - Don't post the same thing across all social media platforms. Don't post your tweets to Facebook. Understand that each social media platform is intended for a specific purpose and respect that purpose, even if it takes extra work on your part.
Respect the moment - Believe it or not, empathy pays in marketing. When there's breaking news of a shooting or a terrible natural disaster is taking place, you look like a big jerk for posting "Check out our latest case study!" (or whatever it is). Be respectful of the moment and how your audience is likely feeling in the moment. Utilize tact.
3. Be more iterative
At MINBOUND, our friends at Media Junction did a panel with questions from Jill Konrath and a very engaged group of marketers. One of the main trends they addressed is a trend toward growth-driven or "iterative" design in website development.
When creating a website, or developing blog content for that matter, it's no longer adequate to "set it and forget it."
The 21st century has gifted us with an amazing collection of tools we can use to track how our visitors engage once they've reached out website or blog.
If we are maniacally dedicated to our visitors' experience (and want them to become leads), we should be aware of their behavior on our sites and make changes to reduce friction and make answering their questions absolutely seamless.
To do this, Media Junction uses an iterative process where they create content, publish, watch visitors behavior (they use Hotjar), collect data, and then analyze results and make changes. By working through this process several times, their websites are not only beautiful, but provide near-frictionless experiences that optimize lead generation.
We can apply the same iterative approach to blog content by developing topics and strategies, tracking reader behavior, collecting data, and the analyzing and revising our strategy.
It takes more work to continuously circle back and analyze results, but this data-driven approach goes a long way to developing content that stands out above the competion.
---
All in all, I think George B Thomas said it best when he said it should be our mission to "Out-help" our competitors using content. With all the challenges we marketers face in an increasingly saturated space, "out-helping" is the only way forward.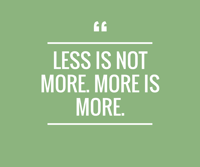 Disclaimer:
None of this is to say marketers should place a huge emphasis on volume. More content = more questions answered = more leads = more sales = more happy customers.
Were you at MINBOUND this year? What were your thoughts and main takeaways? Do you agree that "maniacal dedication to the reader" is the only way forward? Would love to hear your thoughts in the comments below or the chat any time...