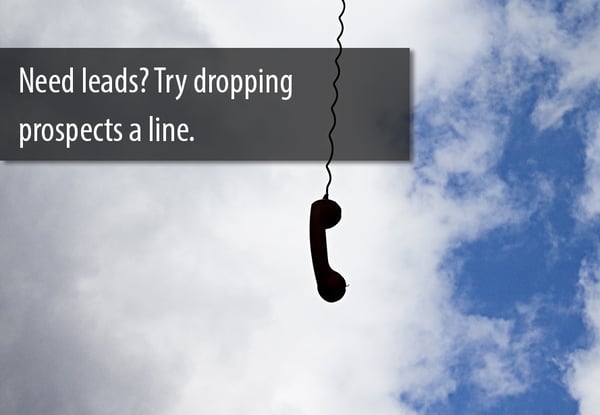 Editor's Note: The words teleservices, telemarketing, telesales and inside sales are used interchangeably, depending on industry, country, and organization.
Generating leads for your business can be done in various ways. We focus on programs that are based on highly functional responsive websites, content marketing, email nurturing, social media sharing and promotion, search engine optimization, and data analysis. The plans we develop help businesses grow their leads successfully over time. Depending on the goals of your business, we may also suggest traditional marketing tactics to maximize lead generation.
WHAT IF YOU NEED AN AGGRESSIVE LEAD GENERATION APPROACH?
If your business requires aggressive lead generation to populate a list of leads fast, we suggest using a combination of inbound and outbound strategies. One, and quite frankly, often overlooked, outbound lead generation program involves teleservices: people talking to people over the phone.
For many businesses, outbound phone calls continue to be a viable way to populate the sales funnel in a hurry. The crux, however, is that not all teleservices (telemarketing) leads are sales-ready during the first conversation. Dropping such leads straight down the funnel could result in a loss of the lead and, potentially, a waste of resources for your sales team.
By adding an inbound program (content marketing and marketing automation), you can automatically provide these cases with educational information to guide or nurture them through your sales and marketing funnel.
Content and marketing automation -- created by a marketing team or inbound agency -- allows visitors to your website to engage in helpful content that triggers self-qualifying email sequences (workflows), directing them to more relevant content, until they decide whether they're interested or not in speaking to a salesperson.
To help you get started generating leads for your business, we've compiled a few tips for merging inbound marketing with outbound teleservices.
10 TIPS FOR MERGING INBOUND WITH TELESERVICES
Set goals and a timeframe for the pilot telemarketing program and corresponding digital content. Be sure to create SMART goals that are specific, measurable, attainable, relevant, and timely.
Develop buyer personas based on your target market and identify their pain points. These profiles of ideal prospects can be used as the framework for targeting and evaluating potential leads. Identifying their pain points is also valuable for writing engaging content that will stick.
Create dedicated landing pages for teleservices leads.
On these landing pages, provide informative premium content offers such as downloadable whitepapers, ebooks, or case studies for leads to continue their path to purchase.
Initiate email workflows with links to your landing pages and premium content.
On all communications and content, provide direct contact information for leads to reach out to sales.
Place social sharing icons on all related content and schedule a social media campaign to expand your reach.
Track and analyze the effectiveness of the teleservices program by the number of leads initially passed to sales and the number of leads entering the inbound program.
Develop a process to align your customer relationship management (CRM) system with your content management system (CMS). Recording detailed notes and triggering appropriate workflows (email sequences) are crucial components of a successful lead generation program.
Consider outsourcing your teleservices and/or inbound programs. Your team may not have the skills or bandwidth to take on all aspects of merging inbound with teleservices. It may be beneficial to outsource certain aspects of the program depending on your needs.
Bonus Tip: For businesses that have large stale databases of people that have not been contacted for a long time, teleservices can be a very valuable and cost effective way to "clean up" and segment your lists into leads that are more and less qualified. This exercise often identifies prospects that are very ready to talk to your sales team, and typically results in more sales than simply paying for the list segmentation.
An initial telephone conversation to qualify the lead, followed by a series of emails and content marketing aligned with the buyer's path to purchase is an example of effectively merging outbound and inbound marketing to generate, nurture, and welcome leads to contact a salesperson when they enter the decision stage of their journey. And, because the initial strategies to develop both teleservices and inbound campaigns overlap, combining the processes early on will save you time and effort while increasing your lead potential.
At the end of the day, leads become customers once they trust your business can solve a problem for them. How they come to that conclusion is based on conversations with your business, either with a real individual or through digital content. More often than not, it's a combination of the two. By developing a strategic lead generation model using teleservices to kickstart your inbound campaigns, you can reduce the initial time it takes for an inbound program to get results and take advantage of potential leads that may be dropped using a standalone teleservices strategy.
For more information on specific teleservices programs visit Volkart May, or contact us to discuss merging inbound marketing with teleservices.