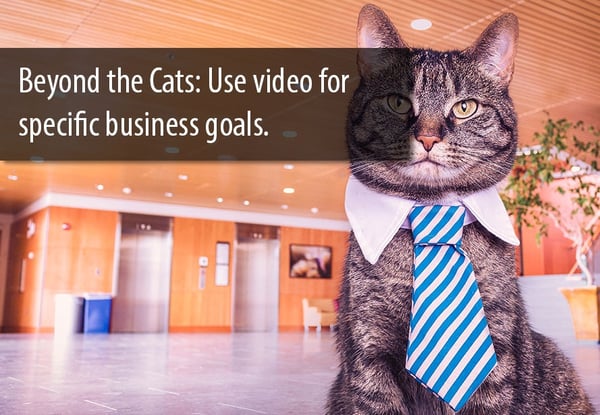 Video kicks ass. Well, I could do without the cat videos. But in the age of TL;DR, video reigns supreme.
According to HubSpot's latest State of Inbound 2016 Report, 55% of people surveyed consume video content thoroughly, while blogs and other traditional types of content are more often skimmed (go ahead).
As marketers, we understand the importance of attracting (and keeping) eyeballs on our content. But we're often left wondering how we can incorporate the use of video into our overall content strategy.
To get started, consider your goals.
If you're like 65% of marketers surveyed in the State of Inbound, you'd say that generating traffic and leads is your top challenge.
Accept the challenge.
---
Here are 13 practical ways to generate traffic and leads using video:
1. Facebook
Brands are now producing videos exclusively for the platform, as well as dabbling in Facebook live capabilities for instantaneous interaction with consumers and fans. And 39% of marketers plan to add Facebook video to their content strategy in the next year. Proactive brands are now generating 360 degree videos, allowing users to control the camera views and angles.
2. Snapchat Stories
Want to hit the millennial crowd? Get your video content on Snapchat, but keep it lighthearted. Tailor your videos to the audience and the platform. And give them a reason to visit your site after the video is finished.
3. Dedicated YouTube Channel
Just because 48% of marketers plan to add YouTube to their content strategy in the next year doesn't mean you should. Unless you want to be left behind. YouTube has transformed from a hosting platform to a full-fledged search engine. Having a dedicated YouTube channel to host video content will get noticed.
4. Vlogging
Vlogs are short, informative video blog posts, typically run as a series. They are best matched to a specific campaign. Don't worry too much over the production and editing of vlogs, but make sure the quality is good enough to represent your brand.
5. Email Marketing [video in subject line]
While videos aren't necessarily embedded into emails or newsletters, try dropping video into the subject line to see open rates increase. Just make sure you have great video content housed elsewhere, with a visual thumbnail in the email to cue a link.
6. Webinars/Workshops
Either live or pre-recorded, webinars and workshops are an effective way to drive more traffic and to build your lists.
7. How-to Videos
How-to videos are popular on YouTube and social channels. Identify the pain points your ideal customers may be experiencing and then provide them with easy-to-follow instructions for solving common problems using your products or services.
8. Tutorials
Demo and tutorial videos are a great way to show rather than tell. These can be used on your website to generate leads, or on social media as a way to drive traffic.
9. Branding Videos
Branding videos speak volumes. They set the tone for your customers, provide a bit of insight, and deliver your brand's message in a short, digestible way. Try placing a branding video on your homepage to keep visitors around longer.
10. About Us
Spruce up your About Us page with video. Not the stale, corporate video, either. Try highlighting your company's culture, employees, and any events out in the community. This will help build trust with potential leads.
11. Interviews
How about a little Q & A sessions with thought leaders in your industry? These can be housed on your blog and featured on social.
12. Virtual Tour
Depending on your industry, virtual tours using video can attract a lot of attention. We're looking at you real estate agents. Higher education, custom home builders, and manufacturers are also natural fits for creating video tours for curious onlookers.
13. Customer Videos
Have a product people love to use? Do you see them sharing video on social media? How about creating a space to highlight their videos on your website? You can help build a community that drives traffic to your site.
---
Traffic and leads are great. But 74% of marketers say converting leads is their top priority.
To help those of you out there who fall into this percentage, here are 6 practical ways to convert leads using video:
14. Testimonials
Testimonials are powerful tools to build trust. Video testimonials go beyond one or two lines of text by connecting and resonating with viewers.
15. Landing Page Videos
Landing page videos have shown to increase conversion. Keep them short and to the point, but show the value of the offer in question. Try to address the pain points your buyer may be experiencing rather than a pushy sales pitch.
16. Thank You Page Videos
Often overlooked, thank you page videos are another way to nurture leads down the funnel. And, they're a nice touch when someone does provide you with their contact information.
17. Explainer/Product Videos
Explainer and product videos help buyers in the decision stage. At this point, they have identified your company as a solution, and just need a bit more convincing to pull the trigger. Show them a video of your product or service in action.
18. Case Studies
Case study videos are testimonials on steroids. Although they may take extra time to create, as well as to secure a willing participant, the time and money invested will surely produce ROI in terms of new leads and sales.
19. Sales Videos
Do your salespeople have dedicated landing pages? Spruce them up with a personal message. Another way for salespeople can use video to convert more leads is by following up on emails and phone conversations with a short, one-off video using your phone or screen capture and narration software such as Jing.
---
Looking for more fuel to show your boss that your company should be investing in video marketing? Check out the full State of Inbound 2016.