Star Trek, Inspector Gadget, Iron Man, dot-com millionaires, and now... you. Almost every smartphone user has voice search or a digital assistant at their disposal.
For businesses, then, what does that mean for SEO keywords?
A LOT.
Much like a standard Google search, the keywords you use play a big role in your business' discoverability on the internet. And now that we're adding voice search to the mix, your keywords will need to adapt as well.
To support this claim, here are 3 reasons why voice search will impact your SEO keywords.
1. Smart phones and smart speakers are becoming more popular
Amazon says it has sold over 200 million Echos worldwide as of the beginning of 2020.
Techcrunch reports that 83.1 million Americans will own a smart speaker in 2020.
Let that sink in.
As more and more people have become accustomed to saying "Hey Siri," and "Ok, Google," consumers are now enjoying the perks of having a voice search resource in their home or in their pocket.
20% of mobile queries are voice searches.
As voice search quickly nears a quarter of Google's mobile searches, you better expect your keywords will need to give you the best opportunity to rank for both standard searches and voice searches.
2. People speak differently than they type, and voice search isn't completely fluent yet
When people speak out loud, they tend to word phrases differently than they would for a traditional Google search. For instance, someone may search "Eagan BBQ" or "BBQ near me" online but, for voice search, they may say "Where can I find BBQ in Eagan?"
Search term: Eagan BBQ

These two search terms are different as the voice search has what is called a "long-tail keyword" or phrase. The use of more words helps narrow down the search and, in this case, would help the searcher find a local BBQ restaurant.
Search term: Where can I find BBQ in Eagan?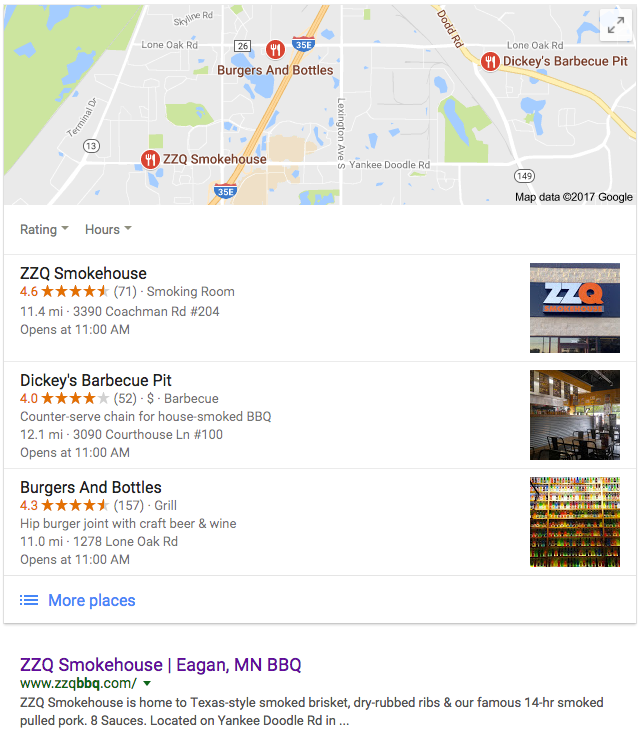 By 2020, ComScore believes 50% of all searches will be by voice. So, to capitalize on voice search, look to long-tail key phrases to capture a crowd, especially if you're a local business.
For Amazon Echo owners, you may have learned by now that your voice searches and commands are not always communicated the way the smart speaker would like to receive it in (which is known as "natural language processing").
For instance, if you want to set a timer, you will need to say, "Alexa, set a timer for 10 minutes," instead of "Alexa, timer, 10 minutes." The same is true for your searches, natural language processing will play a role in how people search as users will need to adapt to how the smart speaker functions.
3. Local businesses will become easier to find
In 2016, 22% of voice queries sought after local information, according to KPCB 2016 Internet Trends. So, as mentioned above in our BBQ restaurant example, voice will place a huge role in SEO and finding local solutions from shopping to food, and post offices to local car dealerships. Here it is important to use keywords and phrases to better compete in your local markets.
And seeing as how Google is making it easier for people to find local businesses with their Google Local Search Display results, you want to make sure you're upfront and center for the party. To do so, make sure a portion of your keywords and phrases have geotags to further rank for your local area.
Editor's note: This blog post was updated in February 2020 with more up-to-date information.