Websites for senior care organizations have a big job. They need to inform prospective residents about available services. But these sites also need to do something much more challenging than simply lay out a menu of services. They need to illustrate high-quality, compassionate care. And they need to balance quality-of-care marketing with vibrant illustrations of quality-of-life so prospective residents will have answers to questions like… What's the food like? What activities are offered? What's close by? What learning opportunities are there?
So, to get at the heart of exactly what makes a great senior care website, we're delving into three senior care websites for organizations in our neighborhood – the Minneapolis and St. Paul area.
Below is a run-down of things we love about these three senior care providers' websites:
The Kenwood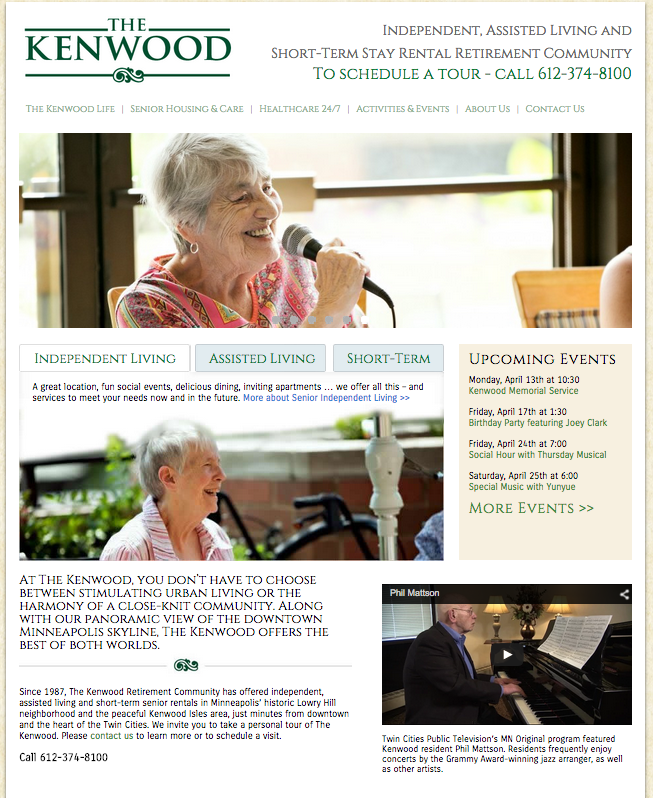 ✪Site Speed
These days, website speed is a critical factor for keeping visitors on your site. In fact, web pages that take longer than 5 seconds to load can expect to lose 50% of their users! Of the three senior care sites we examined, the win goes to The Kenwood. Their site load time was 3.77 seconds.
TIP: To test your organization's site speed, you can get deeper insights for your website by plugging your URL into Google's PageSpeed Insights tool.


✪Testimonials
The Kenwood testimonial page is absolutely inspiring. Beginning with high-quality, beautiful imagery, the page offers a glimpse into the lives of residents. Warm smiles and hugs are pictured among individual women and men, as well as couples and residents with their companion pets.
The quotes alone are moving. But the care and dedication that The Kenwood invested into everything from professional imagery to styles for photos and text speaks volumes to their attention to detail, and to their celebration of residents.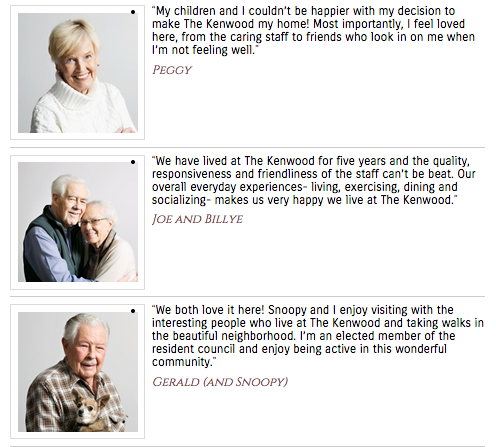 Sholom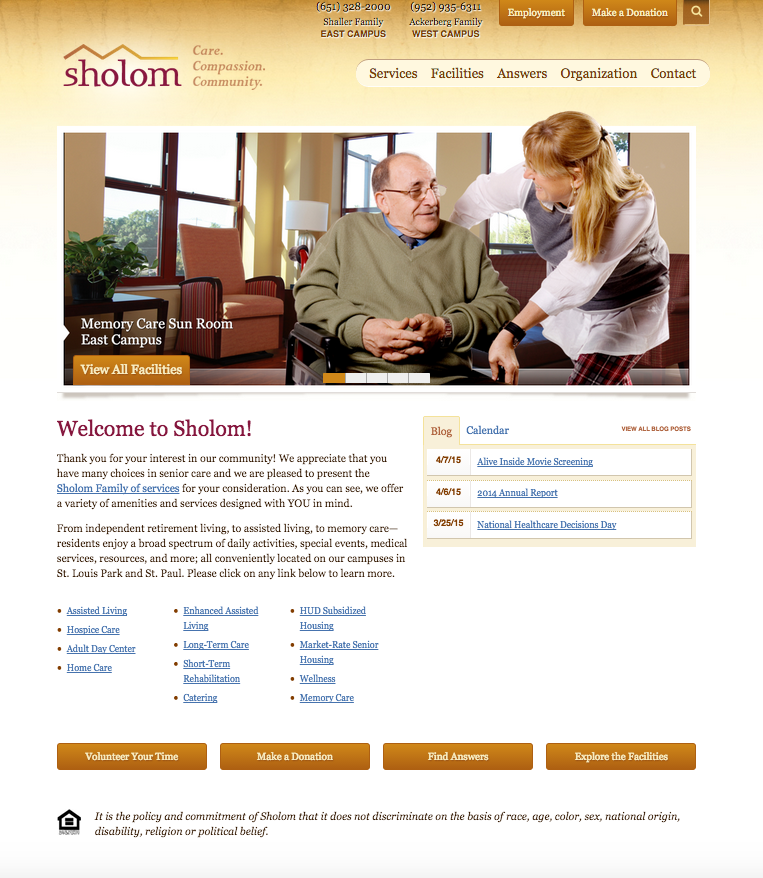 ✪Mobile Optimized
When it comes to search, there's no bigger authority than Google. So take it from them – Google explicitly recommends using mobile, responsive web design. In fact, Google is placing such a high priority on mobile optimization that it has even started demoting sites within mobile rankings that provide a poor user experience to smartphone users. (You can read more about this on cnet's article Make websites mobile-friendly or face Google search wrath.)
Needless to say, these days, mobile is a must, not a nice-to-have. Both The Kenwood and Sholom websites deliver quite nicely on mobile. However, the Sholom mobile experience stands out as an exceptional example.
Sholom has streamlined the mobile experience by collapsing the main navigation into an expandable mobile menu. Additionally, their mobile website offers a one-click call button to make it extremely easy for people to make a phone call straight from their mobile browser.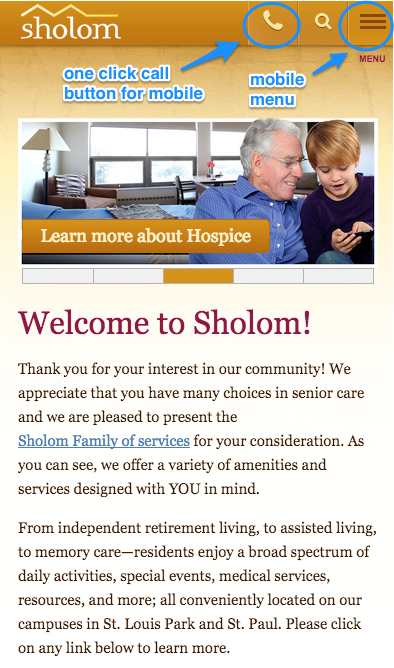 ✪Persona-Targeted Content
These days, websites cannot afford to serve up general content. Instead, sites need to anticipate visitors' needs and serve up content that is tailored to unique target audiences, or personas. And when it comes to senior care organizations, there can be several priority personas, including: prospective residents, family members, current residents, volunteers, donors, and more.
The Sholom 'Answers' page does a stellar job of delivering persona-targeted content that addresses the most critical questions across four priority audiences. The page also offers up a clean, organized UX by presenting audience-specific content across four tabbed menu items.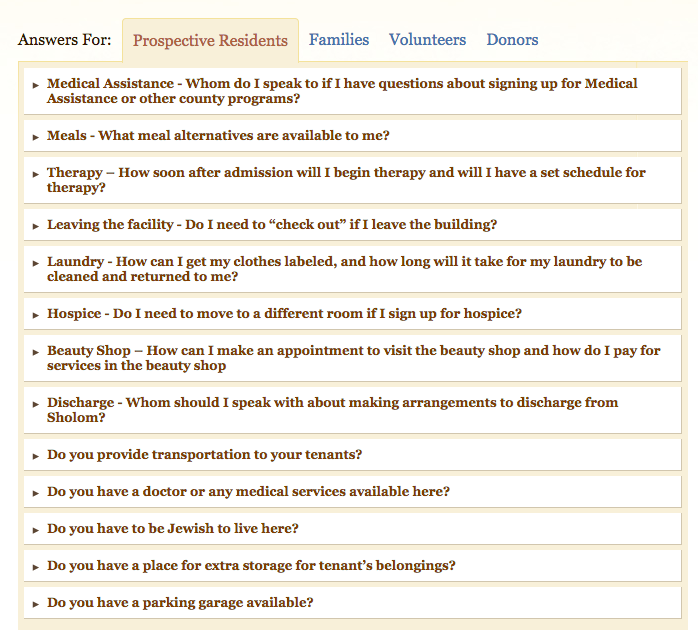 This 'Answers' page also includes a quick and easy form, so site visitors can easily submit questions that they don't see answered on the page.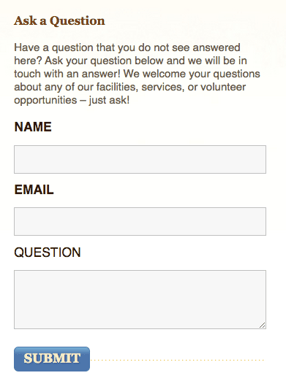 Walker Methodist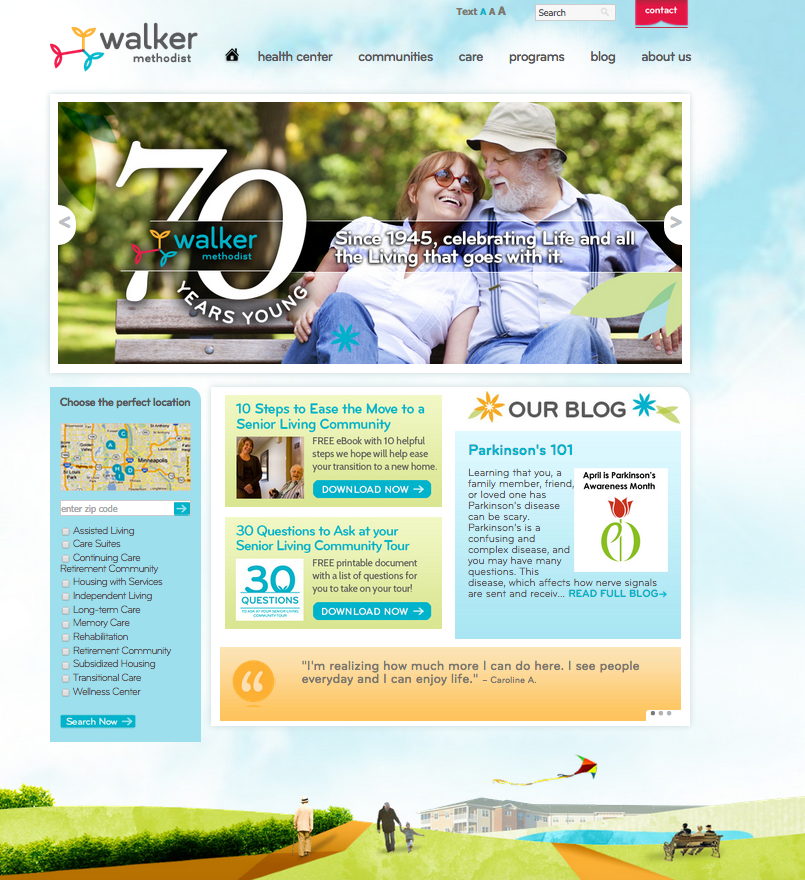 ✪Showcasing Multiple Locations
When a senior care organization has multiple locations, it can be challenging to present those various locations in a clean, user-friendly way. And if your senior care org has varying services across those locations, things can get even more complicated.
But Walker Methodist solves this problem with ingenuity. For starters, they use multiple, varied approaches across their site to help visitors easily learn more about their locations.
✪Drop-Down Map in Primary Navigation
The Walker Methodist website has a useful drop-down menu under the 'communities' primary navigation item. And this isn't just any drop-down menu. It displays a map complete with a list of their communities. Because this function is integrated into their primary navigation, it means the map is easily accessible on nearly every single page on their website.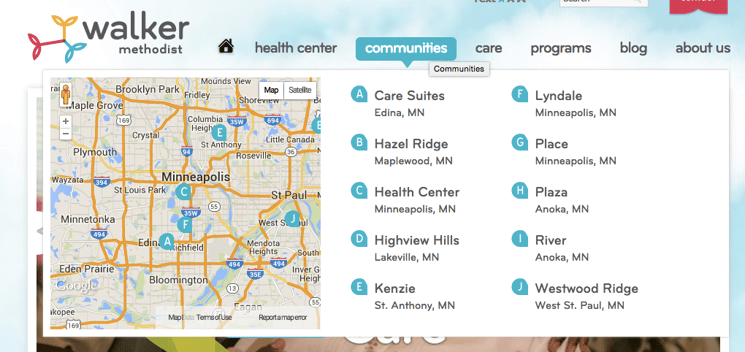 ✪Homepage Search & Filter Module
On the homepage, they also offer an easy to use search module that allows a user to enter their zip code and further refine the search by selecting specific care options.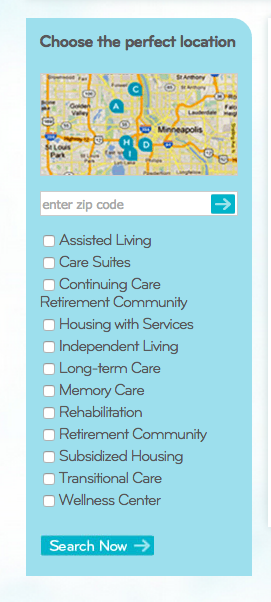 ✪Community Comparison Chart
The site also offers a comparison chart that cleanly lists all 10 of their different senior living communities along with a rundown of the levels of care, services and amenities offered at each location.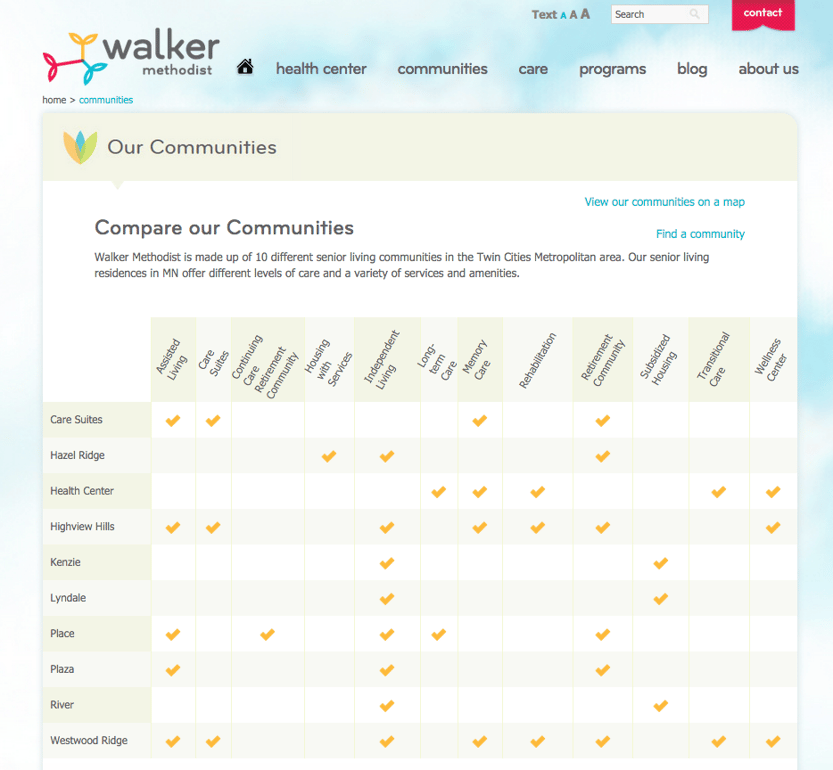 ✪Advanced Search
Along the sidebar of select internal pages, they also offer an advanced search module. This module contains search filters with options ranging from care needs to local amenities like miles from art, bowling, movies, museums, and/or shopping!

✪Featured Map of Communities
The site also contains a large main map of its communities.
And if that wasnt' enough, Walker Methodist also has a custom infographic that highlights each of its communities.


✪Online Lead Generation
The Walker Methodist website uses three important content marketing elements that are critical to online lead generation: blogging, strategically placed calls-to-action (CTAs), and landing pages.
✪Blogging
The Walker Methodist blog is regularly and frequently updated with useful content ranging from tips for older adults to insider information on life at Walker Methodist. It's clear that their team understands and leverages the manybenefits of blogging.
✪CTAs
A call-to-action (CTA) is an image or a line of text that prompts a site visitor to take further action. A CTA could drive any of the following actions: an ebook download, sign up for a webinar, attend an event, schedule a tour, or schedule a consultation.
Additionally, CTAs need to be in alignment with your persona's position in the buyer journey. For instance, top-of-funnel offers are great for people who are early in their research and buying process. And bottom-of-funnel offers are perfect for people who are much closer to a buying decision.
The Walker Methodist website does a superb job of integrating strategically placed CTAs throughout their website. Additionally, each of their CTAs has a uniform, branded look-and-feel. Here is a small sample of CTAs implemented across the Walker Methodist website:
Top-of-Funnel CTAs:


Bottom-of-Funnel CTAs:


✪Landing Pages
Walker Methodist has also nailed conversion-optimized landing pages. For example, their offer '30 Questions to Ask on a Tour' contains all the essential elements of a landing page:
The offer delivers value to audience members.
Primary navigation has been removed from the landing page to decrease page abandonment and increase conversions.
The form has a brief, clear header that succinctly communicates the offer.
The landing page provides a quick overview of the offer to entice users to complete the form.
The form captures critical identifying information without asking for too much.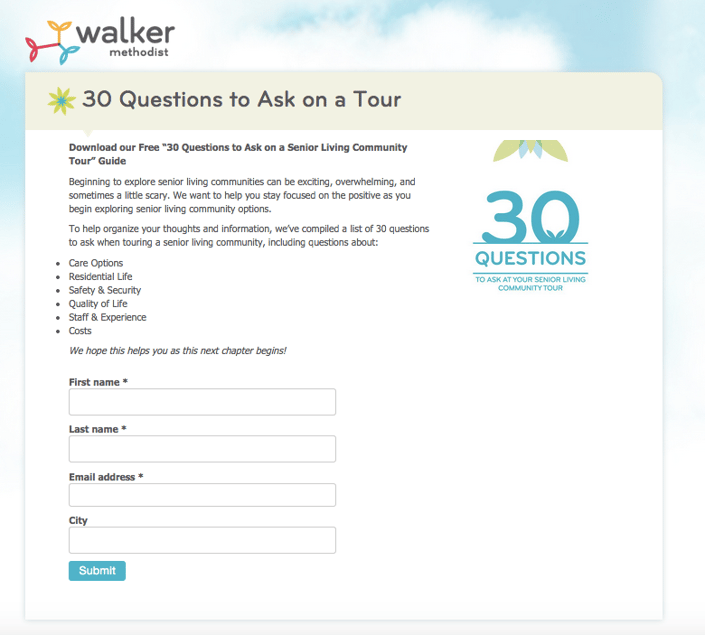 Conclusion
A good senior care website addresses the needs and questions of multiple audiences ranging from prospective residents and family members to volunteers and donors (if that organization is a nonprofit). A great site accomplishes this and more – all while delivering an excellent user experience from the start.
Do you have a favorite senior care website example? Please share in the comments below, and tell us your favorite features or functions of the site.