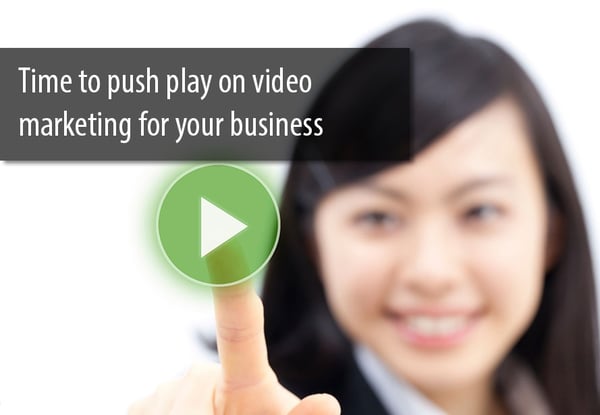 Video has taken a foothold in strategic marketing and sales conversations. Many businesses, however, still resist leveraging the medium for different reasons, including these common objections:
Video production is too expensive
Our industry doesn't use video
We don't have the bandwidth or skills
It's too hard to measure ROI
The reality is, if you aren't producing video content to enhance your brand, reach new audiences, and generate leads, you will fall behind the competition. The decision to use video in your marketing strategy should be a conversation of when and how, not if.
Not convinced? Check out our SlideShare, 4 Video Marketing Excuses Debunked.
4 Video Marketing Excuses Debunked
1. Video marketing can be expensive, if:
you don't have clear goals and objectives
you don't set a budget
you try to tackle big projects right away
you don't repurpose video content for different channels and uses
Avoid extra expenses by making a plan, creating and sticking to a video creation budget, and by using variations of the same footage for more than one objective.
2. Do you still think your industry is "too boring" to use video marketing? Consider the facts:
87% of online marketers use video content
96% of B2B organizations use video in some marketing capacity
80% of all internet traffic will be directed at video content by 2019
Even if your industry isn't using video marketing at the moment, what's wrong with staying ahead of your competition?
---
---
3. If you don't have the time or skills to produce video in-house, here are some options:
hire an intern with video production skills
outsource video production on a case-by-case basis using freelance talent
hire a rockstar video marketing professional
dedicate a team member to learn basic video production
hire a marketing agency to scale capacity for video marketing and other goals
4. On measuring ROI:
Video hosting platforms have evolved to include powerful analytics, which can be used by your marketing and sales teams to generate, qualify, and close more leads using video content. Read why we became a Wistia Agency Partner.
---
General tips for video marketing:
Focus on your customers. Build your video marketing strategy around your ideal customers. What are they searching for online related to your products and/or services?
Build your brand's story. Storytelling is one of the most powerful video marketing tools.
Utilize inbound marketing. Through video content, you can build customer trust and generate inbound leads using your website.
Get your business found using video. Search engines can connect you to new and relevant audiences seeking video content.
---
Video Marketing Resources:
How to Get Started Creating Video for Your Business – suggestions for gear and tips on planning, scripting, filming, editing, and more!
19 Practical Ways to Integrate More Video into Your Content Strategy – a practical list of ways to generate more traffic and leads, as well as to convert those leads, using video.
4 Ways Video Testimonials Deliver the "Goods" – for businesses to compete online, video needs to be a part of your trust-building strategy. Here are some great examples of video testimonials.
Video Marketing Case Study – read how videos can increase conversion rates on landing pages.
FREE Video Marketing Series – learn how to implement video content into your strategy and increase traffic, sales and leads for your business.