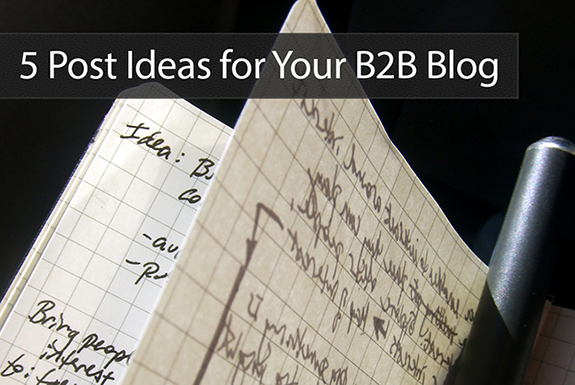 If you're living on the planet Earth, you've no doubt read over and over about the benefits of having a business blog. A blog helps to educate your customer, leads them along the 'buyer's journey' until they're ready to purchase, and provides oodles of SEO value through relevant content to attract new readers.
Are you also aware that 78% of B2B buyers start their search with a web search? B2B companies that blog get 67% more leads/month than those that don't. According to the research available today, there is really no business in the world in 2016 that can accurately say "our customers don't look for our product/service online".
So given that we know we need to be blogging consistently, how can we make our content worthy of our readers' limited time, while also maximizing the most of that precious commodity ourselves? Here is our go-to list of interesting and fun-to-write about ideas for B2B blogs, that we hope will help inspire you to blog and make the process as fun and efficient as possible.
1) A Day in the Life of…
Every business has some interesting, seemingly glamorous or envied role that everybody else thinks must be awesome. Document a day in the work life of that person, with the good, the bad, the ugly and the unexpected. It'll serve to educate your readers more about what you do, make that team member feel great, and it'll be a fun story to read. If you have a big enough staff, this would be a good topic for a regular monthly post, featuring a different role each month.
2) A Case Study…
These are actually good to post at least once a month for many reasons. The goal is for your reader to identify with the company used for the case study and realize that their same challenge was overcome with your product/service. So the more types of organizations (businesses of different sizes, not-for-profits, various industries, etc) that are represented, the more likely your potential customer will find a case study they can relate to, and compel them to get in touch with you.
3) Newsjacking…
This is a fun one because it gives your posts some variety. Newsjacking is when you piggyback on to a bit of news which is trending and relate it to your business. Depending on what the news is, you can achieve some good virality with a newsjacking post, but it has to be done in a timely manner so that the news connection is still at the top of your readers' minds. We did a newsjacking post awhile back when the new Minnesota Vikings Stadium won the Superbowl bid for 2018.
4) An Interview...
This one needs to be planned a little bit in advance, but once you've identified the person and the questions you want to ask, it can be cranked out pretty quickly. Choose someone who your readers would find interesting. It could be a leader in your company, someone influential in your industry, a vendor of yours who has in-depth insight on your product or service, an end user of your product, etc. It's normally easiest to send them a short list of questions, which they can respond to and send back, that way you already have everything in writing.
5) Industry trends...
Because you work in your industry every day, you're intimately familiar with what's going on in your industry. But many of your customers might not be. Every four to six months, it can be interesting to report back on any trends or changes going on in your industry which might affect your customers. This also shows your customers that you're current with what's going on, and they can rely on you to help them make an informed decision about your product/service.
As with any blog post, you want to make sure to include some great images or a video in order to maximize readers' interest and drive traffic. If you're still struggling to follow through with consistent blogging, you should check out this post, Blogging for Small Business: 3 Tips for Conquering Excuses.
Photo by Helen Cook on Flickr, licensed under CC BY-SA
Editor's Note: This post was originally published in June 2014 and has been updated for accuracy and comprehensiveness.