In this day and age, you're probably aware of how important it is for a business to have a website. But did you know that simply building and publishing your site isn't enough? A build-and-forget-it approach to a website is akin to purchasing a beautiful storefront sign, only to have it installed above a door in the back alley. Few people will see it, and even fewer will walk through the door.
Blogging is a sure-fire way to transform a static "back alley" website into fresh, dynamic site that attracts attention, drives traffic and incites engagement.
Here's what blogging can do for your business...
1. Drive Site Traffic Through Organic Search
Google prefers fresh, original content. The best way to regularly add new content to your site is through a blog. Once you've started blogging regularly, your website will be able to drive organic search traffic in a way that a static site simply can't.
A business blog provides a venue for creating new content that's directly relevant to your customers' questions and interests. Use business blogging to answer common customer questions and provide useful information. By doing so, you are naturally populating your website with relevant keywords.
2. Improve Visibility on Social Media
A blog can improve your business's visibility on social in two primary ways: through sharing and promoting.
Let's start out with sharing. Your blog should have social media share icons on each and every post. These icons will make it incredibly easy for site visitors to share your blog posts with the social network(s) of their choice – all with the click of a button and without ever having to leave your site.
When it comes to promotion, your business will want to share each blog post across its social media channels. Not only does this original content help your business engage on social, but you'll also be driving traffic back to your website.
3. Convert Traffic into Leads
Blogging helps convert site traffic into leads. In fact, companies that blog generate 126% more leads than those that don't.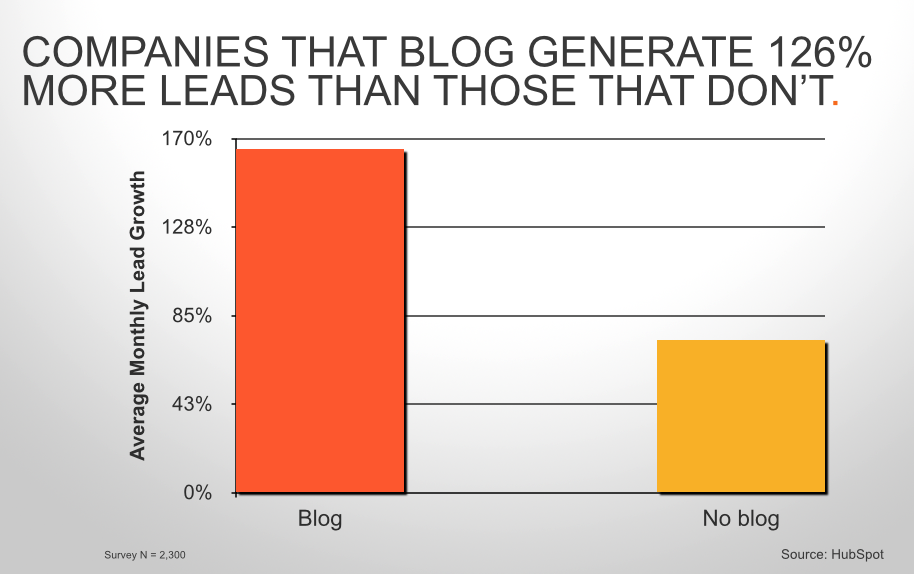 source: Hubspot
But before delving into how a blog helps convert traffic, let's define a lead.
Generally speaking, a lead is someone who shows interest in what your business has to offer. A person who converts from a site visitor to a lead may download a free eBook, claim an offer, or request a demo. Any one of these actions indicates some level of interest in your business. Additionally, the conversion process means that you have additional information about that individual – a name, email address, and perhaps more depending upon the information requested on your form.
A blog can help convert site visitors to leads in several ways. For starters, your business blog can promote calls to action (CTAs) that help drive traffic to your special offers. Additionally, a business blog can invite visitors to explore more of your site through navigation, linking to site content within the blog post itself, and through featured products or services.
4. Establish Your Business as an Industry Thought Leader
Blogging can help establish your business as a thought leader. What exactly does a thought leader do? A thought leader educates and informs audience members. Through blogging, your business can address some of the biggest questions that prospective customers have about a product or service. And by doing so, your business deepens its relationship with audience members as they progress along the buyer's journey – whether they're in a discovery, consideration or decision phase.
5. Drive Long-Term Results
Blog posts have a very long and useful shelf life. Unlike the 18 minute to 48-hour lifespan of a Tweet, your blog posts will be around for the life of your blog. The content that you create today will help inform customers, drive site traffic and answer vital questions for months and years to come.
Conclusion
Blogging is a cost-effective investment in your business marketing. So, if your business doesn't already have a blog, it's time to get started! And, if you've let an existing blog lay dormant, here are a few resources to help you get back into the swing of things: