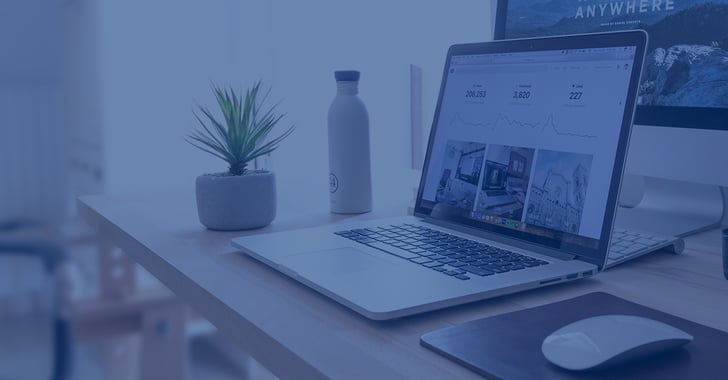 Don't stop the conversation after conversion
A genuine thank you can go a long way in the business and nonprofit sectors. Thanking your customers and your constituents can help deepen brand loyalty and engagement. Saying thank you can even offer your business a competitive advantage.
But when it comes to online thank you's, too often businesses miss out on valuable engagement opportunities. Perhaps the most overlooked online thank you is the post-conversion confirmation page, or thank you page.
A thank you page is the page that a web visitor will see right after they've filled out a form, made a purchase, signed up for your newsletter, or taken some other online action (conversion) that your organization has identified as a priority.
To make the most out of your thank you pages, take a look at these five tips for creating meaningful thank you pages that help drive engagement.
1. Be sure to actually say thank you
This one seems obvious. But it's not just about saying thank you, it's also about how you say it. So first and foremost, make sure you're saying thank you on a thank you page.
Sure, you could take the easy way out and use an inline thank you response. But in most cases, it's just bad form. A basic inline response leaves your web visitor stranded on the landing page. Not to mention, you're missing out on valuable opportunities to...
Extend genuine appreciation.Your strong customer service is just as important online as it is in person. So keep in mind that landing pages aren't designed to express appreciation – they're designed to convert. But a thank you page is an opportunity to express appreciation with sincerity and authenticity.
Nurture the relationship. You have their captive attention, which is no easy feat in crowded online spaces. So, make the best of this attention you're getting, and invite your visitor to take further action.
If the thought of setting up forms with on-submit redirect pages feels overwhelming (and a little like techno jargon), no need to worry. There are easy, user friendly options available.
For instance, HubSpot users can create thank you pages with just a few clicks. And redirecting people to a thank you page after they submit a form is incredibly easy too. Literally, it takes just two clicks.
If your business site is running on Wordpress, the process isn't quite as seamless. But you can certainly knit together a solution using plugins. Gravity Forms, for example, could be a great option. Gravity Forms offers robust form functionality, and it's pretty straightforward to use. Gravity Forms also supports after-submission redirects can be used for your thank you pages.
Once your site is set up to deliver thank you pages, you'll want to work on content. To begin with, make sure your thank you is genuine and is delivered in a tone that's consistent with your brand. Choose imagery that reinforces the brand or that helps confirm the recent action your web visitor just took. For example, if the business has a strong focus on friendly customer service, then a photo of your staff holding a thank you sign could work perfectly. Or for white papers and ebooks, you may want to use an image of the publication's cover.
2. Explain what happens next
Have you ever filled out a form for a white paper or signed up for a newsletter and clicked submit… then nothing happened? Maybe the form automatically reset to the default, or a tiny "thank you" message appeared. All the while you're left wondering, did it work?
The important takeaway here is: Don't keep your site visitors in the dark. Validate and confirm that the action was taken, and explain what happens next.
This thank you page from Digett does a great job of: (a) thanking the visitor, (b) explaining that the white paper will be arriving via email, and (c) alerting the visitor of future emails to be on the look-out for.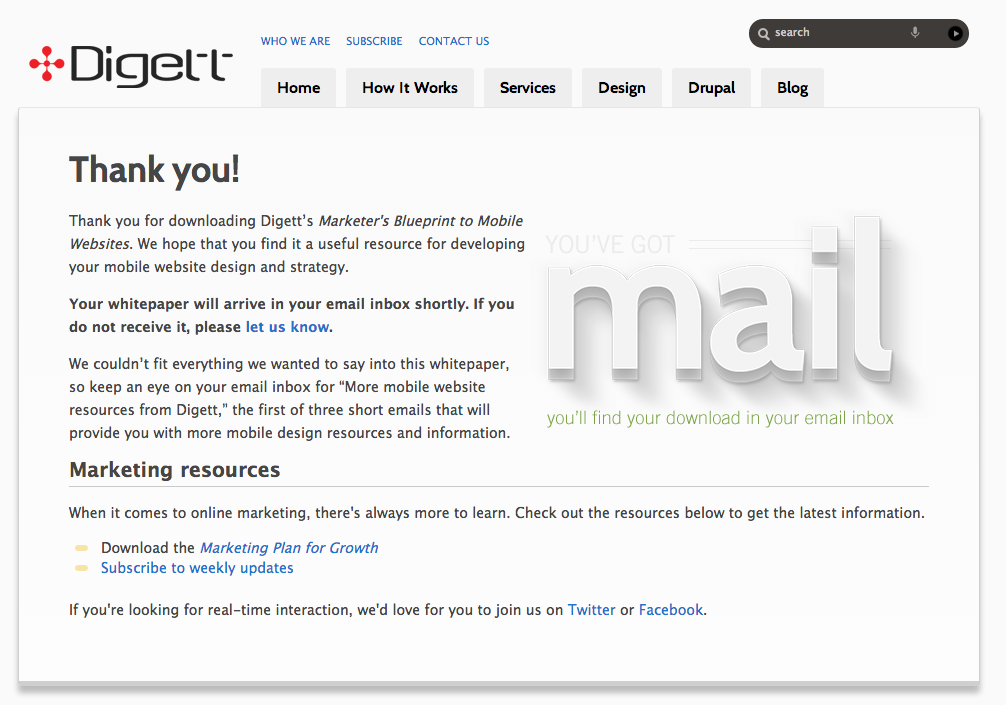 3. Make it easy to connect and share on social media
Your site visitor took action like filling out a form or making a purchase, so it's a pretty safe bet that she's a fan. Your thank you page is an excellent opportunity to deepen that connection. One way to nurture the relationship is to invite your site visitor to connect on social media.
Target's thank you page does a stellar job of making it quick and easy to connect on social. It's important to note that Target's thank you page does not list each and every social platform that they have a presence on. For example, you don't see icons for Instagram, Pinterest, Tumblr, Foursquare, Google+, or LinkedIn.
Instead, the Target thank you page selectively serves up four high-priority "connect" actions: Target mobile, Twitter, Facebook and Youtube. Limiting these options makes the thank you page less cluttered and more user friendly. Being selective and strategic about which links you include will help improve the page's overall performance.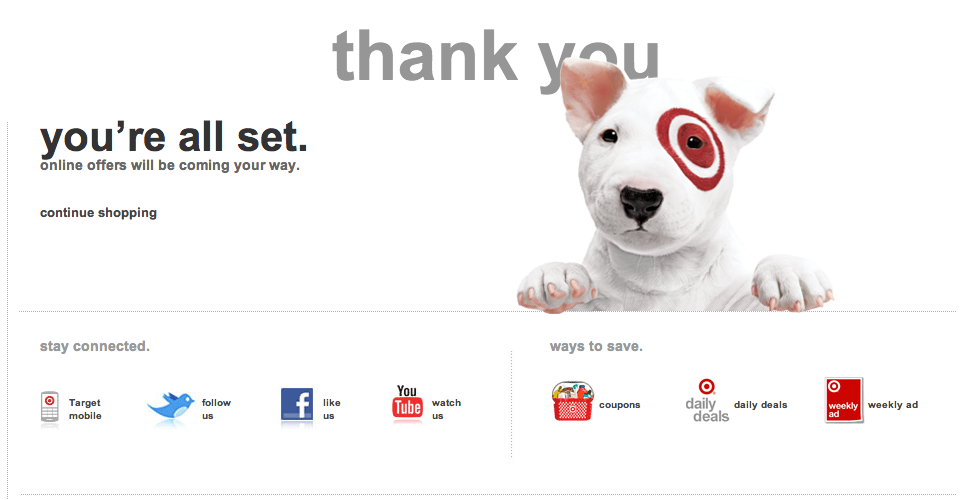 Depending upon the action that triggered a thank you page, you can also consider integrating social sharing buttons. For example, social sharing buttons would be ideal for thank you pages appearing after a white paper download. Just be sure your sharing buttons are configured to share the landing page, not the thank you page.
4. Invite them to take further action
A good thank you page can help keep the conversation going. The last thing you want is a web visitor to feel like she's stranded on a dead-end page. Invitations to connect on social are fantastic, but it's also important to remember that those buttons will result in a page exit. Meaning, your site visitor will leave and may not return for a while.
So, it's a good idea to include a call to action (CTA) or two that invite your site visitor to navigate back into your website. In the Target example above, the thank you page achieves this in a clean, straightforward way with the "ways to save" CTAs. Each icon – coupons, daily deals and weekly ad – leads to a different section of the Target website.
When you're thinking about thank you page CTAs, keep your buyer persona's needs and lifecycle stage in mind. If you are a HubSpot user, use a smart CTA or smart content to serve up a personalized offer that invites your lead to take further action.
5. Use an email auto-responder
An email autoresponder — or a triggered email — is an important companion to the thank you page. Once set up, the email will automatically send after your site visitor clicks the submit button on a form. Autoresponders offer your business another valuable way to stay front-of-mind.
These autoresponder emails provide an additional advantage. Open rates for triggered emails are 4x higher than standard email newsletters!
Content for your autoresponder should follow the same tips listed above. However, make sure you're not just copying your thank you page content and dropping it into an email. Your triggered email can be structured to achieve the same goals as a thank you page (thank, explain what happens next, connect on social, additional CTAs). However, take advantage of this additional opportunity to engage your audience member. Modify the copy, share a new image, and/or serve up a different CTA.


Conclusion
When you're working on content for items 1-5, be clear about your goals. Try using the following formula to define your lead's ideal post-conversion pathway:
After my site visitor does [x], I want them to do [y] from the thank you page, so that [z] will happen.
Get creative and be sure to track your analytics along the way. Have you seen great thank you pages? What did you like most about them?

Editor's Note: This post was originally published in May 2015 and has been updated for accuracy and comprehensiveness.