5 Ways Joining Your Builders Association Can Help You Boost Business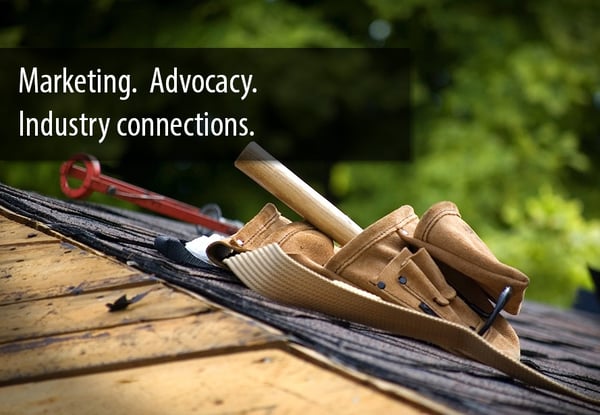 If you're like many in the home building industry, you might say (and rightly so) that your calendar is already crowded and that you already invest enough time, money, and energy in your business.
So why would we recommend that you add one more thing to your busy schedule by joining your builders association?
It's one thing to be a single business, standing alone against the world, trying to build connections and a customer base and stay on top of legislation that affects your livelihood. It's another thing entirely to be part of a collective group of similar businesses gathered together like a force of nature for the good of all.
Your national and local builders associations give you the support, connections, political leverage, buying power, and expanded knowledge designed to build a strong, stable foundation from which to build and grow your business.
The National Association of Home Builders (NAHB), formed over 70 years ago, is often called the voice of the nation's home building industry and was founded as an advocate for builders to give them a competitive advantage in their market. One of NAHB's events, the International Builders' Show® (IBS), is the largest annual light construction show in the world, bringing in over 50,000 visitors from more than 100 countries (check out our key takeaways from IBS 2016).
The NAHB also has over 800 associated state and local home builder associations (we're proud members of the Builders Association of the Twin Cities (BATC) here in Minneapolis).
80% of all new homes constructed in the U.S.
each year are built by NAHB members.
Here are 5 ways joining your builders association can help you boost business:
Trend and analysis information. Your builder association supports its membership through extensive economic research and analysis into innovative construction techniques, cutting-edge building products, and critical insights into the housing market.
Exclusive offers and discounts. As a builder association member, you have access to members-only discounts and exclusive offers on products and services related to your business. For example, members of NAHB are expected to save a total of more than $14 million in 2016 by accessing these discounts and savings opportunities.
Enhanced knowledge. You have access to the latest and greatest best practices, online training, seminars, workshops, webinars, and in-person classes to keep you current in your field, offer you Continuing Education credits, designations, and help you stay competitive.
Valuable industry connections. Membership in your association gives you access to colleagues, suppliers, and potential new customers that you might not otherwise be able to reach.
Political empowerment. National and local builders associations

follow more than 100 legislative and regulatory issues day-in and day-out,

strongly advocating on behalf of their members in Congress, federal courts, regulatory agencies, and in the eye of public opinion. Local and national issues include everything from housing policies and programs, OSHA, tax and building codes, environmental laws, regulations, housing finance, and more. According to NAHB, "a

single win in the policy arena can save builders thousands of dollars on every home they build."

With your builder association working hard to shape policies that affect your business, you can focus on your business.
So, how do you get started once you have joined your local builders association?
Get involved. Check out the committees. Go to the meetings. Volunteer.
Take advantage of marketing opportunities. For example, the Parade of Homes tour presented by the Builders Association of the Twin Cities (BATC) is the largest and most successful new and remodeled home tour in the U.S., reaching 150,000+ housing interested consumers every year.
Connect with members. Create your online profile. Talk with other members. Review opportunities for sponsorship and advertising.
Getting involved in your local and national builders association is a powerful way of building your business through, in the words of BATC, "marketing, advocacy and industry connections."
Once you have joined your builders association, ready to generate more leads? Save your seat for our next FREE Build the Ultimate Lead-Generating System webinar.