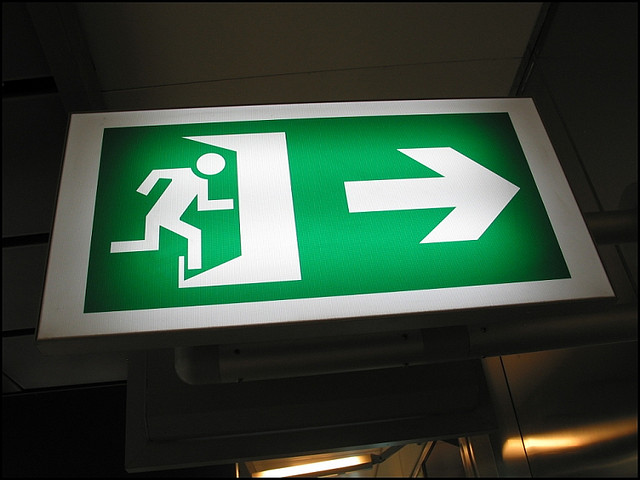 Do you know that a large majority of people who visit your website will leave after seeing only one page? It depends on the industry, but an average of 30-60% of visitors will leave a website after viewing only a single web page. Clearly, this isn't thrilling news.
Your business has invested in a website, and your team is working hard to drive more traffic to your site. Now it's time to focus on how you're going to keep those visitors.
A metric called "bounce rate" will tell you exactly how many people are "bouncing" or leaving your website after viewing only one page. A high bounce rate is often a sign that something is wrong.
Here are a few key reasons people may be leaving your website...
1. Irrelevant Content
Before visitors arrive at your site, they already have ideas and expectations about the type of content they're going to find. And if they find irrelevant content that doesn't live up to those expectations, they're going to bounce. So, whether visitors arrive to your site through search, social media, email or a paid ad, they need to find interesting content that's immediately relevant to their needs and expectations.
TIP: Keep your buyer personas in mind and generate content that answers their questions and meets their needs. Help shape expectations by using your page title, meta description, ads and social media promotions to paint a clear, accurate picture of the page content.
2. Slow Website
If your site takes forever to load, people will leave. In fact, according to Kissmetrics, 40% will abandon a website that takes more than 3 seconds to load!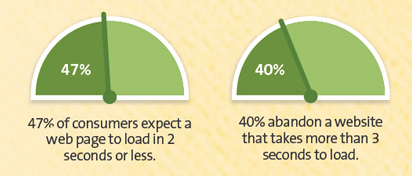 source: kissmetrics.com
TIP:If you're not sure how your site stacks up in terms of speed, try plugging your URL into Google's PageSpeed Insights tool. Faster load times will also improve your search engine optimization with Google.
3. Not Mobile Friendly
Your web visitors expect to view your site on whatever device they're using at the moment. If they can't, they'll bounce. This means your site needs to be compatible and easy to use across mobile devices and desktop.
TIP:Don't build a site that looks amazing on a desktop but that's clunky and hard to use on a mobile device. Take a multi-device approach to your business website and invest in mobile-friendly technology like responsive design, which will adapt your site to any screen size.
4. Poor Navigation
Don't frustrate your site visitors by building a site that's hard to navigate. Your navigation should be logical, intuitive and very easy to understand.
TIP:When it comes to site navigation, it's often best to keep it simple. Keep your primary navigation at the top of your site, and be sure to include footer navigation at the bottom of your site. If you do decide to get more creative with your navigation, then be sure to do your UX research! Test that unconventional navigation design to assure you're not compromising the user experience.
5. Autoplay Videos
Automatically playing video or music when a visitor arrives on your site can drive them away – especially when the audio/video has nothing to do with the core content.
TIP:If you have an amazing video that is directly relevant to the page content, then by all means use it. Just don't set the video to play automatically.
6. Pop-Ups
Many people find pop-ups incredibly annoying. And, that annoyance can be compounded on mobile devices. Have you ever had problems reading an article on your phone because you just couldn't get that pop-up to go away?
TIP:Despite user frustration, pop-ups can be a useful tool to drive conversions (e.g. build your mailing list, drive sign ups for special deals/events). So if your business does decide to use them, proceed with caution. Try using pop-ups only during special promotions, and monitor your site metrics. If the pop-up does drive visitors away, experiment with the timing. Try serving up the pop-up after your visitor has been on the site for 30 seconds or so.
Conclusion
Delivering high-quality content and a great user experience can go a long way in lowering your bounce rates. However, in some cases, a high bounce rate isn't necessarily a bad thing. Sometimes, your site visitor arrived at a page (like contact us), found exactly what they were looking for (your phone number), and then left to call your business. That's great!
The key here is, if your bounce rates are high, it's time to take a detailed look at your site and marketing campaigns to get at the root of the cause.
Photo by Ricardo Bernardo on Flickr.com, licensed under CC BY-ND