If your business is serious about reaping the benefits of business blogging, then you'll need an editorial calendar in place. An editorial calendar helps guide your blogging strategy, and it will help you stay on track so you can deliver consistent, quality content to your target audiences.
And when it comes to finding the right tool for the job, there are a lot of options.
Large-volume teams may need a higher end tool like DivvyHQ, a robust content planning and production platform. Other businesses that have a WordPress website may want to use a WordPress editorial calendar plugin. And still others may prefer the simplicity of Google Calendar or a basic spreadsheet.
While these solutions offer their own unique strengths, one of my favorite platforms for managing a blogging editorial calendar is Trello.
Here are 5 key reasons why Trello works great as a blogging editorial calendar…
1. Dashboard View of Your Blogging Editorial Calendar
The Trello "board" offers a quick dashboard view of your blogging content from ideation, to content creation, to publication. You can get a snap-shot of what's in progress, how close to completion a working post may be (if you're using checklists), and you can quickly see which team members have posts assigned to them.
2. Easily Toggle from Dashboard to Calendar View
If you've ever used a spreadsheet to manage your editorial calendar, then you know that sometimes, it's just a lot easier to view and manage your content in a calendar. With Trello, you can easily toggle back and forth from the dashboard view to the calendar view. While you're in the calendar view, you can also drag-and-drop posts to a new date.
3. Include Checklists to Help Usher Your Content from Ideation to Publication
Checklists are a great way to build quality checks into your team's blogging system. With Trello, checklists are easily added, and a dynamic progress bar helps summarize the blog post's status.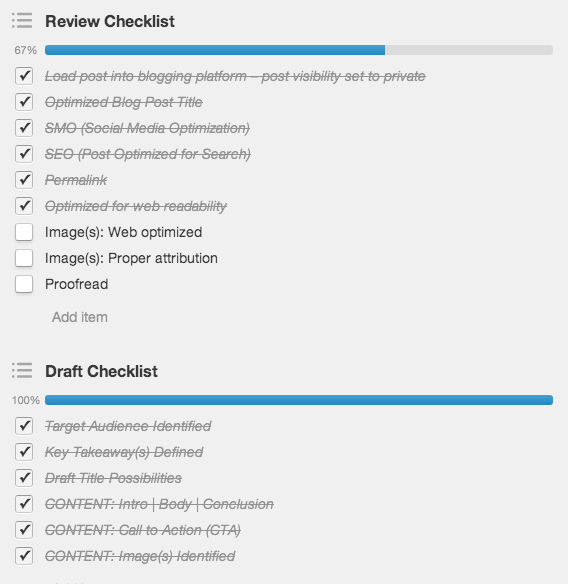 4. Team Member Ownership
When you have a team that's contributing content – even if that's a team of 2 or 3 – having a system for assigning ownership is a big plus. In Trello, it's pretty easy to tag team members as blog post owners. And, that ownership is also easily visible in the Trello "board" or dashboard view. You can also assign due dates and use labels to categorize content. In the below example, the post is categorized as "pending review" and "scheduled." Other posts could be labeled as "draft in progress" or "ready for publication."

5. Communication and Collaboration
Trello also makes it easy to communicate with other team members within the platform. You can post comments to a Trello card, and you can tag team members within comments and checklists.

If you're set to give Trello a test drive for your blogging editorial calendar, we have a template here that's ready for you to use!