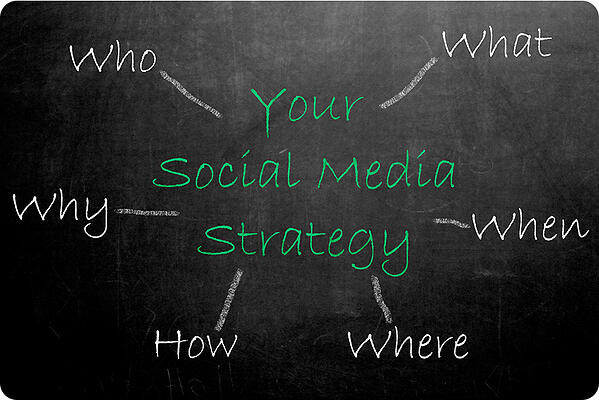 In part one of this series, we uncovered the initial building blocks of a social media strategy – who you're talking to, why you're talking, and what you're going to say.
In this post, we'll explore where you'll communicate, when you'll communicate, and how you should communicate.
4th "W" = Determine
WHERE You'll Engage and Communicate (your channel plan)
This "W" is all about determining which social media platforms you'll spend your time and energy on. Note that this is the fourth "W" – not the first. Too often social media efforts start out by putting the platform first, diving straight into Facebook, Twitter, Instagram or Vine because they're popular platforms (right now). A few words of wisdom – do not place a platform before your business goals or your audience.
But the fact is, it's 2014. And chances are… you're business is active on social media or will be soon. So if platform was a first consideration in your social media marketing (e.g. we need to be on Facebook!), it's not too late to reprioritize.
Here's how to choose your social media channels wisely:
Where's your audience? Start by listing a handful of social networks where your target audiences are hanging out (they have accounts, they're reading/watching/clicking) and using (posting and engaging). Refer to the work you did to build out buyer personas in the 1st "W" (Who). In that process, you will have flushed out online behaviors for each of your buyer personas. These online behavior descriptions will give you an indication of the social networks they're using.
What types of posts will resonate with your audience? To best answer this question, you'll want to look back at those buyer persona online behavior descriptions and your key messages. If your messages and campaigns are best communicated using video, then perhaps YouTube and Vine will be your go-to platforms. If photos are a cornerstone of your messaging, then Instagram, Pinterest and/or Facebook could be your social hotspots. On the other hand, if your messages and campaigns are best communicated through updates, articles and conversations, then you'll want to focus on Facebook, Twitter and/or Google+.
Do not overextend. Whatever you do, don't overwhelm your social media marketing strategy by posting on too many platforms. More is not necessarily better, and overextending your staff bandwidth can end up diluting your brand's overall efforts and effectiveness on social. It's important to strategically determine which social platforms will work best for your brand. Focus on a handful of networks – two or three – based on your audience and marketing goals.
5th "W" = Schedule
WHEN You'll Engage and Communicate (your editorial calendar)
An editorial calendar is an essential tool for defining when you'll publish online content. It also serves as a great tool for identifying goals and benchmarks for your cross-platform posting frequency.
An editorial calendar should include:
The theme or essence of your content.
Staff member responsible for creating the content.
When and on which social networks it will be shared.
A list of relevant seasonal holidays or events (this list should trigger timely content creation and/or sharing) and could include events such as:

Business events, special promotions or campaigns
Major holidays
Niche holidays and events unique to your industry
Relevant local events
1st "H" = Know
HOW You Should Communicate (etiquette and metrics)
To get a better handle on the "How" of your social media plan, think about in-person communications for minute. Consider a simple greeting of "hello." How you say hello changes depending upon many things – how long you've known someone, your relationship with that person, social setting and more. Saying hello to your mom might be all about greeting her with a great big hug and a kiss on the cheek. But when you say hello to a colleague you're meeting for the first time, you're more likely to greet her with a smile and a firm handshake.
Things to consider when determining "How" you should communicate:
Social Media Platform. Each social media community has it's own unique communication nuances. For example, on LinkedIn you'll want to keep updates professional. On the other hand, Facebook and Twitter may be great spaces to let your brand's sense of humor shine.
Relationship. Consider the various relationships your business has with audience members in terms of the buying process. Members of your target audience will be in various stages of this process – from initial exploration to loyal, repeat customer. Be sure you're engaging throughout each stage of the relationship using appropriate channels. Take for example, audience members at the top of the sales funnel (initial exploration). The goal here should be to build awareness and trust by sharing broadly engaging content that informs, entertains or inspires.
Monitor, Measure and Adjust. Understanding how to best engage your audience across social will take time, patience and an appetite for learning from data. The metrics you'll want to monitor will be based on the business and marketing objectives you defined in the 2nd "W" (Why). You'll also want to set up key performance indicators (KPIs) on a platform-by-platform basis. These KPIs will serve as excellent resources in evaluating your social campaigns and tweaking the process as you go.
Conclusion
These Five Ws and One H of Social Media should provide your small business with a great starting point for your social media strategy. Just be sure to keep your business objectives and audience front-and-center. Then, dive into the platform-specific details.