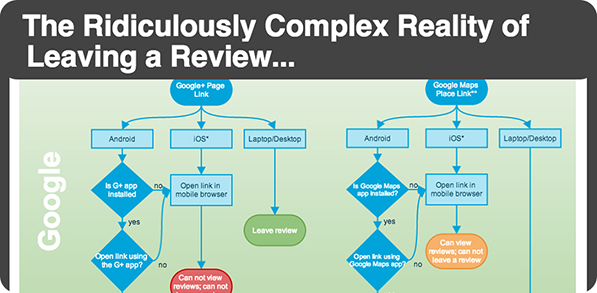 Online reviews play a large role in customers' choice of a product or service. And the importance of that role is growing. The 2013 Local Consumer Review Survey reported that 79% of consumers trust online reviews as much as personal recommendations!
But maybe you're thinking… Okay, I get it. But HOW do I get online reviews? First and foremost, make sure you're asking for reviews… the right way.
The ridiculously complex reality of leaving a review
Unfortunately, the online review process (as of this posting date) does not offer a seamless mobile/desktop experience. In fact, the online review process offers a downright ridiculously complex landscape of if-this-then-that wriggles and turns – all with varied outcomes.
To better understand this complex landscape, take a look at the chart below. (Or skip the crazy intricacies of this chart and go straight to the right way to ask for an online review.)
The chart plots the process of leaving Google+ and Yelp reviews from two different starting points: (1) a direct link to the business page on Google+ or Yelp and (2) the customer searching for your business review listing. Each starting point addresses the user experience across Android, iOS and a laptop/desktop.

The right way to ask for an online review
Now that you've seen the wild complexity behind the online review process, it's time to consider the best way to help your customer navigate this system.
When asking for an online review, it's important that your process...
Is easy and as smooth as possible for your customer
Offers your business the greatest likelihood of actually getting a review (read: good conversion rate).
Because the current online review process is so disjointed across mobile/desktop, the best way to ask for a review is to use a simple, clear call to action. Something like this works great:
Please leave us a review. Just search for us on Google Maps or on Yelp, and let us know how we did. If you're on a mobile device, search for us on the Google Maps app or the Yelp mobile app.
Note that the call to action (CTA) mentions Google Maps and not Google+. That's because Google Maps will be your best bet for offering both an easy pathway for your customer and a clean call to action.
Advanced Tip: Use media query in responsive design emails to serve up mobile-specific and desktop/laptop-specific review CTAs. So, when the email is rendered on a mobile device, your CTA would read something like: search for us on your Google Maps or Yelp mobile app. And, when the email is opened on a desktop/laptop, your CTA could include direct links to your Google+ and Yelp business pages.
Conclusion
Of course, if there's one thing we can be sure of… it's that things on the web change rapidly. And we can hope that the review process will become much cleaner and simpler for Google+ and Yelp across mobile and standard browsers. But until that day comes, don't use direct links in your review call-to-actions (unless you're using the advanced tip), and keep the language simple.
Does your business have a reviews strategy? What are some of the tactics you've used to help build your online reviews?
---
Denamico is a full-service marketing team. Our specialty is delivering comprehensive, one-stop marketing services for mid-sized businesses and nonprofit organizations.
If you're interested in learning more about how your organization can strengthen its local marketing, email us at info@denamico.com or give us a call at 612.859.6317.