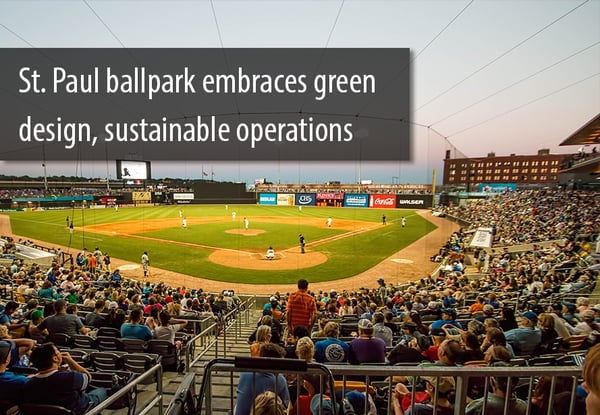 Minnesota continues to "think green" when it comes to the design, construction, and operation of the facilities that house our beloved sports teams.
LEED Certified stadiums already include the Xcel Energy Center (Wild), Target Field (Twins), and TCF Bank Stadium (Gophers). Currently under construction, U.S. Bank Stadium (Vikings), will boast the largest translucent roof design.
The innovative material, known as ETFE, is lightweight, durable, and resists corrosion. Architects are targeting LEED certification for the stadium, and the roof will help it gain points in the energy category.
Efficiency and sustainability may also come into play with proposed renovations to Target Center (Timberwolves, Lynx).
On a smaller scale (with big results), CHS Field (Saints) in St. Paul has been given the designation of "greenest ballpark in America," a moniker once claimed by Target Field.
While the City of St. Paul didn't seek LEED certification for CHS Field, the ballpark's construction did adhere to Minnesota's B3 guidelines, earning the equivalency to a LEED Silver certification.
I was able to visit the facility at the United States Green Building Council -- Minnesota Chapter (USGBCMN) annual event in November.
The event featured on-field tours by Mike Ryan, President of Ryan Architecture + Engineering, as well as discussions led by USGBCMN officials.
Four major categories that make the ballpark a hit in the green building industry were highlighted at the event: energy efficiency, responsible use of resources, responsible use of the site, and water use and treatment.
1. Energy Efficiency
CHS field connects to one of the best district energy systems for heating and cooling loads -- roughly 35 percent more efficient than traditional grid supply.
Solar panels supply 12.5 percent of the ballpark's power.
Innovative fixtures that focus light on the field reduce spill into adjacent areas and reduce the number of fixtures needed by 40 percent.
80 percent of the interior spaces are below the concourse, requiring less energy to operate.
2. Responsible Resource Use
Virtually all of the concrete from the site's previous building was crushed and used as structural fill beneath the field.
Ryan Companies diverted 98 percent of the construction waste from landfills.
The Saints introduced composting and recycling with the goal of operating a zero-waste facility.
Nearly all offices and the press box utilize natural light and air flow.
3. Brownfield to Ball-Field
8.5 acres of industrial contaminated site were transformed into 60 percent green space.
More than 300 trees and close to 140,000 square feet of natural grass will remove 22.5 tons of carbon dioxide each year.
Part of the site was turned into a neighborhood dog park and rain garden featuring local artwork.
Urban location encourages fans to bike, walk, or use local transit to commute to games.
4. Water Reuse and Treatment
Stormwater runoff is treated through sand filters, tree trenches, or rain gardens to remove pollutants before entering the Mississippi watershed.
A cistern collects rainwater for reuse in toilets and field irrigation, saving up to 450,000 gallons of water each year.
Metered, dual flush, and low-flow fixtures were installed in public restrooms and locker rooms to control water waste.
Statistics aside, one of the the most impressive feats of the project is how the building blends into the surrounding community. The stadium is nestled into the former industrial site, which allows for unobstructed views of Lowertown's historic buildings. A plaza at the entrance, 360 degree concourse, and lawn area offer additional open space to create a neighborhood park vibe. If you haven't had a chance to visit the stadium already, check out this virtual tour.
As large-scale projects such as CHS Field gain attention in the media (it doesn't hurt that Bill Murray is a co-owner of the Saints), the green building community continues to gain traction among the general public. Homeowners around the region and elsewhere are researching and applying green building philosophies and practices to new home construction, as well as remodeling jobs and home restoration.
If you're a builder, remodeler, distributor, or manufacturer of building materials, please complete our 1 minute survey below. Or, if you think you could do with a new website, contact usfor a website consultation for your green building business.