On May 17, we're excited to be hosting our third DenamiCON Conference on Inbound Growth at Surly Brewing in Minneapolis. Our topic this spring isMarketing in the Machine Age: The Path to a More (Artificially) Intelligent Future, and we're excited to welcome a number of Twin Cities AI experts to the DenamiCON stage.
We're excited to announce that Kristen Findley, VP of Consumer Insights and Technologies at Ciceron, will be joining us as a panelist.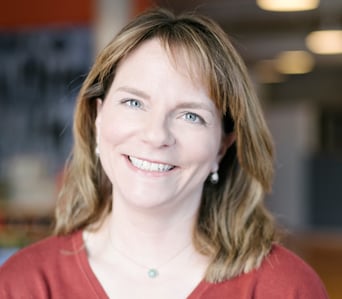 As a digital marketer, Findley knows that keeping up with artificial intelligence is one of the most important things she can do for her clients in 2018. However, she says, humans are still the biggest component of successful artificial intelligence.
Why are Humans So Important to Artificial Intelligence?
AI, Findley says, is "great at reading patterns and seeing disruptions in the patterns."
However, Findley cautions, "[AI] is not a magic button like the Staples button. AI does better with "lots and lots of data," she says, and it "has to be taught to understand the data." To develop that data processing system, she continues, "you'll always need a human."
One example of the important role humans play in AI today? Amazon Alexa.
"If I say, Alexa, what's on my schedule?," Findley says, "Alexa has that data. But she's also been trained to go to the calendar" and look at it. "It took a lot of training for Alexa to get there," Findley notes. "She doesn't automatically know things."
While Alexa is helping Findley organize her personal life, another AI assistant is revolutionizing her marketing work. Ciceron recently partnered with Equals 3 to bring the power of a cognitive computing system known as "Lucy" to clients drowning in data. (Equals 3 Founder and Managing Partner Scott Litman will also be speaking at DenamiCON, and on hand to answer questions about integrating cognitive computing into modern businesses.)
What does the future hold for AI?
Making predictions about the future of AI is difficult. However, Findley is excited to see what's next.
As we move forward into a more artificially intelligent future, there's one question that keeps coming up for Findley. "How do you avoid training AI with a bias?", she asks.
One of AI's biggest strengths is its capacity to find patterns. So, says Findley, how do you make sure that information is analyzed using an impartial framework? And, if your pattern-finding framework has a bias, what does that mean about the data you'll get out of AI?Will a program analyzing crime "develop a bias about who commits crime based on the stuff you're feeding it?" Will a program analyzing campaign statistics make skewed predictions about future elections?
Findley's excited to dive more deeply into this complex issue in the coming months and years.
She's also intent on keeping the conversation about data privacy going. "AI is making a lot of data more accessible, so we need to be careful with that data," Findley says. With great amounts of data, she says, comes great responsibility.
Are You Ready for the Future of Artificial Intelligence?
Machines are not going to replace content marketers in the near term, but artificial intelligence is accelerating us toward a more intelligently automated future.
Join us on May 17 from 2-6 pm at Surly Brewing for DenamiCON III, where we'll be discussing Marketing in the Machine Age: The Path to a More (Artificially) Intelligent Future. Learn about the present and future potential of artificial intelligence, and discover AI-powered technologies that can drive marketing performance. Attendees will walk away with valuable, implementable takeaways to transform their online presence and the way they're connecting with prospects online.
Ready to leverage AI for your business? Register for DenamiCON today and get the tools you need to succeed!