Our first-everDenamiCON defied expectations: from the keynote address by a former skeptic of inbound marketing to the plucky panelists, peppered with provocative attendee questions.
The number one lesson from DenamiCON?
How we buy has changed. How we sell needs to change – and inbound marketing is the key.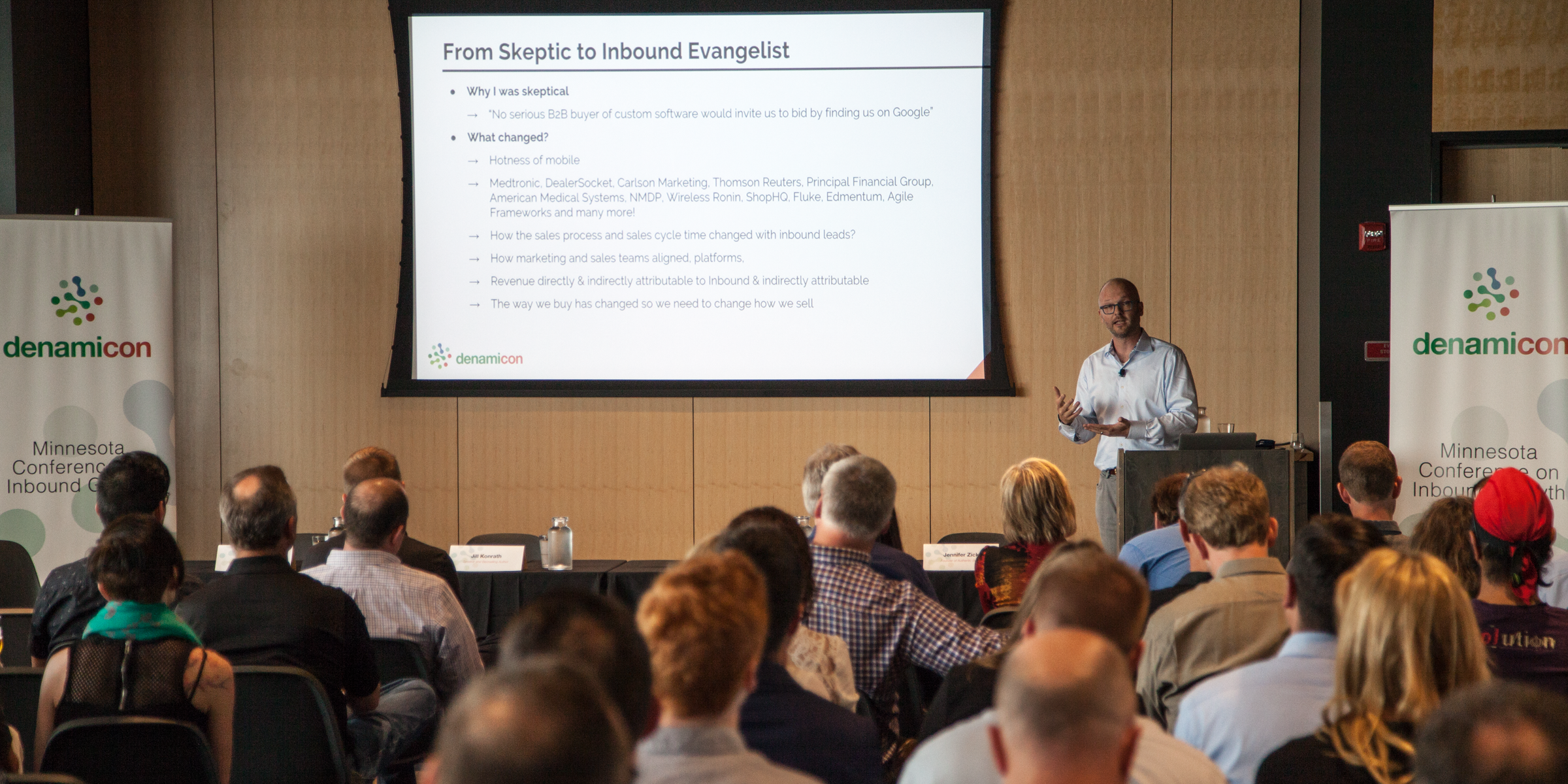 Keynote speaker,Björn Stansvik, Founder/CEO ofMentorMate,described his journey from inbound skeptic to believer. Beginning with a traditional marketing mindset,Björn found himself being steered by his marketing team into an inbound methodology.
He was pleasantly surprised when a big deal walked in the door having found his mobile learning solution online. With expert input from Björn and the DenamiCON panelists, we've outlined the top four reasons why companies need to move to an inbound marketing approach.
But first, here's a quick highlight reel of the event.
Here are the top 4 takeaways for companies considering inbound marketing:
1. Inbound Reduces Time to Close Deals and Cost of Acquisition
Best-selling sales advocate, Jill Konrath, mentioned that in the new inbound paradigm, sales teams spend less time on outbound tactics and more time with qualified, better-informed leads.
"The question isn't how do I get

more

customers? The question is

how do I get

better

customers

?"
Customers are coming in better informed and at a higher level of sales readiness. That's because y

our inbound marketing program capitalizes on how today's buyers are searching for solutions. They are finding you. That means:
Your content is informing those future customers 24/7 – not just when your sales team is on the clock. Marketing automation does the heavy lifting of guiding leads through sales readiness stages.

Sales can now triage leads more intelligently by seeing a buyer's specific journey through marketing campaigns and engagement points.

Your sales team can personalize follow-ups and close messages, empowering them with specific and useful information.
All of that translates into less money spent on acquiring (and retaining) customers.
2. Inbound Methodology Aligns Sales and Marketing Teams
Inbound has created a flow between sales and marketing where the funnel is less about a hand-off and more about a whole team approach to strategically nurturing leads (and customers). Both teams rely on one another and have more transparency into one another's goals and activities.
Clay Collins, Co-Founder/CEO of Leadpages, urged companies to break down the barrier between the marketing department and the customer – and the sales team needs to help make this happen.
"Marketers can make customer stories live in technicolor. But beyond creating sanitized personas, marketing needs to know which information sources customers are reading, and which spreadsheets they live in each day.

Sales needs to keep bringing real-life stories to marketing and the rest of the organization.

"
Craig Pladson, Marketing Director of GoKart Labs, agreed.
"Sales people help marketing tell a good story and refine the value proposition. Marketing gets the message out to the right people at the right time. Now, it's less about if sales takes credit or marketing takes credit for a win.

The lines are blurring because the teams are better aligned.

"
3. Inbound Marketing for Efficient Life-Cycle Marketing for Deeper Selling
The sale is never done: contracts come up for renewal; your customers mention new pain points; you're alwaysimproving old products and services or developing new ones.
Authentic Brand founder Jennifer Zick encouraged businesses to re-assess how they view existing customers.
"Your current customers still have needs, and they already have jumped the relationship hurdle. Tap into them for more sales."
With an inbound marketing platform like Hubspot, you can efficiently nurture your existing customers and keep them informed of new products and services tailored for their needs.

4. Your Authentic Story Drives Inbound Growth
Customers engage with brands differently than they did decades ago. Brands are becoming trusted advisors and influencers – not just providers of goods and services. The explosion of online search means that literally billions of people are looking on the internet for solutions to their unique problems.
And, of course, some of those several-billion seekers are your potential customers.
Companies need to create content that attracts, informs, and – ultimately – converts strangers into customers. AsBjörn Stansvik said:
"The old approach to content was company-centric. The new approach is about being topic-centric, based on your customers' needs."
Björn added that the more exposure your potential customers have to your solution and your company culture, the more receptive they will be to you.
---
Thanks to all of our DenamiCON participants and guests! And – wait for it – we're going to do it again! Stay tuned for more information about DenamiCON Fall '17. We can't wait to see you in November 2017!
NEED HELP WITH INBOUND MARKETING?
Not sure where to begin with your own inbound marketing plan? We help companies develop an effective inbound marketing strategy and online presence. We even help create killer content that boosts traffic and turns leads into customers.