This Tuesday, we hosted the second-ever DenamiCON, the Twin Cities Conference on Inbound Growth.
The event was a resounding success, with a sold-out audience, and a presentation and panel discussion followed by a happy hour where attendees were able to mingle and mull over the takeaways of the day.
Here's a short highlight reel of the event.
Key Takeaways
Our theme this fall was The Game Has Changed: Today's Digital Buyer and Our Battle for Trust. Discussion centered around building trust online.
Attendees were excited to walk away with key strategy insights to apply to their own businesses, and to hear real-life success stories from the speaker and panelists.
If you missed out on DenamiCON this week, don't worry - you'll have another chance to hear from marketing experts at DenamiCON III on May 17, 2018.
In the meantime, here are 5 key takeaways from this week's edition that you'll want to put into action now.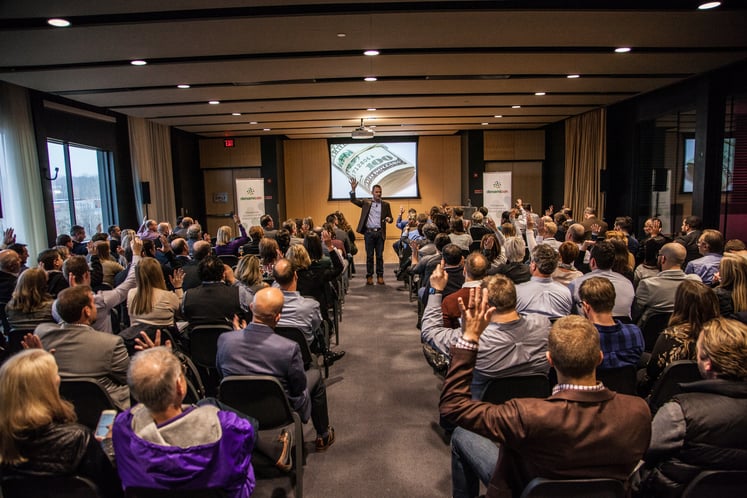 1. Every company needs to think like a media company
Here at Denamico, we're used to thinking like marketers, because we are marketers. We believe, though that every company needs to think like a media company. And the evidence backs us up.
Take it from Marcus Sheridan, our keynote speaker, who stumbled into content marketing by accident. He was "just a pool guy" when the recession of 2008 hit. As he looked for ways to avoid bankruptcy, he stumbled across content marketing.
By becoming the "wikipedia" of pool companies, with extensive content dedicated to answering his buyers' questions, he was able to save his pool business and in fact create exponential success. To a non-marketer, content marketing may seem idealistic, but learning how a single 800 word blog post generated $500,000.00 in revenue for River Pools and Spas is pretty compelling.
2. Your buyers have five main types of questions. Answering them is a key part of your strategy to get ahead of the competition.
According to Sheridan, there are 5 types of questions you should be answering through your content marketing:
1. Cost and price - Even if you don't provide the numerical value, give your audience a sense of factors that determine cost and price, especially if you offer different tiers of service.
2. Problems - Know what your product or service is a good fit for, and what it isn't a good fit for. Although talking about the "problems" associated with your product or service (or more accurately, areas where it's not a good fit) may seem risky, at the end of the day, this helps weed out the bad-fit leads earlier on, and gives you more time to focus on quality leads that are a good fit for your business.
3. Comparison - Talk about how your product or service compares with its competitors. Your audience is researching this question anyway. When you answer this question on your website, you also have the chance to frame this comparison in a way that puts you in a good light. Although your competition may have lower prices or different features, you know that what you offer is special. Share this perspective with your audience.
4. Reviews - Your audience places a lot of stock in customer reviews. Build trust by putting those reviews on your website, social media channels, and external review sites. If you don't have a process for getting reviews from your happy customers, implement one! What does your customer base need as motivation to fill out a survey?
5. Best - Which is the highest quality? What features set a good product or service in your industry apart? What key quality markers should a potential buyer look for? It doesn't hurt if you showcase some of the things you do well in this type of content, but just make sure you keep it educational and general rather than naming your brand.
Marcus shared a plethera of valuable insights with us. Read more about his thoughts on this topic in detail from his recent visit to our office in Minneapolis, where he spoke to an exclusive group of local business leaders.
3. When you're looking for an internal marketer or agency partner, find people that push themselves and have an insatiable curiosity.
As panelist Mike Bernard said, "hire curious people. You can't teach passion."
George B. Thomas seconded this advice, and added, "find a journalism major who has the chops." Then ask, "are they a lifelong learner?"
Panelist Ryan Ruud is just one example of a journalist who took a "hard right turn" into marketing and has never looked back. He made the switch, he said, because he's "passionate about storytelling," and marketing is a chance to put that passion to use. Calling it "marketing," though, Ruud said, is "the "the wrong word" with "the wrong connotation." Instead of pushing products and services on people, he says, marketers "should be connecting people to stories."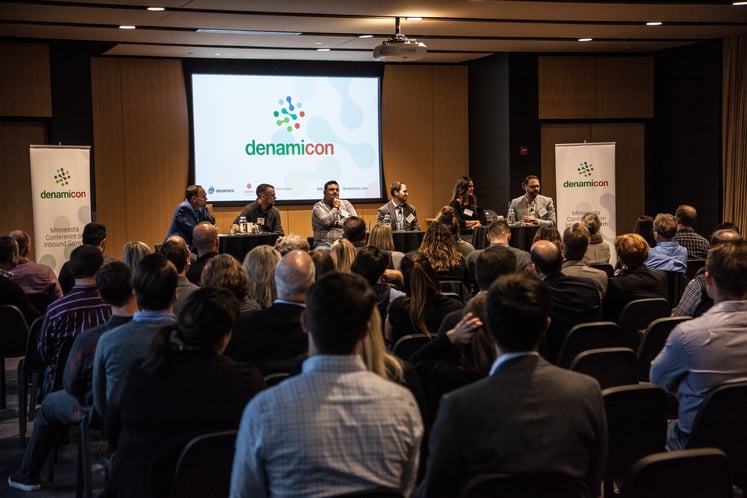 How can we as marketers tell better stories? It starts with keeping our curiosity and drive to learn alive, and then taking what we learn and applying it to innovative new content and strategy.
As a self-proclaimed marketing "nerd," Mike Bernard also called on fellow marketers to raise their own game and continually seek to get better at their jobs.
4. Don't be afraid to make mistakes.
Many people will hold back from flipping the switch on marketing initiatives, worried that something will go wrong. But what's worse than making the wrong decision? Making no decision at all.
As panelist Adam Post said, "test and measure" is your best bet to get quick wins, and this is also how you get the data you need to make good progress.
Panelist Tracey Ellis seconded this advice, and said that A/B testing is one of the most powerful tools you have as a marketer to try out your ideas and evaluate them for strategic success.
5. Get started on video marketing. Yesterday.
As Marcus Sheridan said, "by 2019, 80% of content viewed will be video." Video is also one of the most trusted mediums your customer base uses to make product and service decisions. If you're not focused on video marketing, you're already behind.
Can you turn some of your blog posts into vlogs? Are there product or service videos that should be created for different pages on your website? Find the opportunities now, and capitalize on them to keep your authority in your space.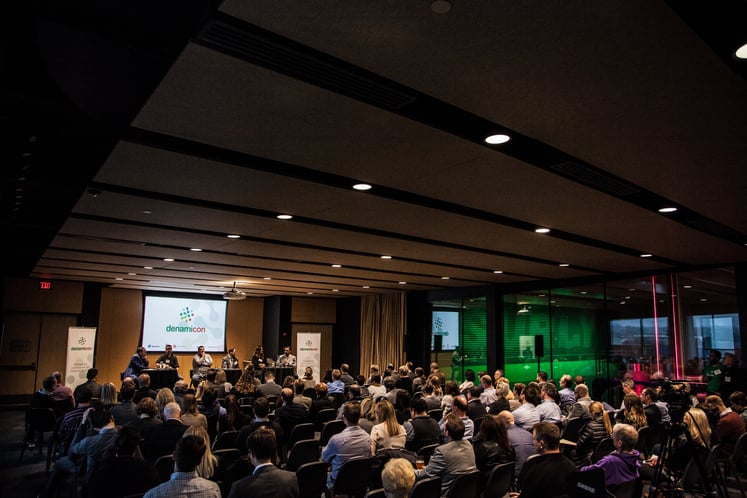 At the end of the day, marketing is about creating a human connection with your audience that drives revenue for your organization. In today's world, following these five tips will help you stand out far above your competition. Keep in mind, Sheridan said, that "transparency and honesty" win the day.
What drives success is not a monolithic business reaching out clumsily to a broad swath of people, but a marketing strategy that fosters human connection.
---
We're already looking forward to hosting DenamiCON III on May 17th, 2018. Mark your calendars!