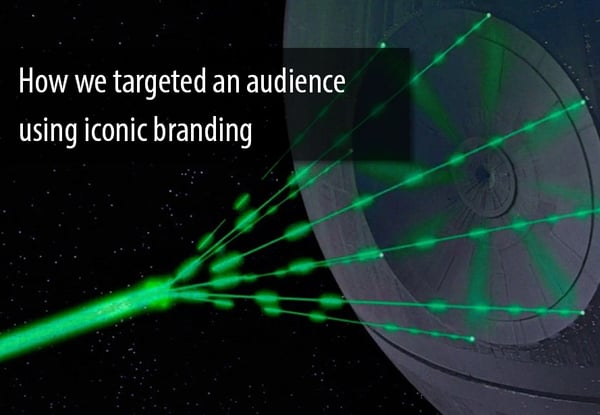 Not so long ago (today), in a galaxy reachable by your fingertips (the Internet), our Denamico team of misfits launched a website using HubSpot's COS for the three-dimensional hologram Jedi Masters, Zebra Imaging.
The Star Wars themed site highlights Zebra Imaging's exclusive 3D hologram devices (licensed by Lucasfilm) featuring characters and scenes from the films.
Throughout Star Wars mythology, holograms serve as the primary means of communication. Inspired by this distinct and memorable visual, we worked with Zebra Imaging to design a strikingly visual and highly functional website to coincide with the opening of Star Wars: Episode VII The Force Awakens and Zebra Imaging's release of its first full-parrallax 3D hologram in the Star Wars series: Death Star Trench Run.
The Challenge: Take on the Death Star
With branding as big as Star Wars, the new site required a design immediately recognizable to fans upon first glance. At the same time, the 3D hologram products needed to stand out among the familiar iconic characters and scenes.
While Zebra Imaging is the only company in the world that offers digital holograms that don't require glasses or goggles, and can be viewed from above and below -- or even side to side -- and in full color, the purpose of the design wasn't necessarily to promote the other, more elaborate projects Zebra Imaging has built their primary business upon.
The purpose was to quickly and efficiently design a site that appeals to Star Wars fans who actively use tablets and other mobile devices to supplement their desktop browsing.
The Solution: The Force is Strong With You
Using HubSpot's COS, we developed a responsive website that looks and functions great on any device. We also took into account future needs of Zebra Imaging as they set out to release a series of 3D Star Wars holograms by implementing a simple, flexible design with the ability to grow and change as new products come to market.
As much of the Star Wars allure is the simplistic battle between two opposing forces, visually, we used color sparingly and focused on the portrayal of light versus dark. Key features of the design include a stark white background set against a black navigation bar on the Store page -- or flipping the forces -- having white text jump from a dark background within the About page and Blog. Very little color was used other than to differentiate headings or to feature a graphic depiction of the 3D holograms.
The Impact: Stay on Target
It's too early to tell if our decisions will provide the best impact (we'll be measuring along the way) -- but we believe that our initial strategy will pay dividends in the long run if we keep the target market in mind. In the words of Master Yoda, "Do. Or do not. There is no try.