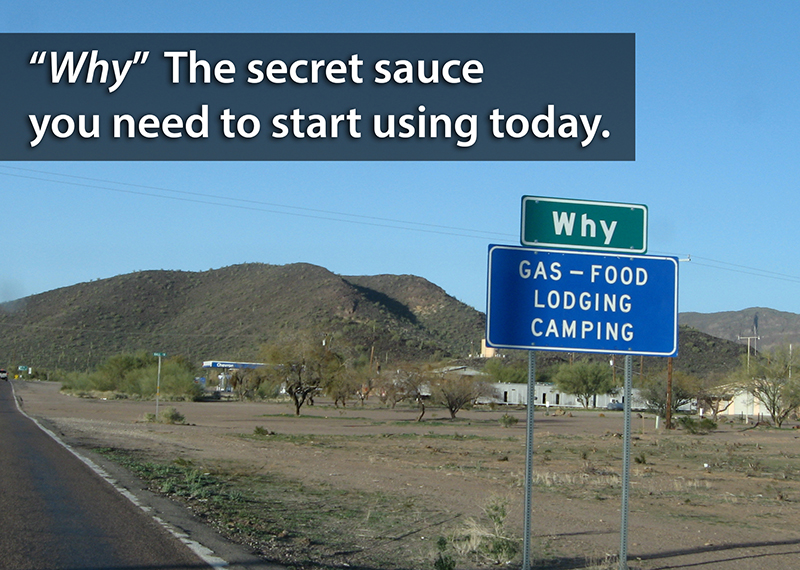 Have you seen Simon Sinek's popular Ted Talk, "How Great Leaders Inspire Action"? I came across it again this week and watched it for probably the 6th time, which inspired my post today. If you haven't yet watched it, it's well worth spending the 18 minutes after you finish reading this.
The crux of the talk is that most businesses do a good job of explaining 'what' they do, but the ones who can really communicate 'why' they do it, are better leaders and can connect much better with their staff and customers, assuming they share similar beliefs and values.
Do you know your why?
If you're also an entrepreneur, I'm sure you have a pretty good idea of why you started your company. Some common reasons, as articulated very well in this article by Justin Spring are the desire to create, the desire to enrich lives, to solve real problems, to lead change, and to leave a lasting legacy.
What, How or Why?
Why I decided to start Denamico – and how I was able to convince my talented wife to be my business partner – was both a) our desire to fill an important gap of expertise in smaller organizations and b) the need we saw across so many different types of businesses to have a more consistent flow of new customers.
Many people will argue that having a passion is critical to success in a business or career. I would argue, however, that there is a lot more evidence of successful people having a clear purpose. Apart from the fact that I would not be a very good lawyer, plumber, CPA or farmer, I always wanted to focus my energy – no matter what business I was working in – on the activities needed to grow the business through getting more customers, or business development.
I knew, when I decided to move on from my career in the fishing industry in August of 2007, that I wanted to start something of my own which focused on my core education in marketing. Through my experience in various companies and starting our own businesses, I knew that an area where many businesses needed help was in lead generation to fuel their growth. Small to mid-sized businesses make up 70% to 90% of most economies around the world, and those are the same businesses that really need the most support in this regard.
What about the HOW?
So although I knew what I wanted to do, how to deliver that service was my next question. Every small business has a leader who is trained to provide a specific product or service to a community. But as we know, to effectively run an entire business, you need other skill-sets as well. For those other skills which the business founders don't have, they either hire staff or hire outside consultants.
If the missing skills require at least 120 hours a month, you hire full-time and if fewer than 80 hours a month are required, it normally makes sense to hire part-time skills. Few organizations, regardless of their size, do everything themselves without ANY outside specialists. Whether it's financial, legal, IT, staffing or any other kind of expertise from professionals not employed there, some things are better off "outsourced" to a specialist, due to a lack of time, expertise or just the advantage of having a fresh perspective.
Working with outside specialists can be a once-off, done for the purpose of completing a particular project, or done on a retainer basis for a specific number of hours per week or month. With technology that exists today which allows different team members to communicate and share information, the outsourcing of components has become much easier and very effective for all parties involved.
As many lawyers, CPA's, IT companies and other core business services provide outsourced "as-you-need-it" expertise, we decided to build a business providing creative and lead generation services because it's what we do. The same way I would not pretend I could safely extract a tooth, represent someone in court or certify the plans for a new high-rise downtown, I don't expect a dentist, an attorney or a structural engineer to know what we know about marketing in 2014.
The Best Part
The prize for focusing on one thing which you know how to do well is you get better and better at it. And if you do it well, it's probably because you also really enjoy it.
The world of digital marketing, like anything technology based today, is constantly evolving. I love the dynamic nature of marketing today, and I love partnering with our clients, learning in-depth about how their businesses work, and teaching them what I know about marketing and how it applies to their business.
I believe the benefits are exponential when businesses focus on what they do best and let trusted partners with the applicable skills help them with the rest.
What do you think? Leave us your comments and tell us which business functions you believe are best to outsource. We'd love to hear your thoughts!