It's about time the spotlight shines on Adam Stewart, our Senior Inbound Strategist. Though he's had the most vlogging screen time of anyone on our team, we've been eagerly anticipating the debut of his employee spotlight.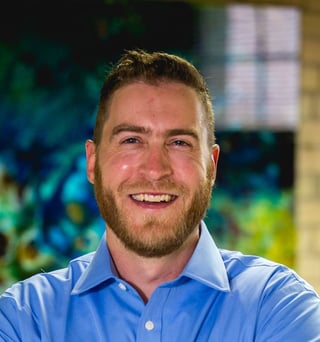 Part strategist and part copywriter, Adam's whiteboard game is strong. And his writing chops, next level.
The "pitter-patter" of his keyboard is music to our ears, but writing copy only makes up a fraction of Adam's role here. When he's not dreaming up content campaigns, he's advising clients or wrapping up team meetings with a trusted catchphrase.
And though he has lived all over the world, the charm of Minnesota and its beer league hockey teams have kept Adam and his family of four settled here.
Get to know a bit more about Adam and Denamico in the video below.
1. How would you describe your role?
I listen, I strategize, I write, I optimize, I implement, I automate, I track, I tweak, then I repeat the process. It's what we do as inbound marketers. But mainly, I rely on a great team of specialists to help me throughout the process.
2. What aspects of your role do you enjoy the most?
Having a background in creative writing, journalism, and teaching, I enjoy creating content for a variety of uses as well as teaching others how to shape ideas into actionable words. Having a good laugh at work with a bunch of creative peeps is also a great perk.
3. What are three words to describe Denamico?
Wicked. Smart. Strategists.
4. How do you balance your career life with family life?
I am the proud father of two crazy toddlers. I think they're part shark cause they never stop moving, so I get extra practice at multi-tasking, which is a great skill to hone in agency life. But at the end of the work day, I'm able to unplug and focus on family. There's not a lot of relaxing, though.
5. What is your favorite sport?
Without a doubt, hockey. It's fast, it's physical, and you can play it at any age. I grew up playing and still lace up the skates every week on a beer league team. Go Stars, Sunday Night at Parade champs. In all honesty, hockey keeps me sane.
6. People would be surprised if they knew:
People would be surprised if they knew I was born in France and have lived in 8 different places including, Boston, California (twice), Chicago, Seattle, British Columbia, and Minnesota (on two separate occasions). Who knew the witness relocation program could be so much fun?
7. If Hollywood made a movie about your life, who would you like to see cast as you?
Matthew McConaughey: "Alright, alright, alright." He could probably handle my catchphrases with the proper emphasis, if you know what I mean.
8.So, what are the catchphrases?
I'll "flerg on the blerg." This means I'll put some copy on it. I also like to end content team scrums with "pitter patter, let's get atter" – kinda self-explanatory. And sometimes I'll throw out the line "Boom. Boom. Bang!" to indicate what's been going well for our team and clients.
---