Today's a special birthday celebration for one of our recent hires, Allison Perry! So we made her get on camera.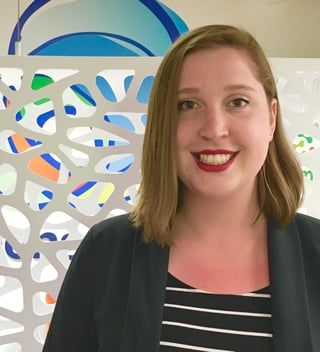 Allison is a Digital Designer. Basically, she says, "she makes things pretty." Based on the work she cranks out for our clients, we know there's more to it than that.
Whether she's designing a website, optimizing landing pages, or developing infographics, Allison brings a structured approach to the process.
But she'd readily throw that structured nature to the wind if she had the chance to skydive.
Get to know a bit more about Allison and Denamico in the video below.
Video Transcription
1. How would you describe your role?
My role at Denamico is making things pretty, if I'm putting it simply. I'm responsible for making sure both our internal and client based visuals are aligned with their company branding and goals.
2. Before working at Denamico, what was the most unusual or interesting job you've ever had?
My first job was a lifeguard at the YMCA in my hometown. It was interesting in the sense of each day you literally had no idea what was going to happen. You could either be pacing an empty pool trying not to fall asleep, or you could be close to having a panic attack because a persistent (yet exhausted) 5 year old is determined he can swim from one end of the pool to the other. It could be pretty high stress to say the least.
3. What advice would you have for a new Denamico hire?
Make sure you talk about baked goods at some point, they love them here. Be curious, ask a lot of questions, and just be yourself. I know that sounds simple but, seriously, just be you.
4. What do you like most about Denamico?
The people. Everyone here is so smart and they each bring a different set of skills to the table that, at the end of the day, just makes us stronger as a whole.
5. Any random facts you could share with us?
I am a huge klutz. In my first 14 years of existence I managed to break my arm, my collarbone, and my ankle, twice.
6. What is your favorite number and why?
My favorite number is 11, simply because it's the day of my birthday, which fun fact, just so happens to be today!
7. Tell us something about your family that might surprise us.
Everyone in my family is crazy tall. At a whopping 5' 10" I'm the shortest in my immediate family. I have a brother who's 6' 7" and a cousin who is 6' 9". We look like a bunch of earth-invading giants whenever we go places together.

8. What have you always wanted to try but haven't done so yet?
I've always wanted to skydive. I can't imagine anything feeling more free than weightlessly flying through the air.
---