Jen Cameron is one of those rare, rambunctious types that never runs out of energy. Or so it seems, anyways. As the Office Manager here at Denamico, she has quickly become an indispensable member of our team.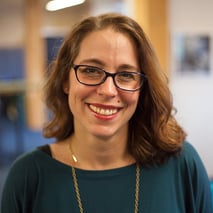 With Jen around the office, the internet is never down for long, bracketed Mario Kart tournaments are a part of our week, the kitchen is always stocked with a prime Costco snack selection, guests are treated like royalty, and everything just seems to run a little smoother.
She's a rockstar. And we're grateful to have her with us.
Get to know a bit more about Jen and Denamico in the video below.
1. How would you describe your role?
I'd describe myself as the "fun ambassador" for Denamico. I'm passionate about creating an exceptional experience for our employees AND clients, ensuring each person loves to come to work and feels valued. Creating opportunities to engage with each other and our community is essential to a thriving workplace and makes me look forward to coming to work every day.
2. Before working at Denamico, what was the most unusual or interesting job you've ever had?
I was a personal stylist at Nordstrom for almost 10 years. I spent my time there creating unforgettable experiences and developing meaningful, trusting relationships with my clients, often caring for every member of the family. Nordstrom provided us with nearly unlimited educational opportunities, product training, and resources to care for our clients. I learned the value of creating lasting, honest relationships as well as providing an exceptional level of customer service.
3. What aspects of your role do you enjoy the most?
Human engagement and connecting with people in a meaningful way is the best part of my job. I like the element of surprise and going above and beyond for someone to anticipate their needs. Whether baking a birthday cake shaped like a pickle, finding ways to be impactful in our communities or unusual ways to show appreciation, my role offers me an opportunity to engage with people in a meaningful way and create lasting relationships.
4. How do you balance your career at Denamico and family?
By staying organized, keeping a sense of humor, never taking things too seriously and always treating people with respect. With a very flexible team of colleagues and a very understanding village of family members, I think a woman can be empowered in today's workplace environment to keep a healthy balance between work and family.
5. Best vacation spot you've been to?
When I was a teenager I lived in Ecuador for almost a year. While I was living there I took a 10-day trip to the Galapagos Islands, staying on a small boat, and taking daily excursions onto the islands. It was an amazing trip, and was before the islands were protected and tourists were not allowed to walk on the islands themselves. I'm certain I will never experience anything like it ever again.
6. What children's character can you relate to most? And why?
Fancy Nancy. Fancy Nancy is a young girl with a larger-than-life personality, who adores all things fancy. She always dresses extravagantly, wearing feather boas, tutu's, ruby slippers, fairy wings, and fuzzy slippers. Nancy loves using big fancy words such as "iridescent", "ecstatic", and "extraordinary" and anything in French. I'm a big fan of anything that makes a girl feel powerful, capable and worthy. Fancy Nancy is confident, an excellent communicator and always sees the rose in the vase, and not the dust on the table.
7. If you were an animal what would you be?
I'd be an albatross. They mate for life, are highly efficient in the air and are able to travel long distances with very little effort. They are one of the largest flying birds and often make their nests on remote islands. They live much longer than other birds and spend years perfecting their repertoire of behavior, which involves synchronized performances of various actions such as preening, pointing, calling, bill clacking, staring, and combinations of such behaviors (like the sky-call). When a bird first returns to the colony it will dance with many partners, but after a number of years, the number of birds an individual will interact with drops until one partner is chosen and a pair is formed. They then continue to perfect an individual language that will eventually be unique to that one pair. Having established a pair bond that will last for life, however, most of that dance will never be used again. If only this were true for humans :)
8. How do you define success?
"To laugh often and much; to win the respect of intelligent people and the affection of children; to earn the appreciation of honest critics and endure the betrayal of false friends; to appreciate beauty; to find the best in others; to leave the world a bit better, whether by a healthy child, a garden patch or a redeemed social condition; to know that even one life has breathed easier because you have lived. This is to have succeeded."
— Ralph Waldo Emerson
---