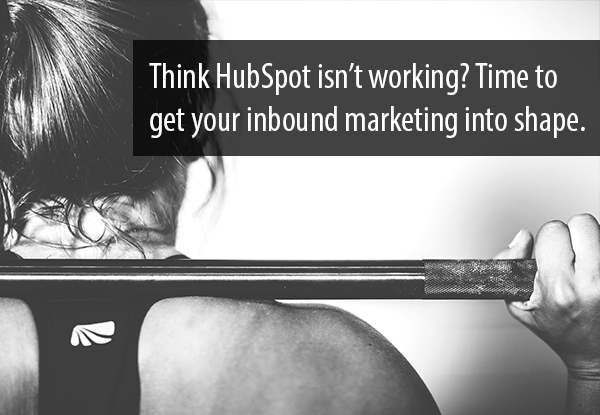 There are a lot of HubSpot users out there who absolutely love the platform. They're drinking the Inbound Marketing Koolaid, deploying campaigns and seeing results.
But others find themselves questioning its value. They've invested in a SaaS solution that was supposed to help the business grow. But instead, traffic growth is flat, leads are merely trickling in, and the team is questioning whether the monthly subscription price is worth it.
If you find yourself leaning toward the latter camp, then you're likely frustrated that the platform is not doing what HubSpot sales reps promised it would help you do – grow traffic and generate leads.
There could be a number of reasons why HubSpot isn't working for your business. But chances are, the root cause is related to content. In order for inbound marketing – and your HubSpot platform – to work, you need to generate high-quality content on a consistent and frequent basis.
Your overall content strategy drives success. And your team's ability to execute against that strategy is what delivers results. So how exactly does HubSpot fit in? HubSpot is the tool that allows you to strategize and execute more efficiently.
Consider for a moment the analogy of working out. You buy a brand new, top-of-the-line treadmill so you'll be able to conveniently work out at home. The treadmill has programmable routines so you can easily choose whether you want to train for endurance and distance, speed, or more variable inclines. You have an all-in-one tool to get the job done. But having the tool doesn't mean you'll be in shape. You still need to do the hard work of putting in the time to actually run – frequently and consistently.
The same holds true for HubSpot and inbound marketing. Provided that inbound marketing is a good fit for your business (read this post if you feel like you need to re-evaluate), then HubSpot is most certainly a tool that will help you grow traffic and generate leads – if you're putting in the required effort.
So, let's take a look at how to get your inbound marketing back into shape and get the most out of your HubSpot investment...
Getting Your Blog Back on Track
There's no getting around this one. To attract site visitors and grow your traffic, you'll need to blog. At a minimum, you should blog twice weekly, more if you can. If generating enough blog content is currently your biggest inbound challenge, take a look at these resources to get you back on track…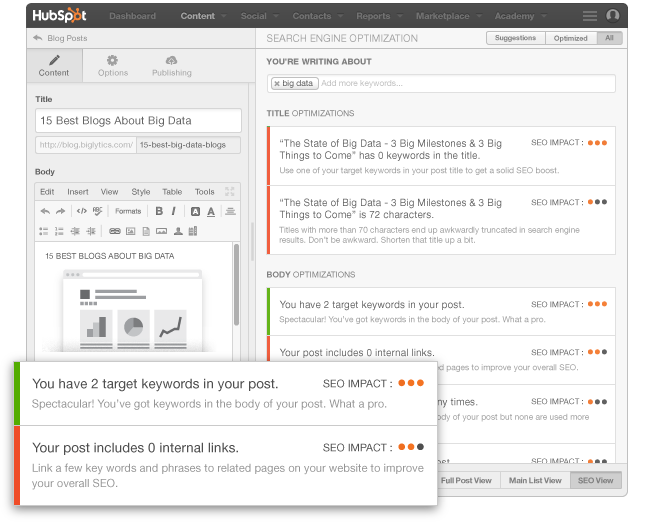 Not sure if your old posts are optimized? Use the HubSpot Page Performance reporting tool and click "blog posts" to see which posts have critical SEO issues.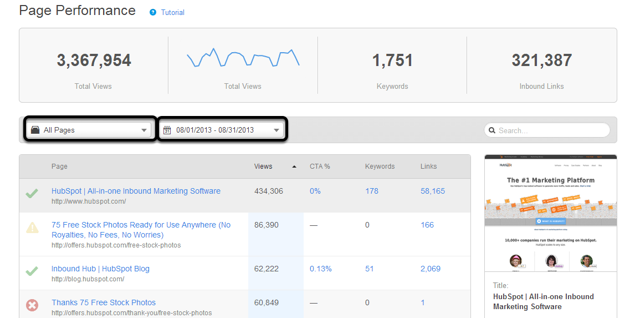 If you find that you're using these tips but still don't have enough time to generate blog posts consistently and regularly, then it might be time to outsource some of your content creation.
Be More Strategic About Your Content
Shape-Up Your Buyer Personas
Your buyer personas should be at the heart of each blog post, email, workflow, social media post and premium content offer you create. Personas provide your marketing team with valuable buyer insights that can be used to address the needs, goals, challenges and questions of your audience throughout every stage of buyer lifecycle. The insights you glean from buyer personas will be critical to determining high-quality content that will resonate with your ideal buyers.
If you don't have buyer personas in place yet, you can get started by using a buyer persona template. This template will serve as a useful guide for determining the information you need for your personas, and it will assist you in asking the right questions during persona interviews and surveys. Keep in mind that buyer personas are a work in progress. You should plan on revisiting and updating personas periodically. Use data, interviews, and team insights to improve upon existing personas.
After you've developed personas, add them to the HubSpot Persona tool. Doing this assures each and every team member will have quick, easy access to your target personas. From the tool, your team can easily access a quick persona snapshot that includes roles, goals, challenges and demographics. Additionally, team members can read the full persona story.

Not only will the HubSpot persona tool help everyone stay in the know when it comes to your target audience, but it will also provide vital segmentation functionality. By loading your personas into the HubSpot tool, you'll be able create a form field option that is directly linked to your personas. This means that contacts in your database can be assigned to a persona when a site visitor fills out one of your forms. Just remember to include the persona question in your landing page forms.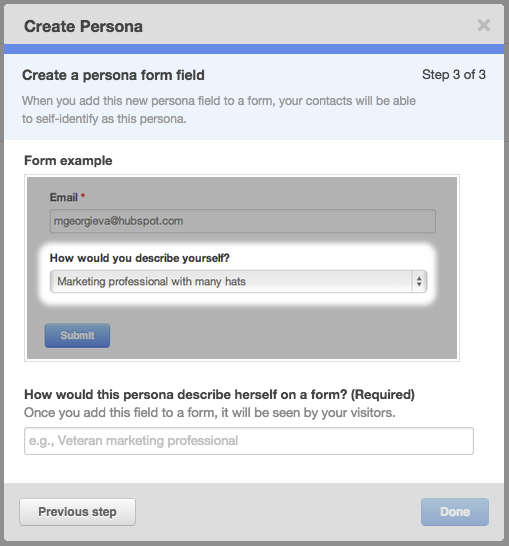 If you need additional support on creating personas or on using the HubSpot Persona Tool, you can review this article in the HubSpot knowledge base.
Have a Keyword Strategy
Use your persona insights as a starting point and identify long-tail keywords that resonate with the needs and questions of ideal buyers. Plug those keywords into the HubSpot Keyword tool to identify opportunity keywords with high search volume and low difficulty rank.
Use a Content Editorial Calendar
An editorial calendar is vital to keeping your blogging and content roadmap on target and on task. And, as a HubSpot user, you have access to Hubspot's own built-in content calendar where you can schedule content ranging from blog posts and emails to landing pages and social updates.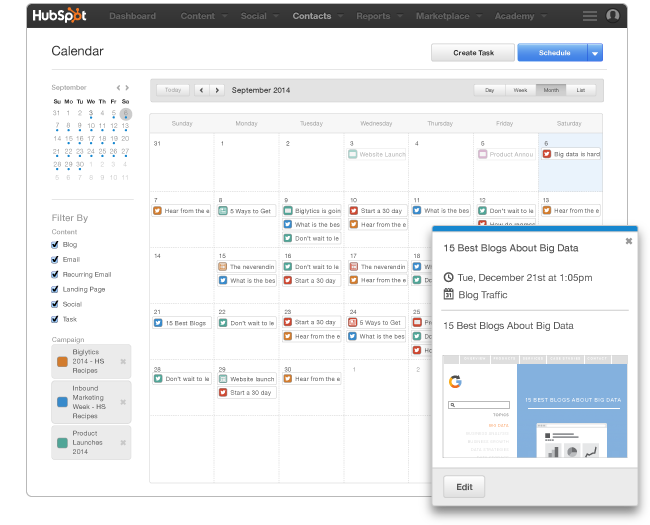 Alternatively, there are a wide range of other tools your team can use to keep content organized. You could choose to use Google Calendar, a basic spreadsheet, or even Trello.
Have a Social Promotion Strategy
With inbound marketing, it goes without saying that you'll want to leverage social media to promote your blog posts and your premium content offers. What may not be so clear is how to promote your content. Keep in mind that you can share your blog post content more than once on social. Just don't bombard your followers with too much repetitive content. For instance, the folks at CoSchedule offer this social sharing schedule as a possibility: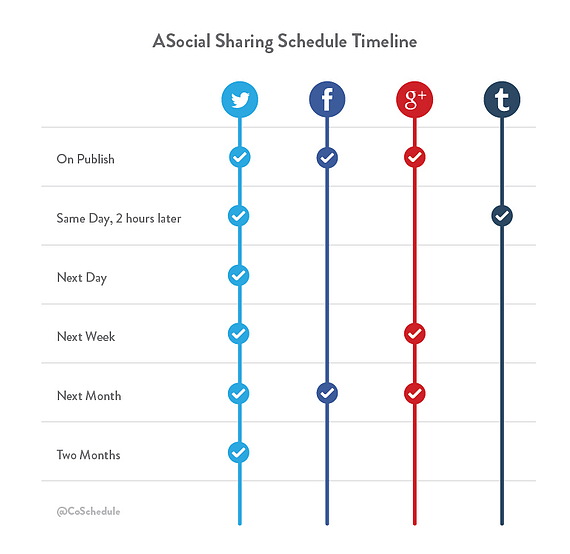 In addition to promoting content across business social channels, you may also want to consider developing an employee brand ambassador program. By training and engaging employees to be social brand ambassadors, the brand's reach is exponentially increased – extending throughout team members' networks. An employee brand ambassador program can also be incredibly advantageous on LinkedIn where group engagement is closed to company pages.
Step-Up Your Premium Content Offers
In addition to frequent and consistent blogging, you'll also need to make sure your team is regularly creating premium content offers that your site visitors can download. Aim for one per quarter, at the very least.
You'll need to have relevant, enticing CTAs at the end of each blog post and throughout your website to drive conversions. CTAs should meet the needs of your persona, and each CTA should be contextually relevant to the blog post topic or page content that the CTA appears on. So, if your blog post is about social media, then the CTA should be relevant to social media.
At first, achieving strong contextual relevance for each and and every blog post and CTA will be challenging, as you may only have a limited number of premium content offers. But as your collection grows, so will this contextual relevance – and your conversion rates.
If you're unsure about what your next content offer should be, take a look at your blogging metrics. Identify high performing blog posts that lack a strong, contextual CTA, and flag that topic as an option for your next premium content offer.
Conclusion
Inbound marketing takes time, patience and hard work. So, before you throw in the towel and say that HubSpot doesn't work for your business – remember the exercise analogy. Like staying in shape, inbound marketing requires ongoing commitment and perseverance. Once you're back on track, it may take six to twelve months before seeing a solid growth trajectory. Just stick with it. Because the work and patience will pay off.
---
Do you have buyer personas in place yet? Develop a strong inbound foundation and produce smarter, more focused communications with this template.