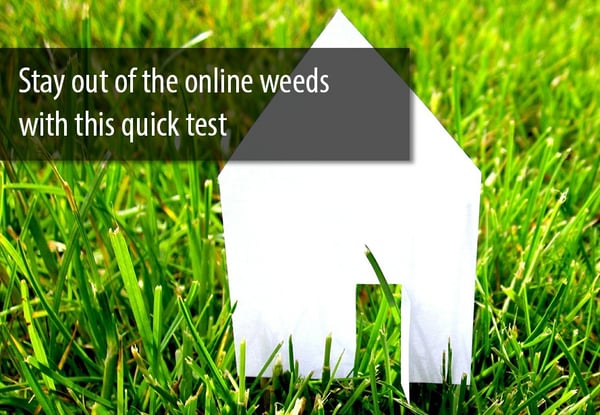 It's an exciting time for custom home builders; new methods of construction and innovative materials are paving the way for cost-effective, energy-efficient designs. It's also a scary time for home builders looking to differentiate themselves in an evolving marketplace, especially if their website has been stagnant for a few years.
While referral business continues to be the number one driver for new home sales, digital marketing is gaining steam because herds of homebuyers of all generations are using online resources to educate themselves, find specialists, and eventually decide on a builder to work with. That puts a lot of pressure on your website to perform, even more so if you're targeting a specific niche within the custom home building space or if your company is shifting from commercial to residential projects.
So, is your custom home builder website still effective?
It's not a clear "yes" or "no" question, right? Let's flesh out a definition of "effective" from the perspective of a homebuyer. While viewing your website, go through the following checklist wearing your homebuyer shoes:
1. I have a clear sense of the builder's goals for a project.
Homebuyers have goals for their new home, and they're looking to work with a builder who shares the same passions. If you specialize in saving up-front costs, state it. If you build tight, energy-efficient homes using structural insulated paneling, make sure that's the first thing visitors notice. Concerned about limiting waste in the construction process? Have that info front and center. You want homebuyers to immediately recognize if your building philosophy is a match. Don't make them dig to determine your cause.
All of the following examples are from the Acre Designs website (well, because they nailed it -- props to your team!).
Notice how their cause "We build homes that allow you to focus on life, not upkeep. Or energy bills." is prominently displayed above the fold on the homepage, and even clarified a bit directly below.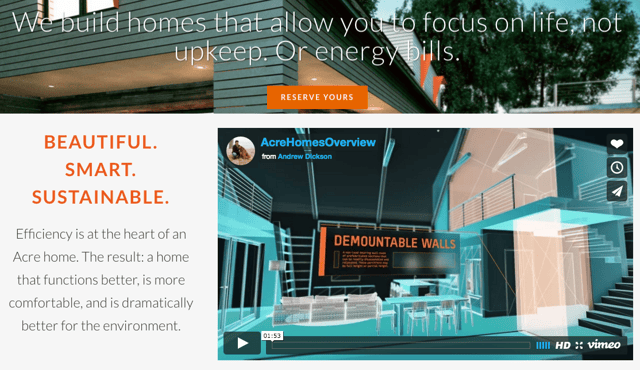 ---
2. I know who the builder typically works with.
In addition to a project match, homebuyers want to know if a builder is a right fit in terms of process and budget. Traditionalists resist having pricing information online for fears of being tied to a price as projects vary. However, providing starting prices or ranges for custom home builds prior to a consultation helps to qualify interested homebuyers right away, which saves everybody time.
Process example: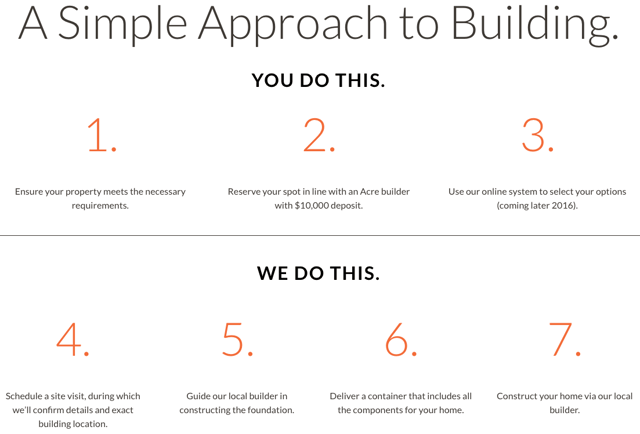 Pricing example (yes, this is on the homepage):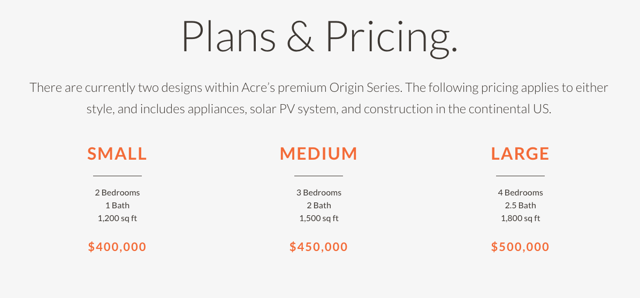 ---
3. I would visit this site again for more information.
This means you're providing some great content for each step of the buyer's journey. Homebuyers will have different questions or concerns as they become more familiar with what they want, how they want it, and what you can provide. If you have content that addresses the bulk of their concerns over time, they will be more likely to return to your site for additional information.
Acre Designs provides educational content in their News section (part blog/part news aggregator shown below), as well as a detailed and clean FAQ page.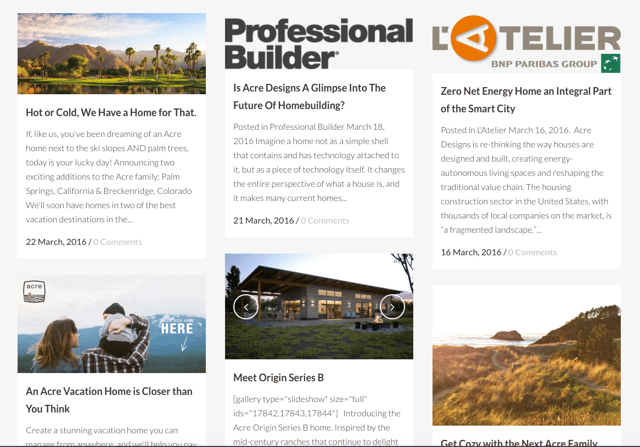 ---
4. I trust this builder's expertise.
Trust is a tricky thing to accomplish online, but there are some simple methods to achieve a visitor's trust. To establish yourself as an expert, offer recent case studies that highlight your best work, provide links to social media channels, and add any associations you belong to as credibility tags. But don't stop there. Use client testimonials throughout your site to humanize your company and your cause.
Testimonial example from the homepage:

---
5. I know exactly how to contact a salesperson when I'm ready.
Homebuyers are working their way through the sales process by interacting with your site. Maybe they found you through a local search, read a few blog posts, visited your testimonial section, and even downloaded a case study of yours. They've gone from a curious visitor to a sales-qualified lead without even speaking with you. Now they're ready to reach out. Make sure each page on your site has contact information for your sales team, or a direct link to request a consultation. Your site has been effective up to this point. No sense losing a lead now.
Not only does Acre Designs provide contact details throughout their site, their Reserve Yours call-to-action button provides a sense of urgency with a "spots remaining" indicator.

---
Bottom line: A truly effective website will generate and nurture leads for your business.
To keep those leads coming in:
clearly display your cause (the why that drives you to succeed)
provide information to qualify potential leads

(think process and pricing)

educate homebuyers using content

(this will keep them coming back and establish trust in the process)

humanize your service with testimonials

(this builds trust, too)

make it easy for interested candidates to contact you

(sales-ready leads are always nice).
Still wondering if your website is working hard enough to generate leads for your business? Download our FREE Website Marketing Scorecard.