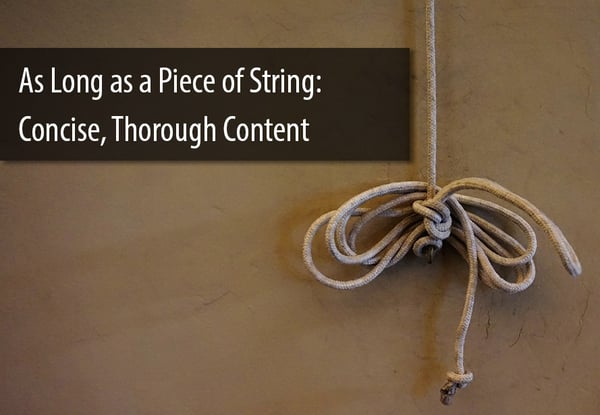 While teaching first-year composition courses during grad school, the most pressing and common question I would hear from students was, "How long does this assignment need to be?"
My answer would often frustrate them.
"As long as a piece of string," I would respond.
Blank stares.
When you have a project that requires the use of string, I would explain, how much string do you need to accomplish the task?
Inevitably, one student would pipe up, "Enough to get the job done."
Exactly, I would continue. No more. No less. Convey your message thoroughly, but concisely. If your string is too short, you'll end up having to come back to the issue -- too long, and you'll waste resources and potentially ruin the overall integrity of the project.
Enough to get the job done.
This sentiment certainly rings true for businesses creating online content, be it a blog post, podcast, or Facebook blast. As the folks over at SumAll and Buffer explain in their infographic, The Internet is a Zoo, "Every piece of content should be as long as it takes to convey the message, and no longer."

Bottom Line:
Beyond the character and word counts and minutes spent on visual and auditory content, keep in mind that B2B and B2C consumers are searching the internet for answers to specific questions. Content that is helpful, targeted, and timely will stick. It also doesn't hurt, however, to convey information in the most efficient way possible.
So, here's a helpful printable version to hang somewhere as a reminder while you're creating content for your business. I suggest using a piece of string.
Looking for resources on starting your own business blog? Download our free kit today.