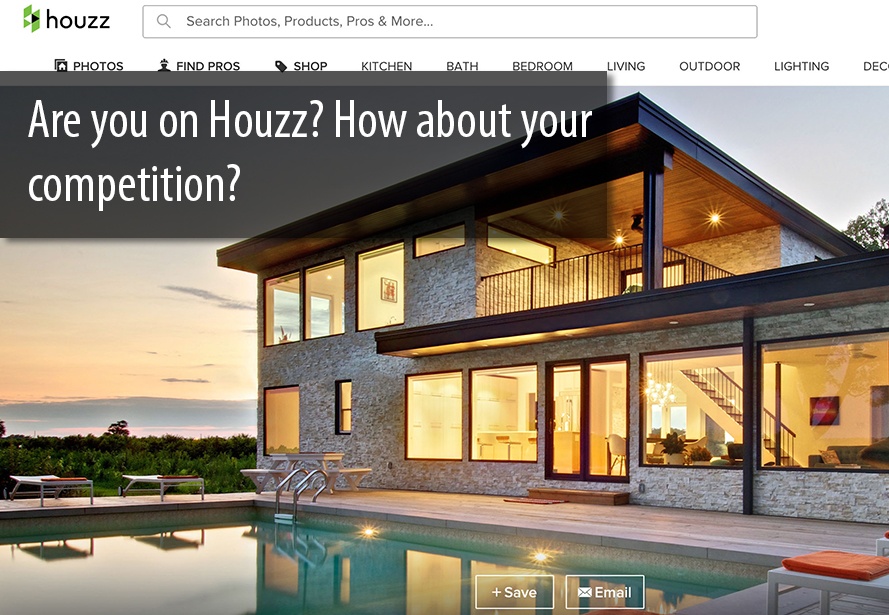 Part image-based search engine, part professional directory, part social media platform, Houzz.com has taken a foothold in the home remodeling and design industry. The highly visual site boasts more than 35 million unique visitors a month. More than 90% of those visitors are homeowners.
As a home builder, architect, remodeler, landscape designer, or manufacturer of building or interior design products, Houzz is a way to further your brand online, establish and share your expertise, connect with targeted consumers, and generate traffic to your website. All good things for your business.
Simply having a professional profile, however, won't help you generate new business. Keep in mind that 800,000 (and growing) other professionals are fighting for the same attention. To begin, try starting with a few goals in mind.
Goals for being on Houzz:
Rank well in localized search results.
Have users click through to your profile
Have users add your images to Ideabooks.
Have contributors add your images to Featured Stories.
Have users click through to your website.
How to achieve these goals:
1. Complete your profile
In addition to the basic contact information for your company, be sure to include keywords in the description of your business that are specific to your services and geographic areas. Houzz searches are localized, so if you're a builder in the Minneapolis metro, list out the specific areas you cover. That way, should a user search for builders in Bloomington and that location is within your description, the Houzz search engine will rank you higher than if you simply state Minneapolis.
2. Use high-quality professional photography
Use the best quality photos highlighting outstanding projects, name the images with descriptive titles, and provide keywords in the actual description section. Another way to jump in the ranks is to provide keyword tags for all of your images.
3. Get reviews
Because Houzz is a professional directory, reviews are extremely important. The platform provides a basic template for Pro users to invite contacts to write reviews. Avoid sending your contacts the formatted message. For a higher chance at getting those important reviews, craft personal messages referencing the projects and relationships you have with customers.
4. Communicate with consumers using the platform
Consumers have the opportunity to contact professionals through images. While the questions may seem basic at times -- something along the lines of "What is the official color of that marble used for the countertop?" -- the interactions build relationships. Try responding to questions as soon as possible but avoid the urge to sell. The point is to educate and establish trust.
5. Create your own Ideabooks
Find images from other Pro users that are relevant to your services and/or products and group a few of them with your own images inside an Ideabook. This helps establish your expertise and brand. Make sure the Pros are not in your geographic location to avoid advertising for direct competition.
6. Write your own Stories
Similar to a blog post, you can write stories that appear on your profile. Houzz compiles featured stories crafted by professionals and contributors to place on its own home page. The point of sharing these stories is to educate readers on particular trends or innovative projects. As writing these takes a certain set of skills and time, you may want to pitch your ideas to a contributing writer on Houzz. You can find them here.

Challenges:
1. You don't have any finished projects to highlight.
Tip: Have any professional drawings or renderings to share? Start with these as you work toward adding finished shots.
2. Professional photography is expensive.
Tip:Hire a photographer for multiple purposes: take headshots of employees for their own professional profiles; update photos for your own website, portfolios, and print materials. Spread the cost of the expense over several projects and help boost your company's overall image at the same time.
3. You don't have the time to consistently monitor and update your profile.
Tip: Set aside a small chunk of time each week to work within the platform. You'll be surprised what you can do in an hour a week. Use the time to align messaging across your social channels.
4. You're not tech savvy.
Tip: Chat with your team. Someone may have the skills and interest in taking on the project. Outsourcing the handling of your digital marketing efforts is another option as well.
Bonus tips:
Add the Houzz badge to your website.
Add the Houzz badge to your email signature.
Use Houzz reviews on your website, in email newsletters, and collateral print material.
The interest of Houzz has increased rapidly since its launch in 2009. The quicker you establish and create content for your professional profile, the faster you can start generating more interest in your company and point more visitors directly to your own website.
Is your website ready to convert those visitors into leads through blog content and premium offers? Do you have marketing automation set up to nurture those leads into customers?
Contact us to discuss a digital blueprint to grow your building or remodeling business.

Editor's Note: This post was originally published in February 2016 and has been updated for accuracy and comprehensiveness.