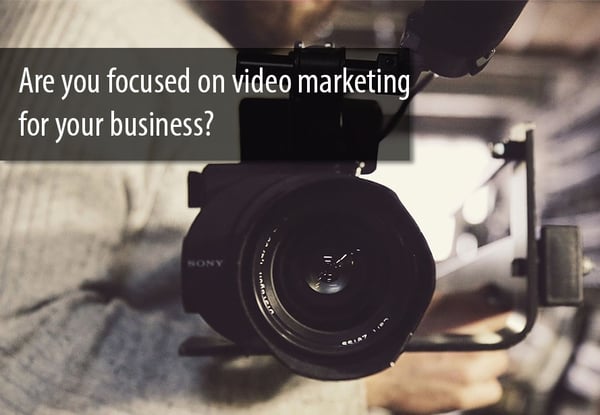 In today's digital landscape, video is becoming a key tool for marketers. In fact, 96% of B2B organizations use video in some capacity in their marketing campaigns, of which, 73% report positive results to their ROI.
However, hiring professionals can be expensive and not always practical for certain projects. If you want video to play a more integral role of your marketing strategy, creating content in-house may be a viable solution. In this blog post, we'll walk you through how to get started creating video.
Videos Suited For In-House Production
If you're just getting started with video, we recommend you avoid trying to create important videos like brand or product videos. These videos are best left to the professionals because viewer expectations of quality and production tend to be high.
The best videos to get started with have lower expectations by viewers, such as video blogs (Vlogs), product reviews, product demonstrations, or fun social videos. These are low stakes videos where customers aren't looking for super high quality video, but rather engagement and knowledge. They are easy to make and help build a connection with your audience.
Goal Setting For Video
When starting any campaign, it's vital to determine the goals you hope to accomplish, and the same goes for video production. Set aside some time to identify what your objectives are and then determine how video can help you achieve them. Without an end destination, creating effective content is extremely difficult.
Some of your goals for video may include:
increasing the time visitors stay on your website
improving social media reach
heightening brand awareness
increasing conversion rates on your landing pages
Planning & Scripting Your First Video
Once you have your goals, it's time to create your roadmap. Start by figuring out which type of videos may achieve your goal, and then write a script. Trying to "wing" a video almost never leads to the best result. Writing down a basic outline with key points you want to cover is a great way to make sure your videos hit the mark every time. And if you the video calls for it, script it out word-for-word and read from a teleprompter.
Purchasing Gear
Now that you have your goals set and a plan for your video, you need equipment to actually bring the video to life. What you'll discover quickly is there is A LOT of equipment you can purchase, varying from cheap beginner equipment to extremely expensive gear used on commercials. To save you time, we've compiled a list of gear we recommend to people just starting out in video.
Camera
Having a nice camera with solid features is important to make your life easier. We recommend the Sony HXR-NX100 because of it's great AUTO functions, professional audio connections, and high quality image. It certainly isn't the cheapest camera, but we feel it's worth the extra cost. And don't forget to buy an SD Card to store the footage.
Tripod
To avoid unnecessary shake in your shots, you'll want to make sure to have a solid tripod for your camera. We recommend the Magnus VT-4000 Tripod System. It's affordable yet sturdy, and will be sure to get rid of unwanted shake.
Audio
While using the camera's built-in microphone can work, we wouldn't suggest relying on it. First, the quality of the microphone is poor and will likely result in distracting audio. Second, you want to make sure your audio is great, because it's the one element of a video that's unforgivable. If your image doesn't look the best, people can accept it. But if your audio is awful, a viewer will turn off the video right away. To record crystal clear audio every time, we suggest purchasing the RodeLink Wireless Filmmaker Kit. It has a wireless receiver and microphone so your talent can walk around and be heard from anywhere in the shot.
Lights
Having high quality lighting is great, but to be completely honest, not crucial. If it fits in your budget, we recommend buying a set of LED Lights with a few Light Stands so that your video looks more professional. However, if your budget is tight (and for most people it is) try recording your video next to windows or in rooms with adequate lighting.
Filming
You have your gear, your idea, and your script. Now it's time to film!
Top tips for filming your first video:
Make sure there is little to no background noise when filming.
Choose to film in front of an interesting background. Flat, blank walls are usually boring.
Find a well-lit room or film next to a window. If you have a lighting kit, use it! Here's a video on standard 3-point lighting.
Smile and have lots of energy on camera. The way you would normally present yourself translates differently on film. What you may think is "too much" may be just right when watching it back on the computer.
Editing
Now that you have your footage, it's time to piece it together in an editing software. If you're using a PC computer, using Adobe Premiere Pro is a great option. If you're on a Mac, check out Final Cut Pro or use Adobe. When editing your video, aim to keep it between 1-3 minutes long. This allows it to have valuable substance but still keeps it digestible for viewers. Once you're done editing, publish it your hosting platform of choice. We like Wistia due to it's integration with HubSpot.
That's a Wrap
You're well on your way to creating great in-house video content for your marketing campaigns. Don't worry if the quality isn't what you hoped for initially. As you create more and more videos, you'll become even better at the process.
Want to integrate more video content into your marketing strategy? Check out our video marketing series to learn best practices and how to get started.