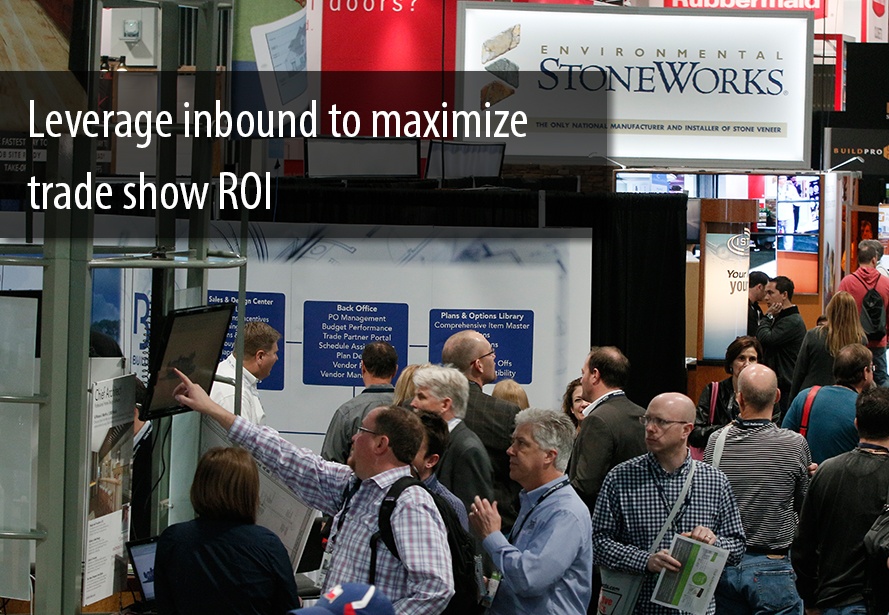 With the annual NAHB International Builders' Show (IBS) coming up this month, home builders, designers, manufacturers, and suppliers of home construction products and services will be flocking to Las Vegas to catch up on industry trends, network, and to generate leads for their businesses.
To get the most out of your trade show investment (which can be costly), home builders should be prepared with a strong inbound strategy to maximize lead generation efforts. Here are several before, during, and after trade show ideas to help you integrate a successful inbound lead generation program for your next event.
BEFORE THE SHOW
Set trade show marketing goals. While trade shows do present an opportunity to generate quality leads, other objectives may also come into play such as spreading brand awareness and establishing authority in your industry. As you create goals for the event, keep in mind how you will track and analyze your progress during and after the show.
Choose a compelling call-to-action (CTA) and put it on all of your materials. Whether or not visitors to your booth are genuinely interested in your company or simply there to fill their swag bag, having your CTA on handouts and collateral material may bring them back to your website long after the excitement of the show has waned.
Develop at least one event-specific landing page that provides a valuable marketing offer. Even better, develop multiple offers to meet the needs of different attendees along the various stages of the buyer's journey.
Find your clients, vendors, media partners, and your competition on Twitter and other relevant social media platforms. Be sure to follow all of them. Organize your social monitoring by setting up unique streams for each audience group as well as the event hashtag.
Use your blog to create fresh, relevant content that builds up to the event. Rather than simply explaining that you will be attending, speaking, or exhibiting, create value to your posts by stating why you attend such events, and what you hope attendees might gain from visiting your booth or joining your discussion.
DURING THE SHOW
Use Twitter to engage in conversations with attendees using the event hashtag. If you are handing out any premium prizes, promote how attendees can get their names in for the drawings.
Blog during the show. Live blogging, albeit a bit more involved than social media, is another way to promote your booth or experience at the show.
Take lots of photos and share them across your social media platforms. Humanize the trade show experience online by showing visitors interacting with booth personnel.
Make is easy for people to interact with your website and landing pages. Have a few tablets or monitors at your booth with your landing pages loaded and ready to go. Also, be sure to have signage with easy-to-use vanity URLs that point straight to your landing pages. This way, your content will be quickly accessible on mobile devices.
After you've connected with someone in person, take the time to find them on LinkedIn and Twitter. Be sure to include a personalized note that references your conversation.
Ask current clients who stop by for a written or video testimonial. Trade shows are a great opportunity to reach out to current customers who are delighted with your company and willing to share their experiences.
AFTER THE SHOW
Publish a recap blog post that includes highlights, photos, and any recorded testimonials.
Create a whitepaper, ebook, or video that offers a more in-depth summary of the event. Then, reach out to all those connections you made at the event and invite them to download the resource.
Get started on your email campaigns to nurture the leads you generated at the show. Be sure to deliver content that is in alignment with each lead's entry point and buyer journey.
Check your metrics. How did your pre-show goals hold up? Dig into any available data to rate your inbound program to refine the process for your next event.
CONCLUSION
Trade shows are an effective outbound marketing tool for home builders. However, exhibiting at a trade show can be an expensive endeavor. To gain the highest return on your investment, try leveraging an inbound strategy to hit specific goals for the event. Whether you are looking to gain more traffic to your website, obtain more qualified leads, or close more sales as a direct result of the show, using inbound tactics based on a solid blueprint is a trackable way to reach your marketing goals.
How have you used inbound lead generation at home builder trade shows before? Let us know what worked for you in the comments below.