Your business is on Yelp whether you like it or not. And these days, the platform isn't simply reserved for finding great local restaurants. The user-driven review site continues to grow – covering a variety of businesses and services (B2C and B2B alike) – especially as more users access Yelp on the go.
The latest stats from Yelp show 165 million unique visitors a month. Here's a breakdown of how they're accessing business information and reviews:
Are these potential customers finding your business on Yelp?
Savvy business owners recognize the value of trust-building using third-party online reviews. Your team should be leveraging Yelp to generate leads using reputation management.
The following optimization tips for your Yelp business page will help you rank higher than the competition.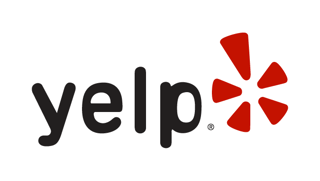 How to Rank Higher on Yelp
1. Focus on Your Specialty Section

As a business, you have control over certain information about your products and services. The From the Business section allows you to differentiate your business from the competition in organic Yelp rankings. Try using specific long-tail terms for your services and exclusive offerings in the Specialties area.
Spend your SEO research and wordsmithery in this Yelp-focused area rather than the History or Meet the Owner subsections.
Be careful though, keyword stuffing or long lists may potentially hurt your listing. Aim for a natural flow in your copy using 5-10 keywords you'd like to rank for.
2. Ask Your Customers to Use Specific Keywords in Reviews
Yes, it's fantastic to have a hundred 5-star reviews. But you need to get found in the first place. Keywords in reviews can help you rank.
You shouldn't be fearful about asking customers for reviews on third-party sites, especially if you can simplify the process using marketing automation. Try setting up an email campaign that provides a link to your Yelp page and subtle nudges to keywords you'd like to rank for.
---
So if you provide small business accounting, for example, prompt your customers to use those terms in their reviews. Something along the lines of:
"Thank you for partnering with us. We strive to provide you with the best service possible. As such, would you consider posting a review of us online? In addition to providing feedback, online reviews can help other small business owners learn about who we are and the services we offer.
Please take a moment to review us on Yelp <provide a link to your business page>
Rating and writing a comment will only take a few minutes.
If you do write a review, please mention specific services we provide for you, such as 'small business bookkeeping' and 'payroll services.'
Thanks again!"
3. Unlock Positive Filtered Reviews
On occasion (roughly 25% of the time), Yelp will hide a positive review from a client or customer. Where did the missing review go?
It's stuck in a recommended review filter as explained by Yelp. Essentially, Yelp's recommendation software rates reviews based on Quality, Reliability, and User Activity.
Filtered reviews can still be viewed via a nondescript link below recommended reviews.

Below are a few reviews that were filtered out from a Yelp listing. Although Yelp will consider different criteria, their bots will generally filter out reviews that are:
short and lacking details
from a user with only one review
from a user without a complete profile (i.e., no photo, missing information)
Considering Yelp's algorithm, the reviews below were probably filtered out because they are the users only reviews. The first review is also short and lacks additional details. Additionally, the third review is from a user with no profile photo.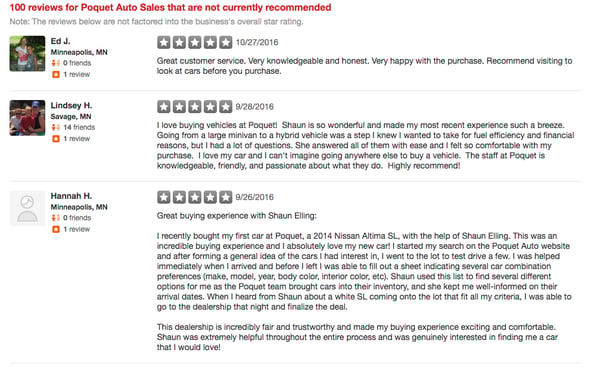 As a business owner, how do you help push these reviews through the Yelp filter unscathed?
The trick is to interact with the reviewer or review in any way possible. Try any combination of the following:
Add the reviewer as a friend
Respond to the review
Vote the review ("Useful" or "Funny")
Another useful tactic is to send the reviewer a direct message to thank them for the review and encourage them to complete their profile if they haven't already done so.
Yelp focuses on making sure reviewers are real, so remind them that complete profiles with multiple reviews are preferred. Creating a short, customizable template will help you speed up the process for responding to users with filtered reviews.
---
Although Yelp has traditionally been perceived as a B2C review site, it is equally valuable for B2B organizations in professional services to be aware of their Yelp business page and how it ranks on the platform.
Have any questions regarding reputation management or marketing automation for your business? Schedule a free consultation with our team.