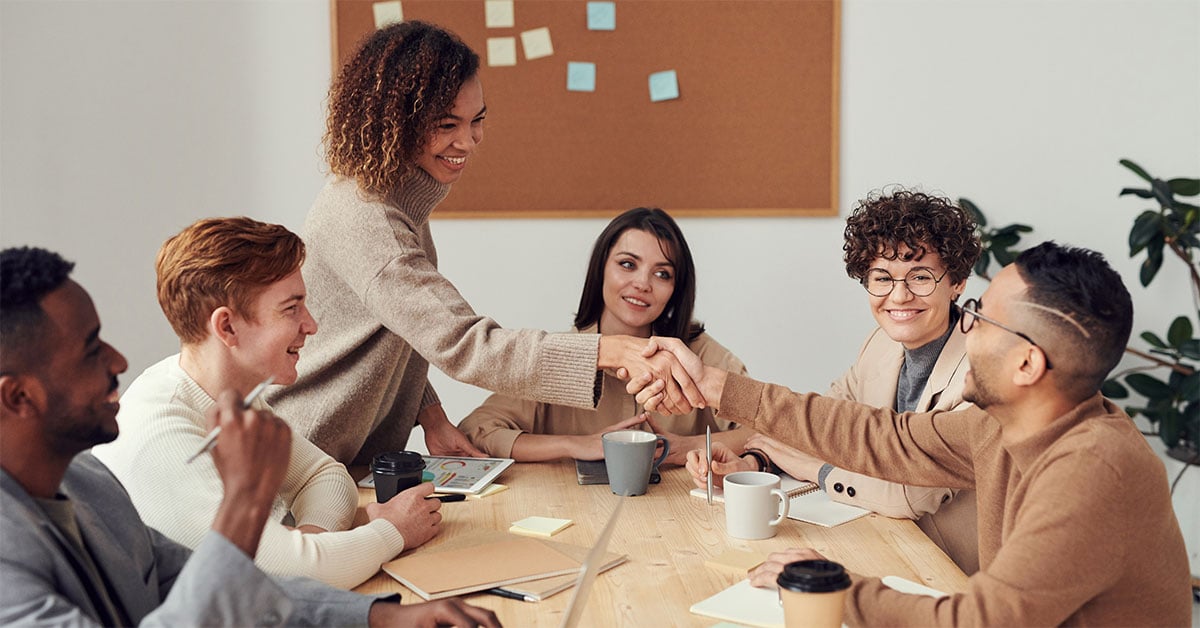 The question of whether to outsource marketing or keep it in-house is a common one. Both options have their advantages, and if your organization is currently examining this question, we have a great resource for you here. But this post isn't about a clear-cut, either-or scenario.
Because let's face it. Sometimes, the best option is to forge forward and bring along the best of both worlds – an integrated marketing team that uses the combined talents of in-house and outsourced staff members.
Some businesses and nonprofit organizations have an excellent track record of using this combined approach.
Here are 5 ways this best-of-both-worlds scenario could play out…
1. We outsource the build. Then we maintain it in-house.
This is perhaps the most common type of outsource/in-house collaboration. Take the development of a new website, for example. Without an experienced in-house developer and designer, there's no question (at least, there shouldn't be a question) that this function should be outsourced.
But even with a website development partner in place, an organization will need to identify a few key in-house staff members to champion the project. In-house expertise will be needed to brief vendor partners on the website purpose and the organization's brand.
If the business or nonprofit already has in-house expertise in copywriting, then that's an added bonus. This team member will be able to provide valuable web copy that resonates with target audiences. On the other hand, for businesses and nonprofits lacking in-house copywriting skills, they can still identify a strong brand advocate – someone who deeply understands the target audience(s), the organization, and the voice of the brand. This advocate can provide valuable insights and direction to the web development team.
2. Our in-house team has the day-to-day covered. Our agency partner develops the marketing strategy.
Sometimes an in-house marketing staff member (or team) just doesn't have the time and capacity to keep up with all the day-to-day tasks and develop a strategy. We've seen this one happen a lot. Whether it's a small business or a nonprofit organization, the marketing team is hard at work just to keep up with the organization's immediate marketing needs and pressing deadlines. And when a person's plate is already 125% full, it's nearly impossible to take time away from immediate deliverables for planning purposes. So, strategy development often gets shelved as one of those "I know we need to do this, but…" tasks.
Full focus on today, with little time and planning dedicated to the long-term, is a serious threat to big-picture goal achievement. It's akin to a long, meandering road trip without a defined destination and without a map.
Alternatively, sometimes an organization has a crystal clear image of its big-picture marketing goals. End goals are well developed, but the strategy still hasn't been fully flushed out. This often comes into play when a team just isn't quite sure which "levers" will drive their marketing machine toward its target destination.
In both of these scenarios, outsourced marketing can serve as a valuable enrichment to an organization's existing marketing team. A marketing consultant can assist in developing specific, measurable marketing goals. That consultant can also develop the strategy and tactics – or marketing road map – for achieving those goals.
3. Our in-house marketing team member is awesome and wears so many hats. Our marketing consultant wears one hat – the technical hat.
This one is a little like the "They build it. We Maintain it." scenario described in #1 above. Only, instead of focusing on larger, project-based work, this scenario focuses on longer-term, day-to-day tasks.
Consider a business or nonprofit with one, full-time dedicated marketer. And that in-house marketer is a rockstar. She's generating blog posts that help attract and engage site visitors. She's built a vibrant presence for the organization across multiple social channels. She manages email marketing, creates video content, drives online sales via the website, updates the organization's web copy… and the list goes on.
Even though she's able to leap tall buildings in a single bound, she still needs a partner to take on those specialized technical tasks. The outsourced marketing partner could take on routine tasks such as:
Google Analytics: Assure tracking is implemented properly across the website and each new page, develop conversion funnels, create unique URL tracking parameters, gauge metrics for any problem areas in the site, provide content and/or website architecture recommendations based on site traffic and navigation patterns, etc.
A/B Testing: Develop audience behavior hypotheses and test assumptions using a/b or multivariate testing. Implement testing across email, landing pages, forms, etc. to determine the most effective tactics.
Custom Coding: Make functionality or look-and-feel updates to the website, build out new landing pages for unique campaigns, develop new email templates for campaigns, etc.
PPC Campaigns: Manage Google Adwords and/or advanced targeting through paid social ads.
4. We're taking a great big dive into uncharted territory. Our marketing consultants have already been-there-done-that, so they're holding the flashlight.
Say that an organization's marketing team is grade-A stellar. They're a well-oiled marketing machine that consistently delivers results – and they've got the metrics to prove it.
But now, that organization is ramping up for major growth through new, strategic initiatives. For a business, that could mean rolling out a brand new service or product to an entirely new market segment. For a nonprofit organization, it could mean launching a capital campaign or the organization's first major peer-to-peer fundraising event.
In either case, the organization needs to continue pushing forward with the strong marketing program it already has, and it needs to develop and launch an entirely new marketing strategy. With a strong in-house marketing team, they could make it happen – but likely at the cost of starts-and-stops and trial-by-error lessons learned. Put simply, climbing a steep learning curve takes time. And when rapid growth is an essential, top business priority, time is a very precious resource.
In this case, an in-house and outsourced marketing team duo is the perfect solution.
Marketing consultants can help guide the in-house marketing team through this rapid growth period. They can develop the marketing strategy and offer swift problem-solving options, all based on experience. Meanwhile, the in-house team can continue delivering top results across the organization's current initiatives. In the end, the timetable from inception to goal attainment is reduced, and the strong marketing program that was already running is not compromised by the development of a new business initiative.
5. We've done it like this for years, and it's always worked like a charm – but not anymore. Our outsourced marketing partners bring a fresh perspective to help problem solve.
This scenario often comes up when businesses and nonprofits have long enjoyed strong success through word-of-mouth marketing and other traditional marketing practices.
For a business, perhaps they've relied on print ads, radio ads and traditional word-of-mouth marketing for years. Because of this success, they didn't see the need to allocate resources for building a social presence, developing a responsive website, or optimizing for local search.
For a nonprofit, their fundraising strategy may have achieved success through direct mail campaigns, traditional banquet events, and auctions. In turn, this success in traditional fundraising may have postponed a nonprofit's focus on implementing an effective online donation system, launching a text2give campaign, or developing a crowdfunding strategy.
Usually, the tipping point for these businesses and nonprofits is the realization that their products, services or mission is no longer engaging younger audience members. But when something has worked so well for so long, it can be difficult to switch gears. Not to mention, strong success in older marketing models can sometimes make it challenging to visualize new, digital solutions.
In this scenario, an out-of-house marketing partner can be the perfect balance to a traditional marketing in-house team. The marketing consultant can assist the in-house team in assessing which traditional marketing methods still deliver a strong ROI. The in-house team can forge forward and continue rolling out those effective tactics. (No need to squash a nonprofit's old-school direct mail campaign if it's still a strong revenue generator!)
Additionally, the in-house team can provide valuable insights to the marketing consultant on which types of messages resonate strongly among their older audience members. In turn, the outsourced team can perform market research to determine and test the most effective messages for younger target audiences.
Once the audience is defined and key messages are developed, the outsourced marketing partner can build the right digital strategy to engage both the existing target audiences as well as the new target audience(s).
Conclusion
Has your business or nonprofit enjoyed success through one of these best-of-both-worlds scenarios? Tell us about it! Or, if you've experienced a different in-house/outsourced partnership scenario, let us know in the comments below.

Editor's Note: This post was originally published in May 2014 and has been updated for accuracy and comprehensiveness.