Over the past few years, you've likely noticed some big changes in the way consumers are engaging with businesses. More and more people are going straight to the internet to research products and services before making a purchase. They're reaching out to friends on social media for recommendations. And they're providing feedback about their experiences on review sites like Yelp.
In today's age of take-charge consumer behavior, our marketing efforts also need to change. But change to what?
As an inbound marketing agency, it's no secret that we'll take inbound marketing over outbound any day. And we'll advise businesses to use inbound marketing in order to appeal to today's consumer. But as a smart marketer or a business owner, we're convinced you'll want to do some research before delving right into inbound marketing.
So, to help you get started, here's a basic assessment to help gauge if inbound marketing is right for your business.
A.) Customer Behavior
Do your prospective customers actively research products/services like yours before they make a buying decision?

Do your prospective customers write online reviews for products/services from businesses like yours?

Are prospective customers using social media to discuss topics related to your business or industry?
B.) Competitor Analysis
Do your competitors rank higher than you do on search engines like Google, Yahoo and Bing?

Do your competitors and trade associations have active communities on social media?
C.) Current Sales and Marketing
Do you have a sales cycle that is greater than a week?

Do your salespeople need more high-quality opportunities to stay in touch with prospects?

Are traditional advertising tools like print, radio ads and direct mail losing their efficacy?

Is your ROI for traditional advertising unknown?
D.) Culture and Readiness
Can your business commit to creating or outsourcing content – on a regular and ongoing basis – that addresses customer needs and questions?

Will you openly share insights and teach your prospective customers about issues related to your service or product, even if this means competitors can see your content?

Is your business customer-centric rather than organization-centric?
Tally the number of times you answered "yes" for each section A - D above. Now, let's dig into what those results mean…
YOUR RESULTS:
Consumer Behavior + Competitor Analysis
If you answered "yes" to three or more of these questions, then your customers are engaging in take-charge consumer behaviors with the internet as a go-to resource.
The "attract" stage of inbound marketing will help your business organically attract qualified site visitors through keywords, social media and blogging. The "convert" stage of inbound marketing will allow your business to convert those prospective customers from site visitors to leads.
YOUR RESULTS: Current Sales and Marketing
If you answered "yes" to two or more of these questions, then your business can benefit from the "close" stage of inbound marketing. This stage allows you to nurture leads with useful, relevant follow-up content that can help your business build trust with a prospect.
Additionally, the inbound methodology leverages closed-loop marketing and reporting. This means you'll be able to track exactly which online marketing efforts are bringing in the best leads.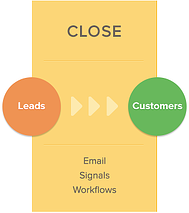 YOUR RESULTS:
Culture and Readiness
These questions get at the heart at how successful your business can be at implementing inbound marketing. A "yes" answer to the first culture and readiness question is essential. For inbound to work, your business will need to commit to creating or outsourcing quality content on a consistent, ongoing basis.
Being able to answer "yes" to the second and third culture and readiness questions means your business is well-suited to openly create and distribute high-quality content that your customers will care about. Placing the customer at the center of your content means you will be better adept to address his or her primary needs and questions.
Additionally, answering "yes" to the last question positions your business for success in the "delight" stage of inbound marketing. Inbound marketers continue to delight customers well after the check has been written.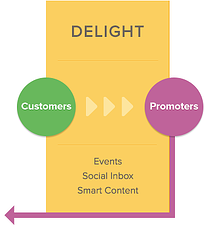 Conclusion

Inbound marketing is a philosopy and a method. All four of these inbound components work in concert to naturally attract traffic that your business can convert, close and delight over time. And, while there's no instant litmus test to determine whether inbound is the right fit for your business, hopefully this assessment provides a strong starting point.
Also, if you couldn't answer "yes" to the last two culture and readiness questions, that's okay. Building and implementing an inbound strategy – and the culture to support it – takes time.
Photo by Attila Magyar on Flickr, licensed under CC BY-SA
---
Does your audience think your content is relevant? Buyer personas are a well-established marketing technique to help produce more effective, customer-focused communications. Don't have personas in place yet? No problem. Download this free template...