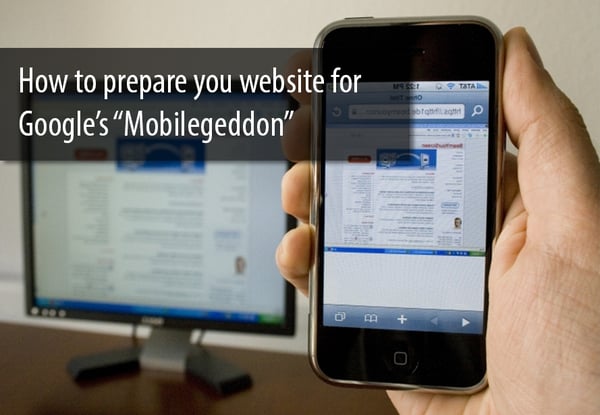 How many times a day do you turn to your phone to find an answer to a question? How frustrating is it when you google something and find yourself squinting trying to read the answer on a website that has not been optimized for mobile?
The good news for all of us who search on our phones daily is that Google changed its search algorithm to benefit sites that are mobile optimized. With 60% of online traffic now coming from mobile, Google is adjusting to give users a better experience when they click on mobile links.
For consumers, this is great.
For businesses, this algorithm change may not be so great.
What many are calling 'Mobilegeddon,' is turning out to be a real pain for many business websites. According to USA Today, up to 40% of Fortune 500 websites could suffer site traffic losses because of this change.
Others are worried the algorithm change could be even worse for small business websites. In 2013, a National Small Business Administration technology survey reported only 20% of small business websites are mobile friendly. Though that number may have grown since then, small businesses are going to have even more challenges in driving site traffic if they don't adapt their sites to be more mobile-friendly.
Is your business website ready for 'Mobilegeddon'?
To help you ensure your website is ready for this new algorithm, I've included two informational guides for you to peruse:
In this post, Anderson explains Google's announcement, how to use Google's free assessment tool to test your readiness, and how to find the right mobile optimization approach for your business. It provides a thorough explanation on how your business can decide what changes are needed and spring into action before suffering the consequences.
If you're looking for the "quick & dirty" version of the post above (albeit a bit more technical), check out this infographic. It will walk you through several steps to determine "if your mobile site is going to survive Google's new mobile algorithm." It will also provide some helpful takeaways, recommendations, and more.
Note: If your website, landing pages, and blog are on HubSpot's Content Optimization System (COS), your pages are mobile responsive and will adapt well to any mobile device. In other words, Google loves you!
Not sure what I'm even talking about? We'd love to help you optimize your website. Learn more and set up a consultation here.
How has Google's latest update affected your website? How have you adapted to meet the needs of more and more mobile visitors? Please share in the comments section below!
Image by mikogo via flickr, licensed under CC by 2.0