Jennifer Zick to Emcee DenamiCON on May 17
By Anne Daly | April 26, 2018
This spring, we're excited to welcome back Jennifer Zick, one of our original panelists for our first-ever DenamiCON last spring, as emcee.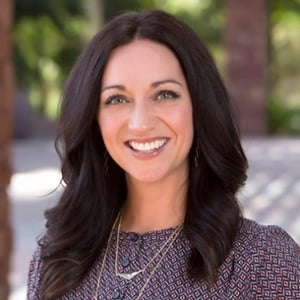 Our focus this spring is Marketing in the Machine Age: The Path to a More (Artificially) Intelligent Future. At DenamiCON, Zick will be emceeing our panel of Twin Cities Artificial Intelligence experts. This spring, we're excited to welcome panelists Kristin Findley (VP of Consumer Insights and Technology at Ciceron), Scott Litman (Founder and Managing Partner at Equals 3), and Josh Cutler (CTO at Aftercode).
"Artificial intelligence," Zick says, "is a hot topic right now among businesses of all types and sizes." It's affecting jobs across industries, and at all levels of the corporate ladder. "Leaders," Zick says, "want to know how they should be planning ahead for leveraging AI. Employees want to know how their jobs will be impacted." And marketers, she says, want to understand AI "so that they can positively impact customer sentiment and experience."
Emceeing: the Perfect Fit
For Zick, however, "emceeing is the ultimate event role." Why? "I get to set the stage for an amazing afternoon of thought leadership," she says, "engage with every attendee, and [engage] with a roster of brilliant presenters and panelists." She's emceed a number of events in the past, including various learning events with the Business Marketing Association of Minnesota while she was president of the chapter. Emceeing takes "a lot of energy, an ability to ad lib and interact with the audience, and an attention to time management," according to Zick. "Thankfully," she says, "those traits come naturally to me, so this will be fun!"
Applying DenamiCON Takeaways at the Office
She's also excited to apply DenamiCON takeaways to her own work as CEO of Authentic Brand, a company dedicated to "helping growing businesses get marketing traction." What does this look like? "For our clients," Zick says, "this means clarifying their brand position and differentiation story, building a focused marketing strategy and plan, and executing with consistency and focus."
How do they accomplish these lofty objectives? "We work with partners like Denamico, Zick says, "to help bring these strategies to market through modern technology and inbound programs that create measurable pipeline." And, Zick adds, Authentic Brand is "uniquely equipped to support businesses who are powered by EOS / Traction."
Getting Ready for the Future of Artificial Intelligence
"Today," Zick says, "[AI is] mostly used by large businesses to connect with their audiences." At the small and mid-sized level, AI is starting to make inroads. But even the most up-to-date AI is still limited and glitchy. Online chatbots still leave many users frustrated. And virtual assistants often put the wrong times on your calendar.
However, AI will only get smarter over time, as it gains more and more data to make better decisions. "The more [these technologies] are used over time, the more useful they become," Zick says.
Much like the way the internet trickled down to small and mid-sized businesses 20 years ago, Zick expects AI to have a similar effect in the next few years. She's especially excited to see the progress this will bring to eCommerce, especially through social media and other brand awareness strategies.
Are You Ready for the Future of AI?
Machines are not going to replace content marketers in the near term, but artificial intelligence is accelerating us toward a more intelligently automated future.
Join us on May 17 from 2-6 pm at Surly Brewing for DenamiCON III, where we'll be discussing Marketing in the Machine Age: The Path to a More (Artificially) Intelligent Future. Learn about the present and future potential of artificial intelligence, and discover AI-powered technologies that can drive marketing performance. Attendees will walk away with valuable, implementable takeaways to transform their online presence and the way they're connecting with prospects online.
Ready to leverage AI for your business? Register for DenamiCON today and get the tools you need to succeed!