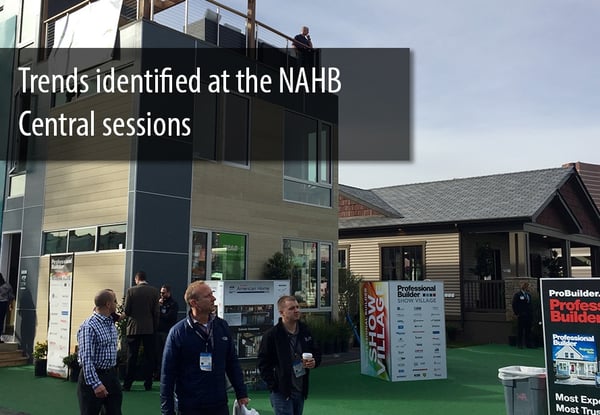 Stepping back from the 2016 International Builders' Show, I wanted to reflect on some key takeaways. Rather than run down a list of my notes, I've decided to highlight one trend for each of the NAHB councils, all of which sponsored a niche-specific Central during the show.
55+ Housing:
Senior communities are a growing market for builders
People in the 55+ demographic are looking to downsize in comfort. They're focused on independent living in a smaller, more efficient home with a single-level floorplan. These homes are being built in snowbird destination communities with shared amenities near local health care and travel hubs.
Custom Building:
Net-zero and Net-zero ready homes are going mainstream
The New American Home featured at the show may be the culmination of the most innovative design, high-end products, and building methods, but the basic tenets of building a net-zero (ready) home have also made thier way to the mainstream market. If up-front costs are an issue, homeowners are increasingly working with architects and builders to at least plan for future installations of net-zero features by implementing the initial components into the build.
Design:
The Internet of Things (IoT) will continue to influence design
From appliances and HVAC, to lighting and security systems, the IoT has placed its mark on how we interact with our homes. Beyond the conveniences of offsite control and automation, IoT systems and products are also used to aid efficiency. Home design will continue to be influenced by these products and innovations as consumers tend to adopt and demand new tech quickly, especially if it will save them money over time.
Multifamily:
Multifamily residential construction is adopting modular construction
Modular construction for single and multifamily buildings is accelerating profits and project timelines for builders. At the same time, the use of modular construction helps offset the challenge of labor shortages and reduces environmental impacts, like waste, while simultaneously reducing energy consumption for the building.
Remodeling:
Kitchens and bathrooms continue to lead the charge
These two rooms also use the most water, energy, resources, and chemicals. For clients looking to update their older homes, these two spaces are a great place to start moving toward more cost-efficient, sustainable products and environmentally friendly designs that require less maintenance. And a chance to implement the latest comfort and design trends.
Sales:
Builders are struggling to make the jump
The majority of builders still build fewer than a dozen homes a year. Builders looking to elevate their business to the next level need to establish a consistent flow of leads through their sales process. Referral-based business may have worked in the past, but many are now experiencing a plateau. Builders who embrace the use of a high-performing website and marketing automation in conjunction with their current marketing programs will generate and nurture more leads.
Looking ahead to IBS 2017: Next year's show will be in Orlando, Florida, January 10-12, 2017. It will be interesting to see how the above points will play out during the course of the year. What takeaways will influence your work this year? Feel free to share in the comments below.
For more information on generating leads for your business, sign up to be a part of our free webinar: Build the Ultimate Lead-Generating System.