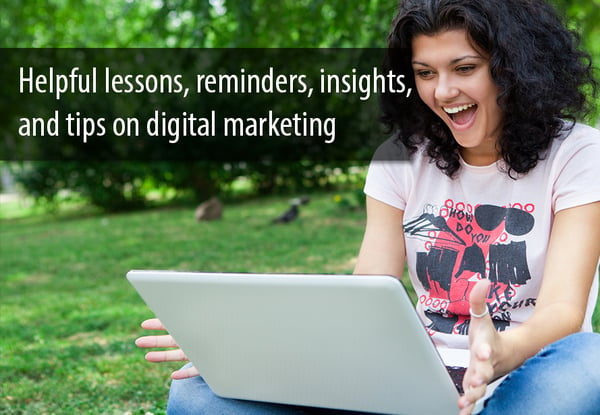 Today is great. It's the end of the week. It's springtime. It doesn't get much better than that. It's also the last day of April and as a little monthly tradition, I've started taking the last few days of each month to review the best marketing content published all month. It helps me brush up on any interesting new research, thought leadership, and best practices I may have missed.
As an agency marketer, I would be amiss if I didn't share these learnings with you, so without further ado, here are what I'd call the Top 5 Must-read posts from April 2015 (in no particular order).
In this brief post on LinkedIn, David Edelman, a partner at McKinsey & Company, explains how companies with advanced marketing and sales capabilities perform 30% better than companies whose capabilities are below market average.
The report he teases in the article explains that these companies have several things in common: they view marketing and sales as an investment, not an expense; they always know what needs to be fixed; and they're focused on fixing those things that aren't working.
Check out the post for more on how to build "marketing muscle" to drive growth for your business.
Dharmesh Shah, founder of HubSpot, inbound.org, book author, blogger, and startup and tech guru, obviously has had a few things going for him when it comes to gaining Twitter followers. The premise of the article, therefore, is a bit flawed. That said, however, I really liked this article because Shah focuses on the Twitter tactics he's found that work for him.
Too often as marketers hear 'expert tips' and try to execute them immediately.
What Shah demonstrates is a willingness to listen to expert tips but be thoughtful and deliberate about which ones he implements - a good lesson for all of us.
If you're new to the world of hashtags, this post by Carly Stec at HubSpot will explain what they are and how they're best used.
If you're familiar with hashtags, this post is great because it takes a step back and examines how hashtags came to be. It's a weird idea, really - why would a pound symbol represent something you can use to tag a word with other content that uses the same word across the web?
This infographic explains all of these things with a helpful introduction that describes the somewhat surprising birth of the hashtag.
The ubiquity of online marketing vs print and traditional marketing now means we can track almost every marketing tactic to the results it generates. When you're running an onmi-channel marketing campaign, that's a lot of data to sort through!
One of the biggest problems with marketing today is that we finally have access to useful data, but most marketers have no idea what to do with it.
Knowing which metrics to look at and what the numbers all mean is something that takes time to learn - that's why I'm glad Rachel Sprung from HubSpot wrote a post sharing some of the analytics mistakes she's made so we can learn from them.
This post, from Robert Rose at the Content Marketing Institute, stuck out to me not because it presented new information, but it was so timely and relevant for us since we're hiring a new inbound marketing team member.
The article talks about how companies are struggling to find employees with the blend of content creation, analytical and creative skills modern marketers need to successfully navigate the digital landscape.
I highly recommend reading this post if you're a marketer hoping to expand your skill set to meet the growing demand for savvy online marketers.
What were your favorite posts this last month? Was there anything you found especially helpful to brush up on? I'd love to learn from you. Leave a comment below...
Image by College Degrees 360 via flickr, licensed under CC BY-SA 2.0