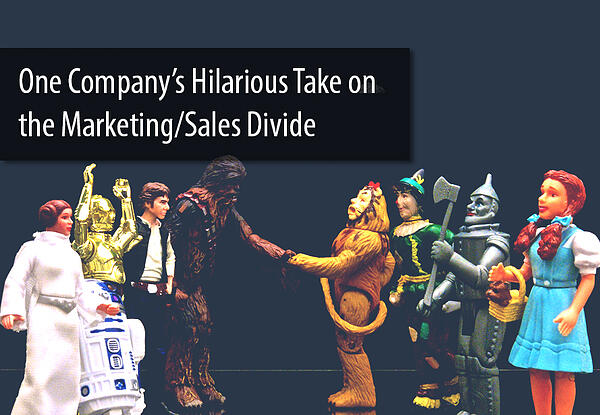 Everyone knows about the marketing/sales divide. There's a lot of talk about it. A lot of solutions that claim to solve it. A lot of "thought leaders" who say they know the secrets to fixing it.
The truth is that every company has to find its own way to help marketing and sales work together. Like any topic in business, the "how to" blog posts can only get you so far, and if you're like me, after you've read enough of those, you get kind of sick of the talking heads all saying the same things.
That's why it's amazing when a company finds a way to talk about issues like "smarketing" in a fresh way.
When I was doing research for my latest blog series, I came across a hilarious video on the differences between marketing and sales created by Lattice Engines, a sales & marketing technology company.
If you've ever worked in marketing or sales, you'll probably recognize yourself and/or some of your colleagues in this video. It's worth a watch if you need a laugh:
Pretty funny and pretty true, right?
A few takeaways from the video:
1. What a great example of inbound marketing strategy.
Lattice engines is a sales and marketing technology company who is appealing to salespeople and marketers not just by educating them (which they also do on their excellent blog and in several downloadable guides) but by entertaining them. The video has 24,735 views and has undoubtedly generated awareness and leads for their pipeline.
2. A truth nugget on salespeople:
"I don't like being measured and I don't like being told what to do. I'm in sales!"
Salespeople are so focused on closing deals that they don't always recognize the value of more top and middle funnel offers. They always have their "eyes on the prize," so when you hand over the list of 1,000 leads from your last ebook download, they might not be super excited to follow up because very few of those are likely to turn into deals.
Here are some suggestions to help you work more closely with your friends in sales:
Don't hand over top-of-funnel leads, like those generated from an ebook download. Nurture them first and pass them on when they're more qualified.
Show that you value their perspectives perspectives by asking them what prospects and customers are saying during sales calls. Collect a list o frequently asked questions, for example. It can be a great way to generate content ideas and inspire future content collaborations with sales.
Measure what marketing tactics help sales close the most deals so you can always prove your work is generating ROI.
3. A truth nugget on marketers:
"Who cares if this tactic leads to actual sales, it got great buzz!"
Marketing folks are known to get tied up in details that don't matter much. I can personally attest to this, as I am guilty of it myself. When we spend our days refining every detail of complex campaigns - creating landing pages, writing blog posts and ebooks, developing SEO & PPC strategies, posting across social media, etc. - it's easy to lose sight of the big picture.
The key takeaway here is that our sales teams want us to be focused on improving in the areas that really matter - generating more leads, converting more leads to qualified, creating customer-centric content that helps them close more deals.
Before you scoff and remark that salespeople are fools who just want 487 new pieces of collateral from you each week, remember...at the end of the day, you're in it together and you have to work together to win. If you're struggling to get your sales team on board with newer strategies like inbound marketing & selling,
here's a post
I wrote that might help you win them over.
What tactics have you employed to bridge the gap between marketing & sales? Did this video ring true for you?
Editor's Note: This post was originally published in March 2015 and has been updated for accuracy and comprehensiveness.
Image by JD Hancock via flickr, Licensed under CC by 2.0