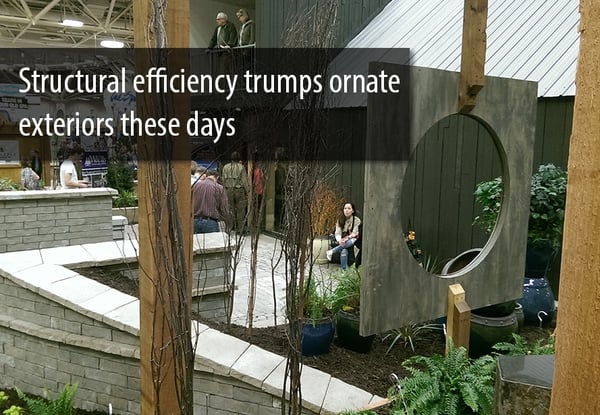 The Minneapolis Home + Garden Show opened its doors today at the Minneapolis Convention Center. Of particular interest at this year's show are the Idea Home and the Tiny Home Village displays.
The Idea Home highlights three new building design concepts: a Structural Insulated Panel (SIPs) outer shell referred to as the barnHouse, a flexible Smart Core, and an additional lightHouse for optimized living.
Designed by Alchemy Architects and constructed by EPS Homes inside the convention center in four days, the 912-square foot barnHouse features rural aesthetics with contemporary techniques to create an energy efficient and flexible home.
Within the barnHouse sits the Smart Core, which contains the necessary utilities for the home and can be built within a factory setting. Andrew Blaisdell of Alchemy Architects said that the Smart Core and corresponding lofted dormer where tilted 10 degrees to maximize space within the barnHouse shell.
"We tried a few different angles in the design process, 7 1/2 degrees and even 15 degrees," said Blaisdell, "but eventually decided that 10 degrees was ideal given the space."
Lee Bergum of EPS Homes noted that all of the SIPs panels for the barnHouse where delivered by truck and constructed by his team onsite. The lightHouse, he added, (the 264-square foot guesthouse on display in the Idea Home "backyard") was built to completion in the factory and then delivered as a whole unit.
As if building a home within the convention center isn't enough, this year's show also features a Tiny Home Village comprised of five homes from five different regional builders. The homes, ranging in square footage from 144 to 330 (tight, eh?), are full of builder ingenuity. The tiny homes were designed and constructed by:
Cypress Vantage Home, St. Cloud Technical and Community College
The Getaway, Glenmark Construction
The Gifford, The sanctuary Minnesota
Tiny Solar House, Minnesota Renewable Energy Society and partners
ESCAPE Traveler, SALA Architects
There's certainly plenty to see at the Home + Garden Show taking place this weekend, February 26-28, and next weekend, March 4-6, but we were especially excited to see the number of local and regional architects, designers (even bumped into our friend Carter Averbeck of Omforme), builders, and remodelers interacting with attendees, answering their questions, and establishing relationships with customers. We've listed them below. A full list of exhibitors can be found here.
Architects & Design
Alchemy Architects
Chris Doehrmann Architect Inc
Loon Architects LLC
Lucy Interior Design
Nguyen Architects Inc
Nicolette Interior Design & Pristine Painting & Remodeling
Omforme
PURE Design Environments
PAF Architecture LLC
RDC Architects
Sneak Peek Design
Builders
A Home of Your Own Inc
Boyer Building Corp.
Capstone Homes, Inc
Escape Homes
EPS Homes
Glenmark Construction Inc
Homes by Legacy Builders
Nordaas American Homes
Premium Construction LLC
Rongitsch Homes
TJB Homes, Inc
Voyageur Log Homes
Remodelers
Above & Beyond Construction
Aspen Building Contractors Inc
Austad Construction
Bluestem Construction
Builders & Remodelers, Inc
Craftmasters Remodeling
Custom Remodelers Inc
Dercon Construction Services
Elite Design Build
Enhanced Interiors Remodeling
Finished Basement Company
G.R. Builders & Remodelers
Handyman Connection of Western Metro
Hoffman Weber Construction
Homestead Remodeling & Consulting LLC
J Brothers Home Improvements Inc
JG House Construction
Legacy Design-Build
McDonald Remodeling Inc
Minnesota Kitchens
Murphy Bros Designers & Remodelers
Northrup Remodeling
Plekkenpol Builders
Purpose Driven Restoration
Regal Remodelers Inc
Reliable Construction LLC
Remodeling Dimensions
Roberts Residential Remodeling Inc
Roncor Custom Rebuilders
Sandau Construction
Sears Home Services
Sela Roofing & Remodeling
TLC Remodeling
To Serve Contracting
Trinity Construction Services LLC
Twin City Home Remodeling
Valley Interior Products
Your Home Improvement Company
Zen Windows Twin Cities
Wondering how to maximize lead generation after trade shows? Check out our free webinar: Build the Ultimate Lead-Generating System.