Planning Your 2015 Editorial Calendar: Tools & Tactics to Get Organized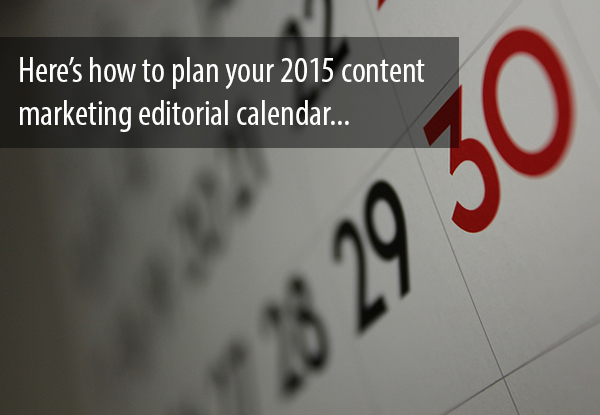 As we near the end of 2014 (can you believe it?), and we wrap up the last of our vacation days away from the office, the New Year is just around the corner. And with the New Year comes a whole new plan for content marketing.
You probably already have at least part of your 2015 editorial calendar complete (at least through the first couple weeks of January), and may be in the process of flushing out the rest. But whether you are sticking with your current editorial calendar tool, or looking at alternatives, we have a few things for you to keep in mind.
Editorial Calendar Tools
First, there are a plethora of tools available for building editorial calendars. Some are part of content collaboration platforms, others are part of project management platforms, and still others are part of marketing automation software. With so many options, it's useful to keep a key takaway in mind. The tool you choose should have a visual element, allow for multiple data points, and enable collaboration.
Given that, there are some oft mentioned tools that are worth taking a look at. Most of the tools listed here offer a generic "kanban" approach to editorial planning. Kanban-like tools allow you to visualize the workflow of the publishing cycle, manage content as it moves from one stage to the next, and collaborate with authors and review teams in real-time.
Trello
Using a simple "board" concept, Trello is very flexible, easy-to-use, and it's free. Boards contain cards, and cards may contain tasks, comments, due dates, attachments, and more. Plan from an aerial level or granular level, all depending upon how you structure and label the boards. Here's a template for using Trello as your blogging editorial calendar.
WordPress Plugins
WordPress offers three great editorial calendar plugins, ranging from the most basic "Editorial Calendar", to the next step up "Edit Flow", designed for multiple author blogs, to the third "CoSchedule" which has more features and functionality than the previous two mentioned, but also comes with a monthly subscription fee. The previous two plugins mentioned are free. This blog does a fantastic job of explaining all three.
Asana
If you are already using Asana for managing your marketing projects, they rolled out a calendar feature this past year which can be used to build out an editorial calendar with weekly/monthly calendar and list views, task assignment, drag and drop, and more.
Basecamp
Basecamp is probably the most popular project management tool out there, used by small to large-sized teams. The Basecamp calendar feature offers drag and drop functionality, event notifications, and team-specific sharing and visibility.
Google Docs or Spreadsheets
Still evaluating tools? Not sure what to use? Google offers a number of public templates for editorial calendars. Preview templates, sort by user ratings or most users, and find an interim (or permanent) tool that best fits your needs. Plus it's free, easy-to-use, and most users already have familiarity with it.


Planning your Editorial Calendar
Aside from the tool selection itself, there are a few things to keep in mind when planning your editorial calendar. If you are working with an outside content marketing agency to generate content for your business, develop the editorial calendar together and take note of the following:
Build content topics around marketing/buyer personas.
Map content topics to sales and customer engagement cycles.
Map content to key sales events, launches, industry events, seasonal content, holidays, company news and announcements, etc.
Work backwards from intended publish date to allow time for writing, review and editing of content.
Address branding and editorial style guidelines (tone, voice, content length, etc.) to be used by content creators and editors.
Once the topics and dates are determined, here is a list of the other essential elements any editorial calendar should include:
Blog Post Title, Topic or Working Title
Target Audience/Persona
Primary Keywords and supporting meta-data
Assigned Author
Draft Due Date
Assigned Reviewer(s)
Publish Date
Supporting Images
Status of content as it moves through stages of the publishing cycle (i.e. Idea, Draft, Review, Publish)
Tie in to running campaigns (i.e. blog posts built around a premium content offer, call to action, event, etc.)
Channels for distribution (blog posts, email, social sites, etc.)
This Content Marketing Institute article offers some additional insight, including uses for an editorial calendar beyond content marketing workflow.
Don't get overwhelmed by all the choices out there. Regardless of what tool you use, the outcome is the same – a content editorial calendar to drive your marketing plans. Let it help you manage, prioritize, assign and produce content (be it original, re-purposed or curated) for all your marketing needs. Cheers to a successful 2015!
Image by Dafne Cholet via Flickr, licensed under CC BY 2.0