Browser extensions such as Soapbox and ViewedIt were created to help engage viewers by using a mixture of screencap and webcam video to spice up communications and make more sense out of explainer videos and presentations. But which free extension is better for you?
Both are innovative apps, but they serve different purposes:
Soapbox is designed for maximum customization with options for playback, editing, and even color branding, and would be best for B2B communications. Soapbox was created by the video hosting platform Wistia.
Here's what Soapbox looks like while you're making a video.
Here's what Wistia has to say about Soapbox.
ViewedIt, on the other hand, is designed for ease of use. It focuses more on video view notifications and shareability rather than deluxe options, making it possibly more applicable for B2C videos because of view tracking capabilities. ViewedIt was created by the video hosting platform Vidyard.
Here's what ViewedIt looks like while you're making a video.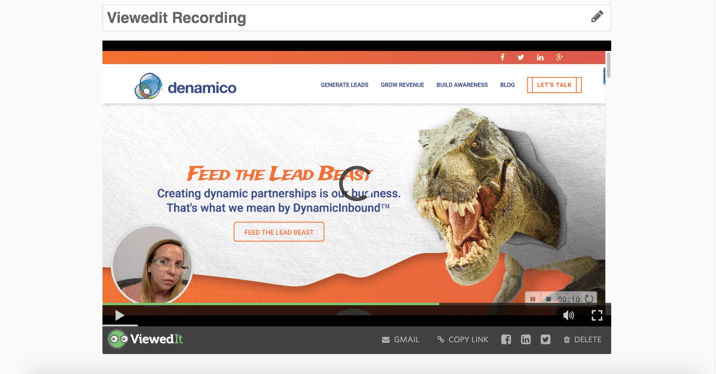 Here's what Vidyard has to say about ViewedIt.
Soapbox vs ViewedIt: Features
Both applications share:
Video presentations featuring camera, voice, and screen capture recording
Easy sharing
Free software
Different Features:
| | |
| --- | --- |
| Soapbox Features | ViewedIt Features |
| Quick social media sharing link | Quick social media sharing buttons |
| Customizable playback options | Shows your face while recording |
| Video editing possible after sharing | Viewing Notifications system |
| Custom thumbnail | Custom button for easy access in gmail |
| Trim beginnings and endings | |
| Offer embeds and CTAs in video | |
| Ability to switch between only screen, only camera, or both, at different times in the video | |
| High quality video playback | |
Is Soapbox or ViewedIt right for you?
You might want to use Viewedit if:
Easy sharing features like buttons for social media and email sharing are important to you
You don't need high video quality
It's important to be notified once someone has viewed your video
You might want to use Soapbox if:
Choosing a custom thumbnail is important
Having a custom video playback color is important
You need high quality video
You want to trim the beginning or end, choose what is shown at different times in the video (screen, camera, or both) or edit after sharing as well
Overall, Soapbox takes the lead with slickly designed software and options for making the exact video you want. If tracking views is important enough for you to sacrifice quality and customization, ViewedIt might work for you. It could be helpful to know when your video is being watched and when it isn't. The good news is, both applications are completely free!
Uses for Quick Video Communication
Responding to customer service requests
Communicating with clients and customers
Sales conversations
Internal communication
Personalized welcome videos for new team members or customers
Showing rather than telling using email
Quick, one-off presentations
Recapping meeting notes or presenting goals and agendas for meetings
Video communication has come a long way since the original webcam. These days, browser extensions like Soapbox and ViewedIt make it easy to utilize the medium on a daily basis. See what you can do with video in your marketing and communications.