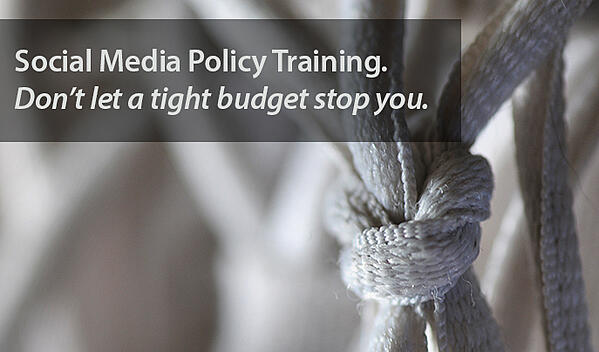 In a previous post, we covered the importance of providing social media training for employees. We mentioned that it's important for every staff member to receive training on your company's social media policy.
At this point, you might be thinking that training each and every staff person about your social media policy sounds great in theory, but impractical in reality.
That line of thinking is understandable. After all, training can be expensive and time consuming. However, it is possible to offer social media policy training on a tight budget.
Here is an example of a training program that was developed and implemented for a healthcare organization with approximately 150 employees.
Social Media Policy Training Program for Employees
The healthcare organization was in need of an effective way to train employees on its newly developed social media policy. With protected health information and HIPAA, leadership recognized the critical need for social media policy training. And, they knew that training needed to be accessible to all employees.
However, challenges to implementing organization-wide training included the following:
Budget limitations for all-staff social media training.
Staff divided among three work shifts.
Difficulty in pulling large numbers of staff from the floor at the same time.
Below are key ways the program addressed those challenges.
In-House Champions and Experts
The organization made great use of in-house champions and experts to develop and move the program forward. While champions included staff from all ranks of the organization, the initial phase of training development required significant buy-in and support from senior leadership. The early champions and experts included:
CEO. The CEO set the stage for the entire organization. His leadership and support of all-staff training paved the way for its success. His attention and commitment to the program was a clear demonstration that social media policy training was a priority.
CFO. The organization's CFO was involved in developing the training program from start to finish. His consistent participation helped to create a more effective, agile team. His insights were valuable throughout the process and allowed the team to quickly pivot when the program was becoming too costly, and stay the course when training was within an acceptable budget threshold.
Administrators. The organization's healthcare administrators were essential to assuring the training program was feasible to implement across all departments. Some of the most significant assets that administrators brought to the process inluded the following: deep knowledge of staff responsibilities, knowledge of schedules, and knowing who were the natural team leaders.
Marketing team members. These team members were already natural champions when it came to the digital space and constituent engagement. They served as the resident experts when it came to social media, social media policies and online engagement.
Get the Social Media Policy Front and Center
Hard Copies. To begin with, hard copies of the new social media policy were distributed to each staff member.
Digital Copies. A pdf of the policy was distributed to all staff via email. The email also contained a link to the policy on the organization website. And, a copy of the policy was saved to the desktop of computer kiosks throughout the building. This way, staff members who did not have easy computer access could still view the digital version.
Foster Understanding
The social media policy was an information-dense document. Not counting the cover and resource pages, there were six full pages of content. Given the document length, the training development team proceeded with a cautious assumption: Only a modest percentage of staff members would likely read the document in its entirety – despite efforts to get the policy in the hands of staff.
So, the policy was broken down into four smaller, more manageable documents. Each section contained tips and sample scenarios to help demonstrate the policy in action.
Section 1: Personal Communications

Personal is not the same thing as private
Be thoughtful about how you present yourself in online social networks
Personal/professional balance online
Section 2: Privacy and Confidentiality

Resident/Patient privacy and confidentiality
Respect for other staff members' personal information and privacy
Section 3: Engaging Online

Be passionate and add value (e.g. "If your content helps people to better understand our mission, the work we do, or improve knowledge or skills – then you're adding value.")
Think of CNN, Your Mother, and Your Boss (e.g. "Don't say anything online that you wouldn't be comfortable seeing quoted on CNN, being asked about by your mother or having to justify to your boss.")
Transparency and disclaimers (e.g. "The postings on this site are my own and do not necessarily represent those of my employer.")
Section 4: Copyright and Commitments

Respect for copyright
If it makes you pause, pause
Respect work commitments
Over the course of two months, all employees received a special social media policy insert in their paycheck or pay stub envelope. The insert contained...
One Section of the Social Media Policy. Each insert contained one section of the policy – including tips and sample scenarios – on a single, front-and-back sheet of paper. Each pay period, employees received a new section of the policy.
A Cover Letter. The letter explained the importance of being responsible on social media. Additionally, because resident/patient privacy was a primary concern, the coverletter was also used to reiterate the importance of protecting health information.
Demonstrated Learning & Incentives
The training team knew that the social media paycheck inserts stood a higher likelihood of being read than the full social media policy document. Still, they were interested in having some kind of metric to gauge participation. The team was also interested in incentivizing exposure to the policy.
So, they launched a series of social media policy quizzes. Employees could use any resource at their fingertips to complete the quiz – the policy itself, the social media inserts and/or their fellow colleagues. Quizzes that were turned in and answered correctly qualified employees to be entered into a drawing for a gift card.
The gift card helped to incentivise participation. And, completed quizzes served as a metric to gauge staff participation and exposure to the social media policy.
Team Discussions & What-If Scenarios
Social media is dynamic, quickly changing and, well… social. As such, the training team acknowledged that the program needed a social, interpersonal component. To address this need and to stay within tight budget parameters and staffing constraints, the team decided to integrate 10 minute social media flash-talks into their all-staff and team meetings.
At select meetings, 10 minutes were dedicated to discussing the social media guidelines. To keep it simple, each social media flash-talk would focus on...
One single point from the policy (e.g. resident/patient privacy and confidentiality)
A case example or scenario that explains how the policy could be unintentionally violated
A what-if scenario for discussion and/or open questions
The flash talk was lead by in-house champions/experts.
Conclusion
It's certainly possible to build and launch social media training on a tight budget. But it takes the right mix of support and championship from senior leaders. And, it takes empowering your business's in-house experts so they have ability to help lead and shape the program.
Has your business launched social media policy training for staff? What tips or lessons did your team learn?
Photo by theilr on Flickr, licensed under CC BY-SA