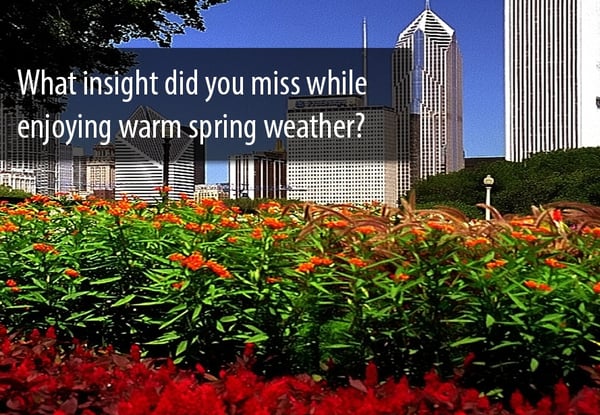 Summer is finally here!
If you're with us here in Minnesota or anywhere where winters are cold and brutal, you know what a big deal this is. I've been having a blast biking around the Twin Cities, hanging out by the lakes, and dining outside at patios. In addition to all this much-needed recreation, things have been heating up here at Denamico. We haven't had a lot of spare time to be perusing the interwebs, so I thought I'd spend some time today catching up on May posts from my favorite marketing blogs.
Because I try to be a convenient helper and friend of all marketers, I put together a summary of a few of the best posts. Let me know what you think and share your favorite posts from May in the comments section.
For the Inbound Aficionado:
2 Million Blog Posts Are Written Every Day, Here's How You Can Stand Out
by Puranjay Singh at MarketingProfs.com
This is a topic we discuss a lot - with so much content being written these days, how can we help our clients stand out? In the post, Singh lays out seven fairly simple, straight-forward best practices that will help you take your content to the next level. With insight on every part of blogging from writing compelling titles to developing a smarter overall strategy, this post will help you think more critically about the content you create. As Singh says:
There is a war for attention, and you have only a few seconds to make an impact. You can't afford to be dull, stale, or boring. To turn visitors into readers, readers into leads, and leads into customers, you need content that stands out.
For the Rookie:
How to Grow Your Career in Content Marketing: S.E.E.D.
by Jay Acunzo on his blog, Sorry for Marketing
In this post, Jay Acunzo spells out his approach to content marketing career growth: S.E.E.D.
It stands for:
Skills
Examples
Excitement
D>rive
As he puts it, this is not necessarily a "list to neatly check off as you grow [but] approaching your work with this framework can certainly elevate and accelerate your content marketing career."
As an inbound marketing company that creates a lot of content, we're always looking for amazing content marketing talent (
we're hiring!
). More than that, we're always working on building our own marketing careers and "growing our S.E.E.D." Acunzo's framework clearly outlines ways to fuel growth from on-the-job training to required readings, best practices, and mentorship. That's why this is a must-read for marketing rookies (and also for anyone driven to grow a career in content marketing).
For the Data Geek:
The Reach, Engagement, and ROI of Content Marketing vs Native Advertising (New Research)
by Kelsey Libert for Moz Blog
If you're looking for the latest analytical insights on content marketing ROI, look no further (and if you're more of a grammar/punctuation nerd like me, appreciate the title's Oxford comma).
This post offers a "data driven approach to comparing the efficacy of native advertising versus content marketing." It offers graphical representations of research from multiple different studies, provides recommendations on KPIs to use for best measuring campaign success, and even shares a "beta content ROI calculator" which analyzes your traffic, social shares, links, and major placements to determine campaign ROI.
If you're a data geek interested in helping your company figure out the right mix of content and native marketing tactics, this post is for you.
For the Troubleshooter:
8 Reasons Your Marketing Funnel is a Hot Mess
by Jason Miller on the Convince and Convert Blog
If your team is attempting to use content marketing tactics and materials to fill your funnel and it's not going well, you need to read this post. Miller explains how it's no longer enough to develop collateral for the C-suite decision makers. As he puts it,
If you're not offering compelling content for your target audiences wherever they are in the purchasing process, someone else will.
He goes on to list eight mistakes that might be sabotaging your success and advice to help you correct your mistakes and turn things around.
For the Bootstrapper:
5 Ways to Stand Out on Social Media with a Bootstrap Budget
by Chris Moreno on jeffbullas.com
If you don't have the budget for paid advertising on social media, Chris Moreno wants you to know there's another way. He says the real opportunity to "cut through the clutter" on social is to set yourself apart by having higher standards than everyone else.
But how? Moreno outlines five ways you can beat out other brand content. From taking a more fun and human approach to re-thinking which media you use to get your message across, there's something here any bootstrap marketer can use to get traction via social media.
Looking for more quick marketing recaps? You're in luck! Here are my favorite posts from April and March.
Image by David Ohmer via Flickr, licensed under CC by 2.0