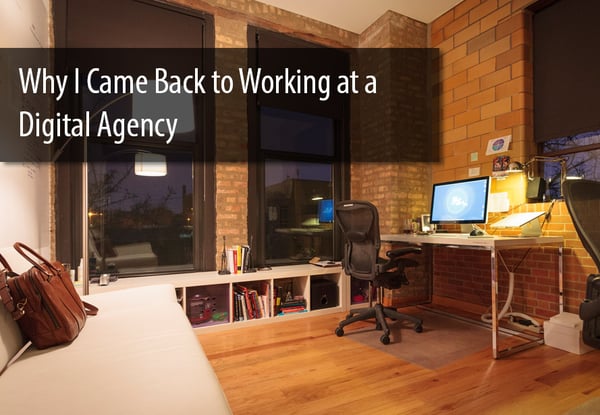 In September of 2013, I packed up a couple of boxes and said goodbye to many dear colleagues after resigning at a digital marketing agency. After nearly four years working in search marketing for a variety of clients, I was craving the life of an in-house marketer. One client? Time tracking minimal, if any? Sign me up!
Yet, less than two years later, I found myself once again desiring the month-end reporting, sales presentations, and numerous client calls that come with agency life. I can almost see the shocked faces of my friends. Why would I want to go back after having a wonderful in-house career? Here are just some of my reasons:
Agency Collaboration
While working in-house, I had the opportunity to work alongside three very different and talented agencies. I learned about the varieties of marketing agencies that exist, which ones I worked the best with, and which ones would best fit my personality. With the right account teams, I learned how I could push my strategies, and observed how subject matter experts asked questions to get to client pain points. It was fascinating and exciting.
Networking
During my tenure in-house, I had the opportunity to join the Minnesota Search Engine Marketing Association Board of Directors. It was and is a fabulous organization for me to contribute my time towards. However, in assessing our membership landscape, it became evident that most search marketers just don't do in-house. It's not that there's not a desire for in-house work, but most companies outsourced their digital marketing. Often, we'd have a speaker come in to present, and when they'd ask who worked in-house, I'd be one of maybe two hands raised. It became challenging to find others locally who understood in-house.
Industries
Likely the biggest factor that contributed to my desire to head back to agency life was the variety of industries. I knew it would be a challenge to switch hats frequently as I'd transition across client work throughout the day, but I wanted that experience again. I wanted to produce depth in a variety of industries, and try new strategies.
Moving Forward
Luckily for me, I found all of that when I joined up with the Denamico team. I found a talented team of inbound marketers. I've had the opportunity to not only learn from this team, but other partner teams and agencies as part of the HubSpot Partner program. I've also been granted a fantastic chance to sharpen my strategy skills with a wide array of clients.
It's an excellent time to be in the agency world. If you're looking for an opportunity to join an inbound marketing agency, feel free to get in touch with us - we're hiring!
Image by Aurimas via Flickr, licensed under CC BY 2.0