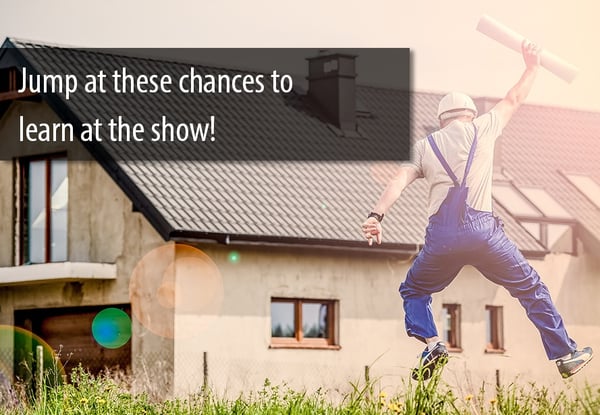 With an exhibit floor comprised of more than 1,400 vendors at next week's NAHB International Builders' Show (IBS), it may be easy to overlook the educational component of the event. In particular, sessions devoted to helping builders, designers, manufacturers, and suppliers generate better leads and sales.
As such, we've assembled a list of 6 Educational Sales and Marketing Sessions that caught our attention with corresponding information from the IBS Education center. For dates, times, and locations, as well as speaker handouts for the sessions, click on the titles below. Our comments on each session are placed in italics.
Top 6 Educational Sales & Marketing Sessions at IBS:
Speaker(s): Chris Behan, Socius Marketing, Tampa, FL
What It's About:
This impactful session will cover how custom builders and remodelers can properly allocate their marketing dollars toward revenue-generating Internet marketing campaigns. You will see industry-related case studies that demonstrate the most cost-effective online strategies that produce the greatest qualified results. Topics covered include creating SEO content to help increase your organic search rankings, developing geo-targeted PPC (pay-per-click) campaigns and using social media to generate quality leads - all without breaking your budget.
What You'll Learn:
Recognize your website's current potential and learn proven methods for enhancing it further.
Explore proven ways to localize SEO and PPC campaigns for better long-term results.
See how remodeling companies generate qualified, low-cost leads from social media campaigns.
Who doesn't like the word profitable in a title for a discussion? Having industry-related case studies to glean ideas from is an excellent way to learn new strategies for building an inbound marketing blueprint.
---
Speaker(s): Will Duderstadt, M/I Homes, Columbus, OH | Paul Fireman, Fireman Creative, Pittsburgh, PA | Dennis O'Neil, ONeil Interactive, Inc., Hunt Valley, MD
What It's About:
Real builders. Real marketing. Live solutions. During this advanced, 90-minute session, audience members can volunteer to have their digital marketing critiqued and tweaked live and completely unscripted. All topics are fair game – from branding and messaging to paid search, social media and CRMs – as industry experts explore, diagnose and troubleshoot real-world builder marketing problems. You can volunteer to put yourself in the hot seat or participate in the live audience polls. Be prepared to dig deep, get your hands dirty and witness an Extreme Digital Marketing Makeover in action.
What You'll Learn:
Determine the ROI of specific digital marketing opportunities to make the most of your available marketing budget.
Prioritize your marketing challenges to ensure you stay focused on the most important tasks first.
Discover tools, such as Google Analytics, to properly measure marketing activity, and define success and failure.
A live "makeover" involving on-the-spot critiques of digital marketing efforts will surely draw a crowd. Do you have the gumption to raise your hand in the spotlight? We're specifically interested in determining the ROI of marketing opportunities to maximize available marketing budgets.
---
Speaker(s): Liz Reuth, Neal Communities, Sarasota, FL
What It's About:
What impact does online marketing have on the bottom line? Do you know which campaigns work and which ones don't? These are the questions that many sales and marketing professionals are asking themselves. Marketers, CFOs and presidents are desperate to calculate the ROI from online sources. Using real campaigns, this advanced session will demonstrate the exact steps to build a framework to track, implement and measure cost per lead, revenue per lead and ROI from your online marketing campaigns. With this knowledge, you will finally identify the campaigns and channels that make the most impact on sales and maximize every marketing dollar.
What You'll Learn:
Learn the best ways to set up tracking URLs and dynamic tracking phone numbers to clearly measure online campaigns.
Understand the difference between cost per lead and value per lead in order to determine which campaigns are achieving positive ROI.
Analyze campaign and call tracking reports to prove return on investment from online campaigns.
Learn why you should shift focus to revenue metrics to determine value from online marketing.
Show me the data! Proving your online lead generation efforts takes as much (or more) time as implementing the program itself. This session might provide a bit more firepower for those monthly round-ups.
---
Speaker(s): Brenda Collons, C Squared Advertising, Bellevue, WA | Katy Tomasulo, Independent Consultant, Seattle, WA | Greg Wells, Best Bath Systems, Caldwell, ID
What It's About:
There is no shortage of new marketing and social media ideas for our industry, but the grand campaigns we hear and read about are often suited only for large builders with dedicated marketing teams. This session, designed specifically for small-volume custom builders and remodelers, will outline 10 affordable and easy-to-execute PR and marketing strategies that you can confidently implement, from promoting completed projects through local publications to leveraging knowledge through content marketing to expanding your reach on social media. Each strategy will showcase real-world examples along with time and monetary investment estimates to provide you with a true picture of required commitments and the tools for immediate execution.
What You'll Learn:
Learn why PR and marketing are essential tools for growing a business, even for those with limited budgets.
Learn easy-to-execute marketing strategies that will increase brand awareness and sales.
Leverage internal knowledge and tools to promote your company as a resources to prospective customers.
Gain an understanding of the time and monetary commitments required to implement an effective marketing campaign.
While we're usually leery of "affordable" and "easy-to-execute" promises, the mention of "gaining an understanding of the time and monetary commitments required to implement an effective marketing campaign" resonated with us. Whether you decide to execute an inbound marketing program using in-house resources, or choose an outside service, understanding the costs up front is crucial for any small business owner.
---
Speaker(s): Jared Weggeland, Focus Homes, Lakeland, FL
What It's About:
Do you already have an online sales and marketing program that is producing some success, but you would like to see more tangible results? Would you like to grow your online sales results to 20%, 50% or more? In this advanced session, you will hear first-hand from a builder who increased his online sales from only 9% in 2010 to a whopping 74% in 2015! He'll share tactics to increase online sales at both the individual and corporate level and teach you how to evaluate your efforts to determine what's working and what's not. If you have a functioning online sales program, but are looking to substantially grow that program's output and effectiveness, this is a can't-miss session!
What You'll Learn:
Discover how those selling from a model center or retail location can generate more online sales and more revenue.
Learn how to increase your online sales counselor's effectiveness in setting and keeping qualified appointments, increasing sales and generating more revenue.
Learn how to create an online dashboard to help you evaluate the effectiveness of your online sales and marketing efforts and increase sales.
This sounds like an excellent session for businesses that already have a viable sales and marketing program in place but have more aggressive goals to boost sales effectiveness and business growth.
---
Instructor: Beverly Koehn, CAPS, CGA, CGB, CMP, CSP, GMB, MIRM
The days of "build it or remodel it and they will buy" are a thing of the past. Today customers are both demanding and selective and, thanks to the world of technology, they are very well educated. So how do you stand out from the crowd and make your brand relevant? This course will give you an overview of the many types of marketing and sales tools available today to help you build your unique brand and a positive reputation so you can engage and motivate potential customers, clients and referral partners to choose your product or remodeling services. After the course, you will be given exclusive access to a Student FTP Site that provides additional resources for learning more about the sales and marketing techniques described in this course.
As a graduate of this course, you will be able to:
Identify social media and emerging technology to enhance marketing.
Describe time-tested and cutting-edge tactics to increase the effectiveness of advertising, promotions and public relations.
Identify a variety of methods to generate and qualify sales leads.
Describe positive strategies to gain the agreement and close the sale.
Describe follow through techniques that lead to great referrals.
A day-long session may be a large time commitment, but it could be a good opportunity for individuals seeking an intense, all-inclusive sales and marketing educational package to stand out in the crowded online marketplace.
---
IBS Education will be offering more than 120 sessions for attendees. Of those, more than 85% of the 2016 education sessions are original programming. This list of informative sales and marketing sessions is merely the tip of the iceberg for educational events in this category and beyond. Prior to the show, it may be helpful to download the mobile IBS app or utilize the show planner to create your schedule.
Here a few more resources for builders from our blog that you may want to check out before the show:
For more information on generating online leads, register now for our free webinar: Build the Ultimate Lead-Generating System.