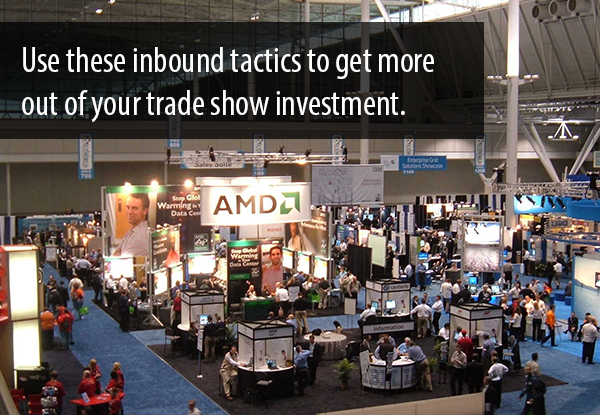 TRADE SHOW IDEAS: HOW TO BOOST BOOTH TRAFFIC, LEADS AND SALES WITH INBOUND
If you're at all familiar with inbound marketing, then you've probably come across more than a few "inbound vs outbound" blog posts and infographics. In fact, we've even contributed to the inbound vs. outbound discussion. Often, these discussions present the two marketing approaches as a dichotomy at best, and diametrically opposed forces at worst.
As for our take, we're definitely huge fans of inbound marketing, but not to the exclusion of outbound strategies and tactics like trade shows. After all, at the end of the day, it's about quality marketing methods that get results. And for many B2B marketers, trade shows get results.
So the important question becomes: How can we get stronger results from our trade show marketing? And THIS is where inbound marketing fits in.
To get more out of your trade show investment, be sure to come prepared with a strong inbound strategy. Here are several before, after and during trade show ideas to help you integrate inbound marketing into your next event.
ATTRACT (and delight) Using Social Media and Blogging
BEFORE the Trade Show
Find your clients, vendors, media partners and your competition on Twitter. Be sure to follow all of them. To keep your trade show social listening organized, set up unique streams for each audience group as well as the event hashtag. Use your blog to establish your voice early, and create fresh, relevant content that builds up to the event.
DURING the Trade Show
Use Twitter to engage in conversations with attendees. You can also use Twitter to promote games or promotions like, "The first 30 people in 30 minutes at our booth will receive a prize!" During the event, use live blogging to share updates and insights. And be sure to take plenty of photos! You can share those photos across Twitter, Tumblr, Flickr or Instagram. Also, after you've connected with someone in person, be sure to connect with them on LinkedIn and Twitter as well. Don't forget to include a personalized note that references your conversation.
AFTER the Trade Show
Publish a recap blog post that includes highlights, photos or recorded video chats. You can also produce a white paper or ebook that offers a more in-depth summary of the event. Then, reach out to all those great connections you made at the event and invite them to download the resource.
CONVERT and CLOSE Using Marketing Automation
BEFORE the Trade Show
Develop at least one event-specific landing page. Better yet, develop multiple event landing pages to address the different mindsets of trade show attendees. For instance, some attendees are serious about viewing demos and comparing solutions. And other attendees are more allured by amassing a collection of pens, bags and squeezie balls. Each mindset will respond differently to your landing page.
Landing Pages for the More Serious Attendees
This page by SoSweet Creative is a promotion for trade shows. But you could easily adapt this layout to serve as your own event splash page. On a single page, you could showcase simple, clickable offers for personas at each stage of the buyer journey.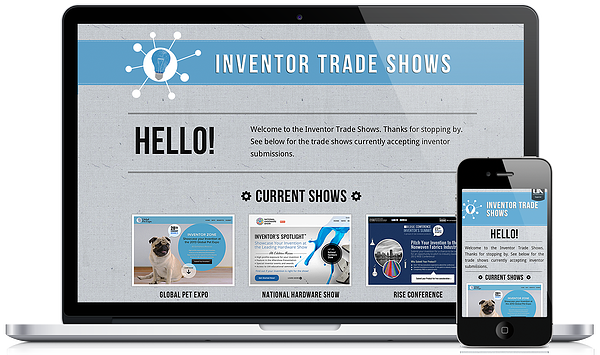 For example:
The first offer could be a Top of Funnel eBook (or a packaged bundle of resources) that helps your persona overcome a pressing problem or issue related to their industry.

The Middle of Funnel Offer could be a product or feature comparison.

Your Bottom of Funnel Offer could be a demo request, or it could grant access to a virtual demo. Because let's face it – trade shows can be pretty busy places. And some people may prefer to start with a quieter, online demo rather than a high-pressure, face-to-face demo amidst a few thousand people.
On the actual landing page itself, keep the form short and simple while still capturing vital information from your leads.
Landing Pages for the Collectors
If you want to feature prizes or giveaways at your booth, develop a unique enter-to-win landing page that ties in elements of your brand as well as trade show messaging.
This trade show marketing campaign, developed by BHDG, does a great job of promoting and executing the contest. They used email, signage and printed brochures for promotion. And for contest entries, people could participate by filling out a landing page online or by visiting their booth.
Just be certain to include a permission-based email opt-in checkbox on your landing page and in-person entry submission form.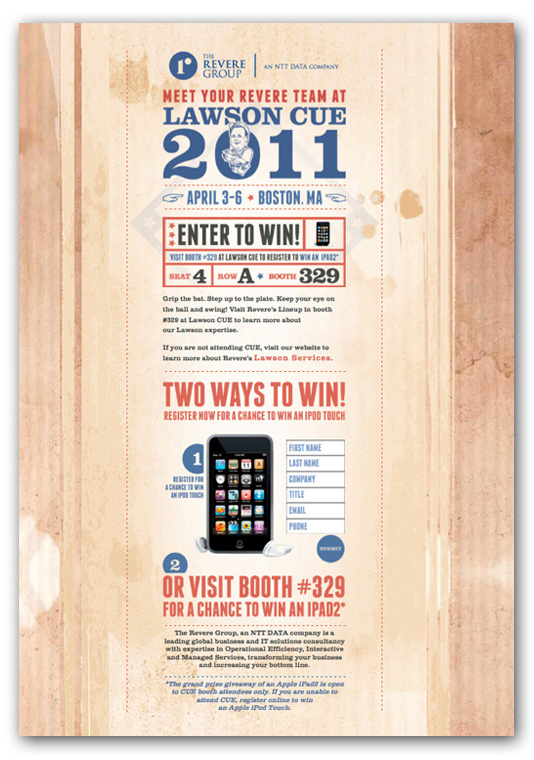 DURING the Trade Show
Make it as easy as possible for people to interact with your brand and your landing pages. Have a few tablets at your booth with your landing pages loaded and ready to go. Also, be sure to include plenty of signage with easy-to-use vanity URLs that point straight to your landing pages. This way, your content and your giveaways will be quickly accessible via attendees' own mobile devices. (And yes, mobile-optimized landing pages are an absolute must-have.)
AFTER the Trade Show
Your email drip campaigns should be in full-swing, working to nurture the leads you generated. In addition to sharing post-event content, be sure to deliver content that is in alignment with each lead's entry point and buyer journey. For instance, the drip-campaign you'll use for opted-in contest entrants will be much more top of funnel than the campaign you'll use for leads who downloaded the product or feature comparison.
Conclusion
Inbound marketing and trade shows can work brilliantly together. And with a well planned strategy and execution plan, an inbound approach to trade shows can deliver strong results.
Have you used inbound marketing at trade shows? What tools and tactics worked for you?
Photo by ArnoldReinhold on Wikimedia, licensed under CC BY-SA
Editor's Note: This post was originally published in November 2014 and has been updated for accuracy and comprehensiveness.